Learning Letters and Having Loads of Fun
During the first few months of Kindergarten we eat, breathe, and I'm pretty sure dream about letters! If you're a Kindergarten teacher, you know what I am talking about. We pull out every trick in the book to help our little ones master letter recognition. So today I'm sharing with you some tips and some of my favorite learning letters activities.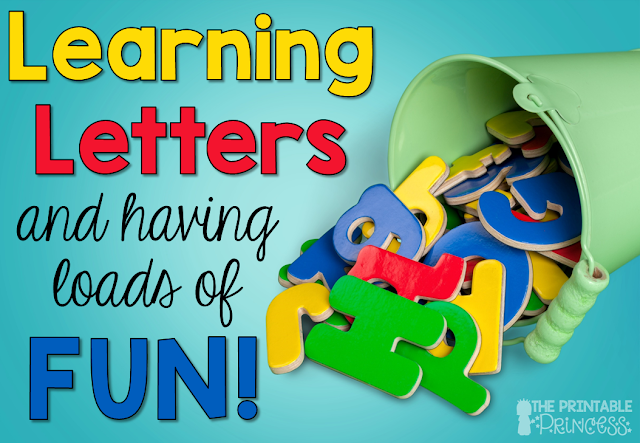 This article, along with many other articles on The Printable Princess website, contains Amazon affiliate links. If you purchase through the links, we earn a small commission. We only share links to things that we love.
Letter Introduction Order
Before you dive in and start teaching letters, you need to decide the order in which you will teach your students. You may have a curriculum map that you need to follow or you may need to make your own letter map. While I think it is important for kids to be exposed to all of the letters, I focus on teaching only a few at a time.
When I introduce a new letter or set of letters, I always go back and review the ones previously taught. There are certain letters that I avoid teaching together because kids can easily get confused when letters look similar.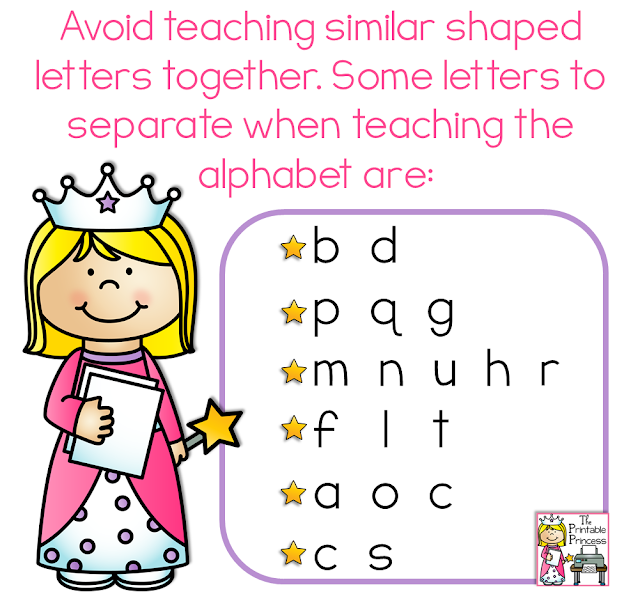 For the most part, there is no right or wrong way to teach letters. All children learn differently so we need to have a million different ways to teach the same skill. You've got to do what works for your kiddos. And each year that might mean something different. What worked for learning letters one year might not work the next.
Letter Books
One way that remains the same is you've got to read to your students! Read often. It may sound silly or obvious, but reading is an important step to learning letters. Reading to little ones lets them see why letters are important and how we use letters (to make words). I love using books as a way of teaching letters. Pictured below are a few of my favorite alphabet read alouds.
If you'd like to order these books directly from Amazon, here are my affiliate links:
Letter Singing & Dancing
Get up and move with singing and dancing! I love using my Smartboard so students can see the letters while we sing about them.
Have Fun Teaching
has a lot of fun alphabet videos on YouTube. If you don't have a Smartboard, use flashcards or your alphabet chart. Whatever you use, it is so important to have a visual so students can see the letters while they sing.
Learning Letters Hand Motions
I also like using hand motions to letters and letter sounds. The motions serve as great reminders when kids struggle to recall the letter name or sound. Often times, if a student can't remember the letter name or letter sound, I will make the motion (or prompt them to make it) and viola! just like that…they remember! You can make up your own hand motions or adapt these to fit your classroom, but these are the ones I use.
We sort letters to practice visual discrimination. Visual discrimination is a person's ability to differentiate one object from another. This is an important skill because our brain is constantly discriminating letters and words as we read. Plus, this is a great activity for exposing kids to different fonts so that they become more comfortable with different texts and environmental print.
Learning Letters with Magazines
Use magazines to go on a letter hunt. (Be sure to preview the magazines first and remove any articles or advertising that is not Kinder friendly.) Students look through the magazines to find matching letters. They cut them out and glue them on the page. You can have students match uppercase letter to uppercase letter, or hunt for the lowercase letter match.
You can download the magazine recording sheet HERE.
Learning Letters Spinner Activity
This is another no-prep interactive activity and makes a fun center. Students need a paperclip and a pencil to make a spinner. They will spin and record the letter they land on, either uppercase or lowercase.
To help students with letter writing, each page displays correct letter formation and has three letters for students to trace before they write independently. There's 26 included, one for each letter of the alphabet.
Letter Hunt
Have students hunt for letters in a word search book. You can pick these books up at the Dollar Tree. Look for the ones with the largest font. To prep this activity, tear out the pages, add several different colors of highlighters, and the alphabet cards (download link below the pictures).
Students will pick a letter card and a highlighter. They hunt for the letter on the page and highlight it when they find it. They can pick another card and use a different color highlighter to find the new letter.
I only put out a few letter cards at a time so you may want to make two copies of the letter cards, depending on how many students will be using the activity at a given time.
You can download the alphabet cards here.
Thanks for reading along! I hope all of these learning letters activities and ideas are worthwhile for your students!