10 Fun Alphabet Practice Ideas for Kindergarten
When it comes to building a solid literacy foundation, kids can never get enough practice identifying and creating letters. Practicing with pencil and paper is definitely important, but mixing it up with these fun alphabet practice activities for kindergarten reinforces the concept in an exciting way. Rotate them into your literacy centers, use them with small groups,  or practice with students one-on-one. The possibilities are endless!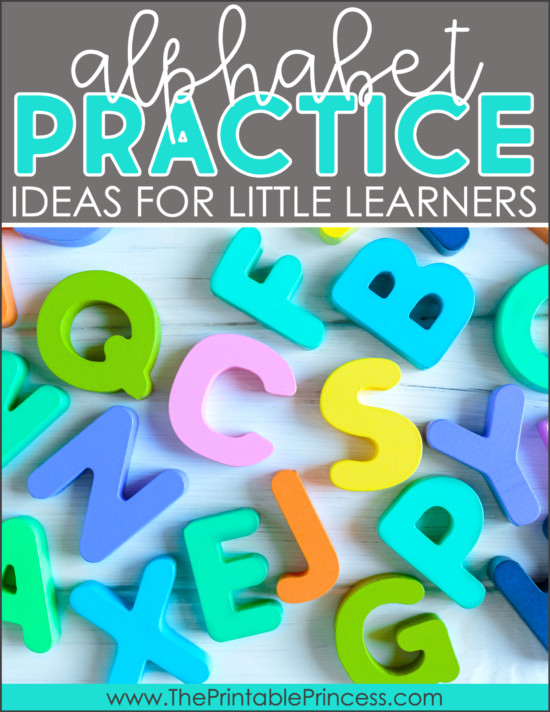 Alphabet Practice Activities for Kindergarten
These alphabet practice activities for kindergarten are hands-on, engaging, and don't require a lot of prep. They use basic supplies that you have in your classroom and can easily be adapted in case you don't happen to have a certain material. These can be implemented from the first day of school and throughout the year to help your students master their letters and sounds.
#1: Rainbow Letters
Kids love rainbow colors, especially when they get to write with rainbow letters. You can do this activity several different ways, making this activity one you can incorporate often while still keeping it fresh and fun.
Have students write their letters or trace letters with markers in rainbow colors. They can even write them in an arch like a rainbow or on a printable rainbow sheet. They can also do this activity with paints, crayons, etc.
Give students bingo dabbers and have them dab the outline of each letter. These alphabet bingo dabber activities are perfect for this!
Students can draw a letter card and then practice writing that letter, switching colors each time.
#2: Build It
Go hands-on with this fun alphabet practice activity for kindergarten! Again, this activity can be done with a variety of different manipulatives. Students can build uppercase and lowercase letters using:
Plastic blocks
Math cubes (they aren't just for math activities!)
Pattern blocks
Mini erasers
Play dough
#3: Alphabet Books
Making alphabet books with your students is a fun way to practice letter recognition, letter sound recognition, writing letters, and fine motor practice with coloring in the lines. They will love getting to complete the whole alphabet and learning their letters from A-Z.
Mini alphabet books also serve as a great form of assessment! They can also take these books home to read to their families and share what they are learning in school.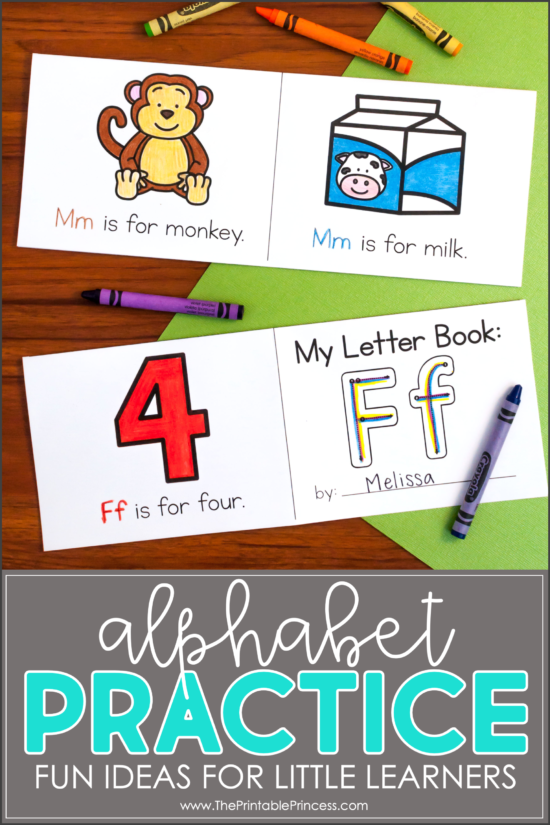 #4: ABC Art
Alphabet practice is always fun when art supplies are involved! Your students can practice letter formation by drawing a letter card and building the letter using a variety of different art supplies and materials, such as:
Pom poms
Marbles
Pipe cleaners
Popsicle sticks
Yarn
Stickers
#5: Highlight the Letter
A highlighter is a simple tool, but kids LOVE them! You can buy a few inexpensive word search books from the dollar section of your favorite store and assign students a letter to find. For example, say the letter 'b' and have them find and highlight as many b's as they can. You can also use your favorite alphabet tracing pages and have them trace the letters with highlighter.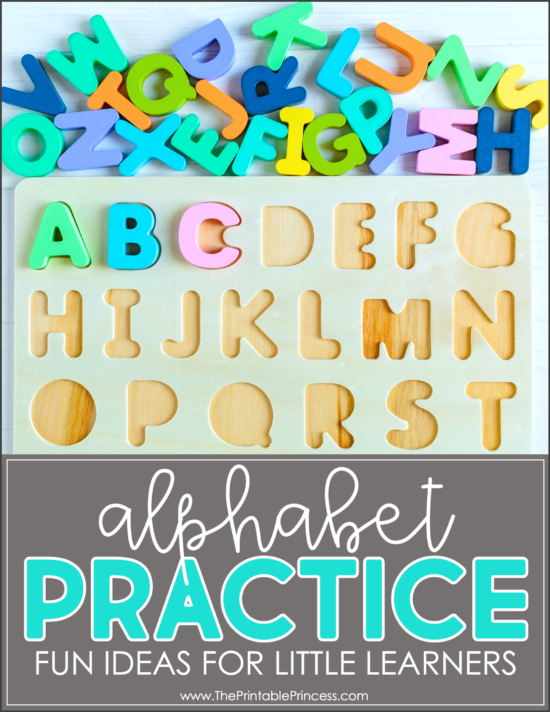 #6: Letter Tracing
Whenever you can incorporate fine motor skills into learning the alphabet, that is a win! Letter tracing activities are the perfect way to use different sensory materials and work on fine motor skills as students practice forming the letters. Sensory play allows students to explore, use their creativity and 5 senses, and helps them developmentally.
For more sensory play benefits, tips and a free alphabet sensory activity, check out this blog post.  When choosing materials, keep in mind any allergies or hazards that may occur with your students. Different materials that you can use are:
Sand
Rice
Dry noodles
Shaving cream
Gel bags
#7: Magnetic ABCs
One of the most popular alphabet manipulatives are magnetic letters. You can do so much with these and use them for a variety of alphabet practice activities. You can use them on a magnetic board, whiteboard, or on their own. Some ideas are:
Sorting letters by shape attributes
Putting letters in ABC order
Sorting uppercase and lowercase letters
Matching uppercase and lowercase letters
Saying a letter sound and having students find the letter that makes the sound
Alphabet Soup. Call out a letter and have students find it in a bowl of magnetic letters and scoop it out using a spoon.
#8: Letter Mats
Letter mats are so much fun for kids, especially when they get to use mini erasers or play dough! These letter mats help students with fine motor skills as they form and build the letter. They learn more about letter attributes, letter sounds, and matching the uppercase and lowercase letters.
You can also use "build a letter" mats with mini erasers or play dough and then have students practice writing the letters on the lines.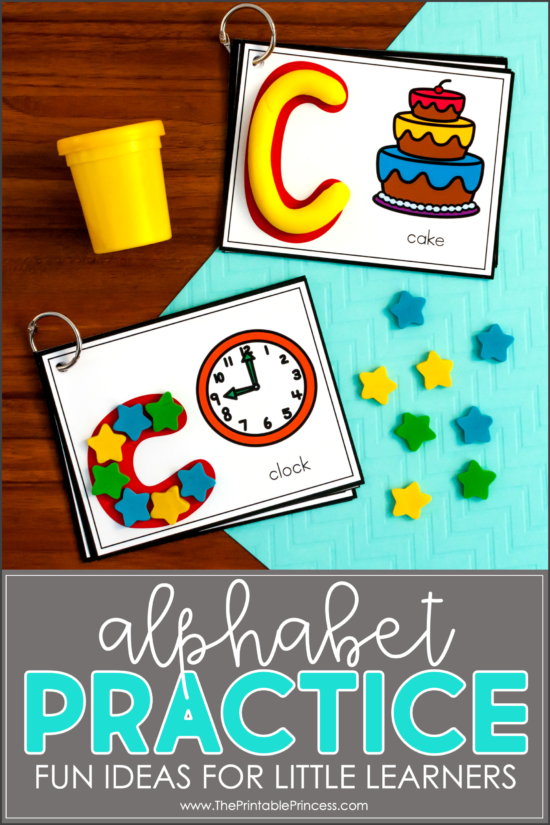 #9: Magazine Letter Hunt
Another fun activity to help your students learn their letters is to take them on a magazine letter hunt! In this activity, your students will browse through magazines like detectives, looking for letters to match up on their magazine recording sheet! Make sure to preview the magazines first to make sure they are kindergarten-friendly and remove any pages that aren't.
This activity exposes them to different forms of text and also allows them to work on their cutting and pasting skills. To grab the free magazine recording sheet, click here!
#10: Spin and Cover
Spin and Cover is a great way to help students learn to distinguish between uppercase and lowercase letters. Each mat focuses on one alphabet letter, so it's perfect for even beginning learners.
All you need is the free download, some manipulatives to cover the spaces, and a plastic spinner. If you don't have a plastic spinner, you can use a pencil and paperclip to make one.
Your students will love these activities, especially at the beginning of the year when they're working on those basic alphabet skills. Most of the activities can be adapted to practice sight words as well. Keep it fresh, keep it fun and give students lots of opportunities to feel successful!
Need some more letter and letter sound recognition ideas? Check out this blog post!