Alphabet Activities for Kindergarten
The beginning of the year in kindergarten is all about routines, procedures, relationships, and the alphabet! It's important to use fun and effective kindergarten alphabet activities that are simple and easy for kids to be successful with.
Read on for some alphabet activities you can use with your kindergarten students to help them learn their letters.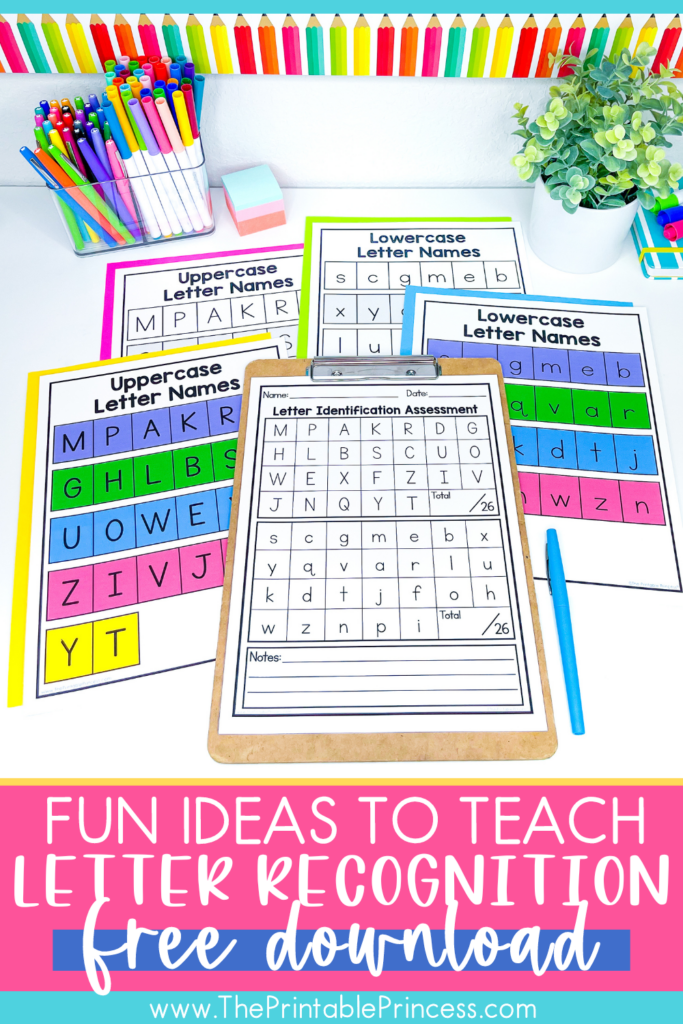 How to Choose Kindergarten Alphabet Activities
When choosing letter activities to use with your kindergarten students, it's important to keep the activities and instructions super simple. This is especially true at the beginning of the year.
Look for activities with easy directions that use simple or DIY materials. This will prevent overwhelm and frustration in your students.
You can find simple materials, such as letter tiles, magnetic letters, play dough, and more at local dollar stores, in your art supply stash, or even at garage sales.
For more ideas on the best tools to use for teaching letter recognition, check out this blog post.
At the beginning of the year, you might have some students that are ready to read, students who know a couple of letters, and some who have never held a pencil before.
Therefore, it's important to choose flexible activities that can easily be differentiated. This will allow you to use the same activity for all students while still meeting them at their developmental level.
You can start by working on part of the alphabet and work up to using all the letters with these kindergarten alphabet activities.
Keep the time span in which students work with a single alphabet activity short, anywhere between 5 and 10 minutes. This will help keep students engaged and on task.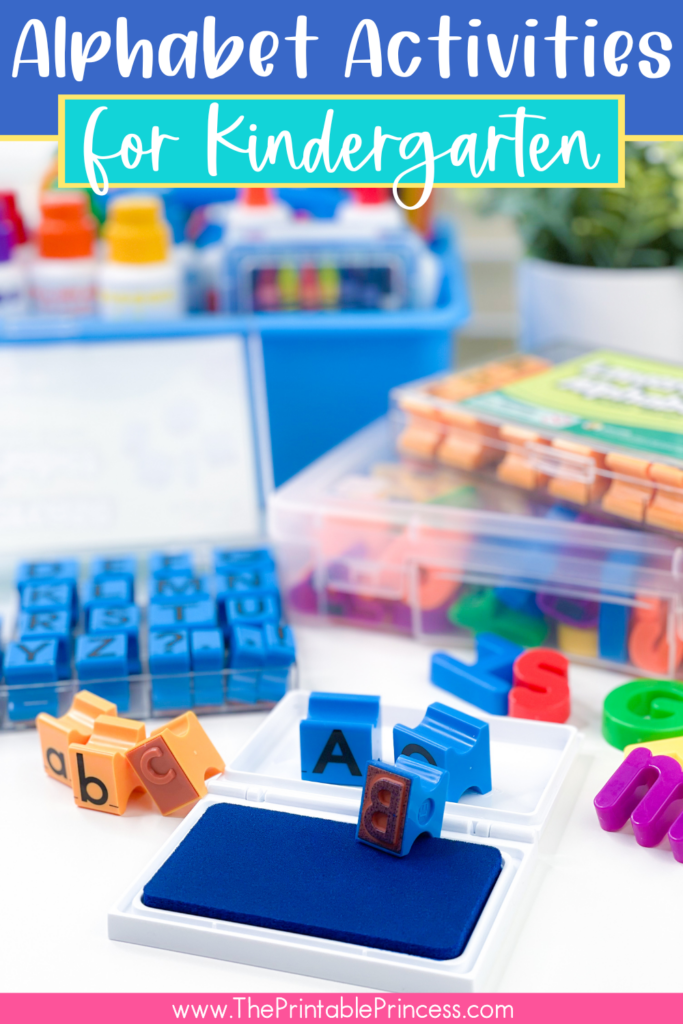 Kindergarten Alphabet Activity Ideas
As a kindergarten teacher, you can never have enough alphabet activities. Check out these easy, engaging, and effective ideas below!
Alphabet Poster Activities
Alphabet posters or anchor charts that have a letter and a picture are one of the best tools to have on hand when teaching letters. You can keep them at your word work station or in an alphabet center for easy reference.
To use these posters for a kindergarten alphabet activity, cut the posters apart so you have a stack of pictures and a stack of letters. Students match the letter with the picture that starts with that sound.
It's a good idea to give students only half of the cut-apart poster cards to start. That way they don't have as many cards to manage. Just make sure the cards all have a match.
Stamp the Letter
Using letter stickers or letter stamps is a fun, creative way for students to practice learning letters. Students can draw an alphabet card or magnetic letter, identify it, and place the matching letter sticker or stamp on a piece of paper.
To practice letter sounds, students can draw a picture card and stamp or stick the letter that makes that sound on a piece of paper.
To practice lowercase and uppercase letter recognition and letter sounds, students can use this Stamp the Letter no prep alphabet activity. This is perfect for literacy centers, morning work, or even homework.
Alphabet Flashcard Activities
Alphabet flashcards are another great tool to have on hand. There are so many kindergarten alphabet activities you can do with them.
With 2 sets of flashcards, you can play a game of memory match. Students can also use them to match uppercase and lowercase letters and practice putting letters in alphabetical order using the alphabet line as a visual aid.
A fun alphabet game to play with flashcards is "I Spy." Lay out all of the letter cards face up. The teacher says a letter or sound and the students search to "spy" the letter card that matches.
Mini Eraser Activities
There are several alphabet activities you can play with mini erasers. Lay out alphabet posters and have students outline the letters with mini erasers.
As they progress, they can draw an alphabet flashcard and build the letter on their own to practice letter formation. This can be done with uppercase and lowercase letters.
To practice beginning sounds, have students draw a picture card and build the matching letter with mini erasers.
Letter Roll
To practice alphabet letter recognition, using a dot cube and a game of Letter Roll is a fun way for kids to practice. The students will roll the dot cube, say the letter name in the corresponding column, and color or mark it with a crayon, bingo dabber, or manipulative.
Play continues until all of the spaces are covered. This can easily be played as a partner game, too. Each player uses their own board and races to see who can cover all the spaces in either a column or the entire sheet first.
Magazine Hunt
Magazines are another unique way to practice letter recognition in kindergarten. Just make sure to preview the magazines before giving them to students.
You can ask fellow coworkers or parents to donate magazines. Your school or local library may also have some children's magazines they can donate.
Students can cut out letters and sort them in various ways. They can sort them based on the letter or into uppercase and lowercase categories. This is a great activity for familiarizing students with environmental print.
For extra fine motor practice, students can paste the letters on these Magazine Letter Hunt no prep pages.
Fine Motor Alphabet Mazes
Fine motor practice is another key skill for kindergarteners to build, especially at the beginning of the year. Why not combine your alphabet practice with fine motor skills?
Students can make their way through Fine Motor Alphabet Mazes with mini erasers, race cars, or by dotting the lines with cotton swabs and paint. This will help them learn alphabet formation and directionality.
After they make their way through the maze, students can use a pencil or crayon to trace the letters. They even get bonus letter sound practice by saying the picture names that match the focus letter and coloring them.
Free Letter Names Assessment
As students are practicing letter recognition, it's crucial to monitor their progress. This will help you make informed decisions for future instruction so students can practice the letters they need to work on most.
You can download a free letter names assessment and teacher progress tracker by filling out the form below. It'll be sent right to your inbox so you can print and use right away with your students.
I hope you enjoyed reading about these kindergarten alphabet activities and got some new ideas to try with your students. If you liked the activities you saw, you can grab all of them and more in this No Prep Alphabet Activities Bundle.
Comment below and let me know which activity you're trying first with your class!