Free Bingo Dauber Printables
Be sure to grab your free bingo dauber printables in this blog post. Read about several different ways you can use the free printables.
It's a given fact that kids need to learn to recognize and name alphabet letters. The thought of teaching the very basics of language can be intimidating, but it doesn't have to be. Fear not, fellow teachers! I have just the thing to keep in your back pocket to help engage students and teach letters. Have you discovered the attention grabber also known as bingo daubers? These magical little tools take learning to the next level. Try these free bingo dauber printables and see for yourself!
Whether you call them bingo daubers or bingo dabbers, bingo stamps, bingo markers, paint markers or something else – you will see kids' eyes light up when you pull these out! They work so well with these free printables I want to share with you. They are perfect for preschool, pre-k, and kindergarten age learners. Simply replace crayons with bingo daubers, and you're ready to go!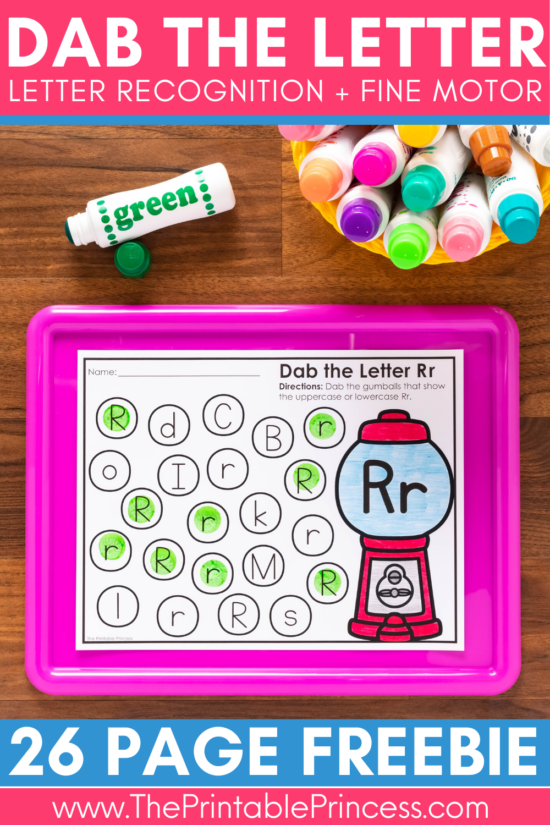 This post may include Amazon Affiliate links. We may earn a small amount when you use the links, at no cost to you and we only share things we love.
Why Use Bingo Daubers?
There are several benefits to using bingo daubers. For one, they are way less messy than paint. There's no pouring into cups, no brushes needed, and the drying time is almost instant. Plus, it seems they last forever.
Using bingo daubers also helps students develop hand-eye coordination as they direct the stamper to the spot on their paper. They also help students strengthen fine motor skills as they hold the bingo dauber and push down to apply the dot to the printable.
If all of those weren't reasons enough, they make learning more fun. Use these free bingo dauber printables to help your little learners recognize letters of the alphabet – and see for yourself how much fun they are!
Bingo Dauber Tips and Tricks
My favorite brand of bingo daubers is Do a Dot markers. I've tried a lot of different brands, but find these to be the best quality and most kid-friendly. They are perfect for little hands and they don't bleed through the paper.
There are a few basic "rules" that I teach my students before using bingo daubers.
Only dab on the paper
Give a firm gentle dab (aka don't bang them on the table)
Don't squeeze the bingo dauber (probably the most important rule)
Keep the lid on when not in use
It's important that children dab and come straight back up. The longer they push down, the more saturated the paper will become. It's also important that they push down, just hard enough – not too soft that the dot marker doesn't leave a marker and not too hard that ink pours out.
Model exactly how to push the dauber down on the paper, just like you would if you were showing them crayons, scissors, or a glue stick for the first time. For more tips, check out the post Introducing Bingo Dabbers in the Classroom.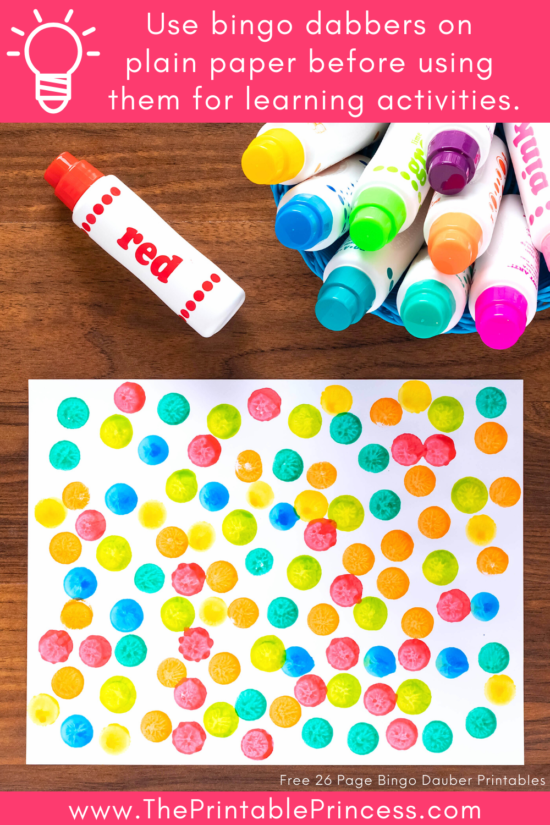 Before giving your students these bingo dauber printables, give them a blank piece of paper. Let them practice dabbing on the paper. This is especially beneficial for students who have never used bingo daubers. It helps fulfill their curiosity and also helps them learn just how much pressure to give the daubers.
About the Free Bingo Dauber Printables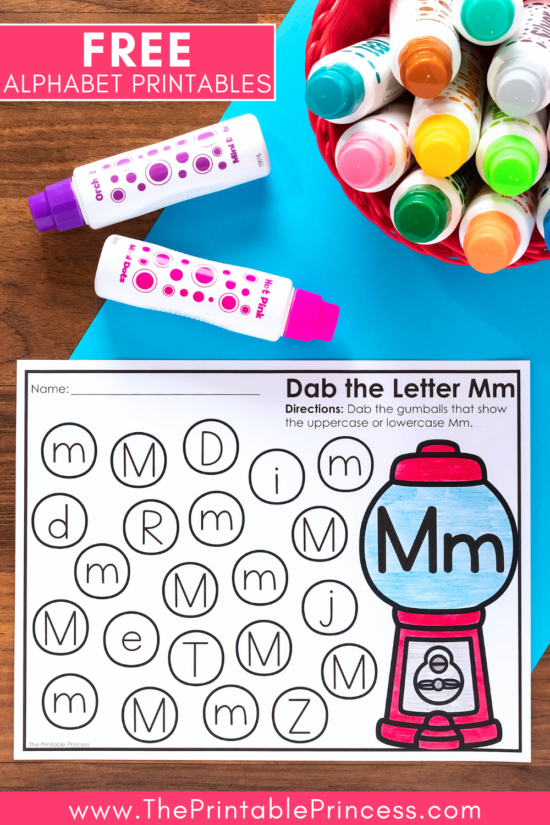 This no-prep activity is a great way to get some extra letter recognition into your lessons. It's so quick and easy to set up, yet your students will be asking for this activity over and over again!
This set of free Bingo Dauber Printables includes 26 black and white alphabet pages – one for each letter of the alphabet. There's no color ink required. Each page focuses on one individual letter of the alphabet.
Students will look at each gumball to determine if it shows the focus letter. If it does, students use the bingo dauber to dab the space.
You can have students use two different color bingo daubers – one color for the uppercase letters and a different color for the lowercase letters.
These Printables Aren't Just for Bingo Daubers
You can easily switch up this activity by adding different components. Here's two examples: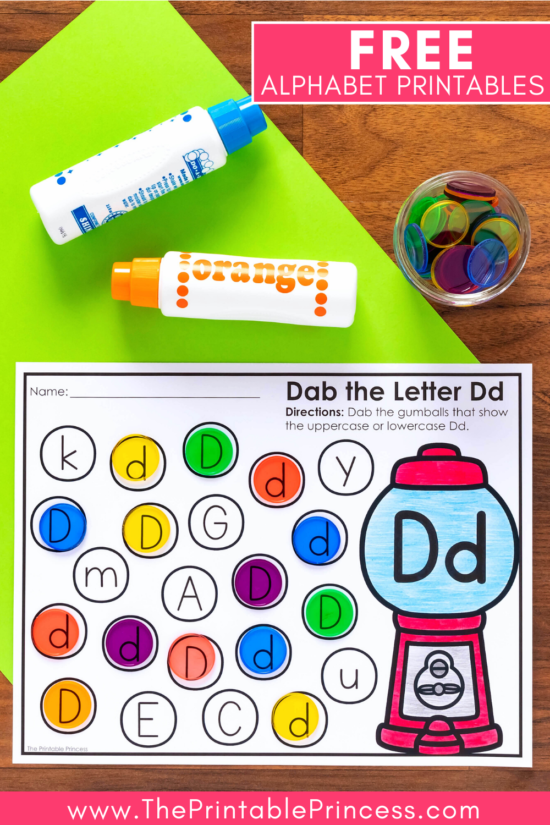 If you're using bingo daubers in the classroom, you'll want to be sure to supervise your students. If you're wanting to use these free alphabet printables in centers, you can use transparent plastic counters like the ones in the picture above.
Just print the pages on colored cardstock, laminate or slide in a page protector – instant center activity!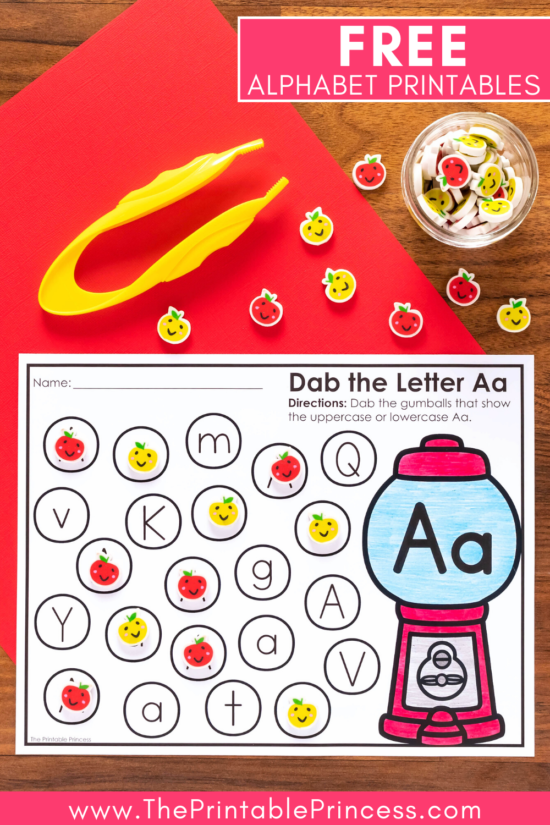 Another way to use these printables and still incorporate fine motor practice, is through the use of jumbo tweezers and mini erasers. Students use the tweezers to pick up the mini erasers and cover the letters.
Just print on colored cardstock, slide in page protectors and you're ready to go.
Using bingo daubers makes learning so much more fun. Your students will be engaged and excited about learning. As teachers, we can definitely call that a win!
Fill out the form below to join our email family and have this 26 page freebie delivered right to your inbox!