Kindergarten Back to School Centers
Are you ready for back to school? It'll be here before you know it! Do you ever feel like there's so much to get done, and never enough time to do it? There's organizing to do, labels to be made, bulletin boards to get ready, and kindergarten back to school centers to be planned.
And while I can't help you put up bulletin boards (although I'd love to!), I can help you plan centers.
That's why today's blog post is full of great Kindergarten Back to School Centers! I've also put together a little freebie that I'll share with you at the end of this blog post.
Early on in my teaching career, planning centers was a challenge for me. I struggled with providing hands-on activities that would keep my kindergarteners engaged. I wanted activities that would challenge them but could still be done independently. And honestly, I didn't have the resources or time to come up with activities that were fun and fresh.
While that bundle includes over 220 centers, made just for Kindergarten – today I wanted to share the Back to School centers kit.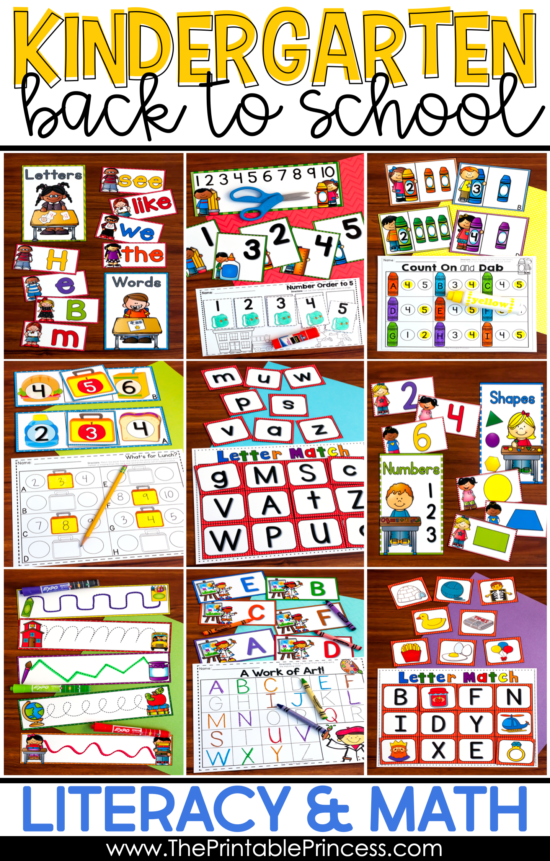 The back to school centers (appropriately titled Pencils, Glue, and Centers Too) includes 23 center activities – 13 math and 10 literacy. And if your school requires it, the Common Core standards for each center are included.
These centers are perfect for August and September in Kindergarten. I keep centers very simple at the beginning of the school year. The last thing you want is for a student to be frustrated the first few weeks of school.
All 23 centers include "I Can" visual directions and recording sheets as well as a follow up practice page which can be used for homework or small group work. Answer keys are also included for easy checking.
Back to School Centers for Kindergarten
Letter Match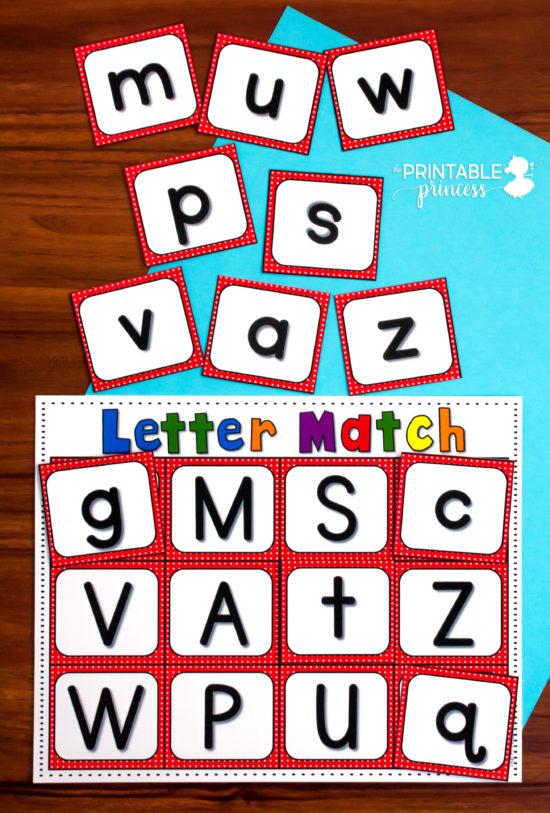 Students match the uppercase letter cards to the lowercase letters on the mat. There's also picture cards included for students who are ready to work on beginning sounds.
Mats and letter/picture cards are color coded, so there is no confusion. An optional recording sheet is included for students to record their work.
A Work of Art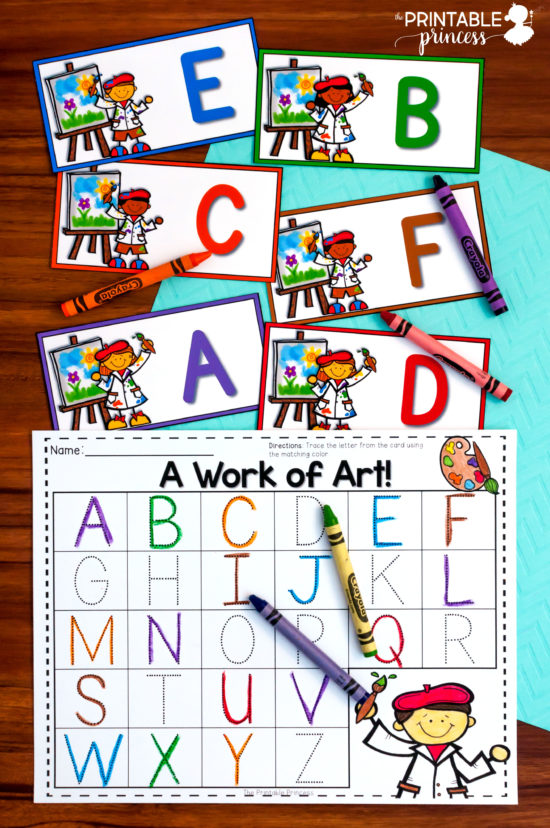 Students identify of the letter on the card. They find the matching letter on their paper. Using the color that is on the card, they trace the letter on the paper.
Secret code activities are usually a favorite among students. For this secret code activity, students look at the three pictures to identify the secret beginning sound. All three pictures have the same beginning sound.
Write and Wipe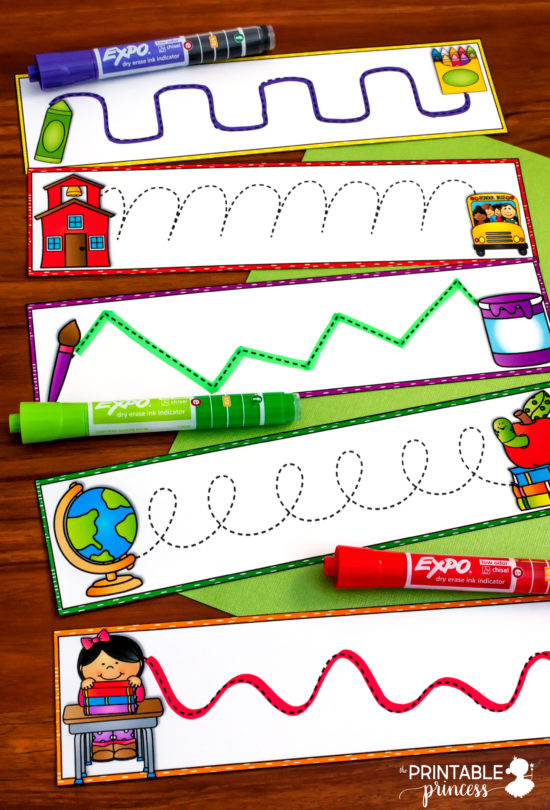 This center is to help get students for writing. In this center, students work on fine motor skills and pre-writing skills by tracing the lines. For another fun twist, you could also have students roll play dough snakes and make the lines using snakes.
Number Order to 5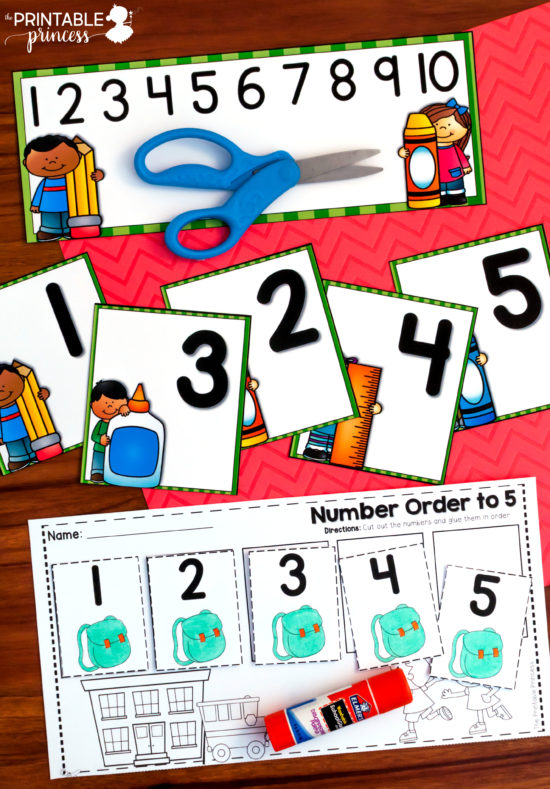 Two sets of number order practice cards are included – numbers to 5 and 10. Students put the numbers in order and then do the same on the recording sheet. An optional number line is included.
Numbers and Shapes, Oh My!

This center is the math version of "The Work of Art" activity. Students find the matching number or shape on their paper. Using the color that is on the card, they trace the number/shape on the paper.
Lunch Time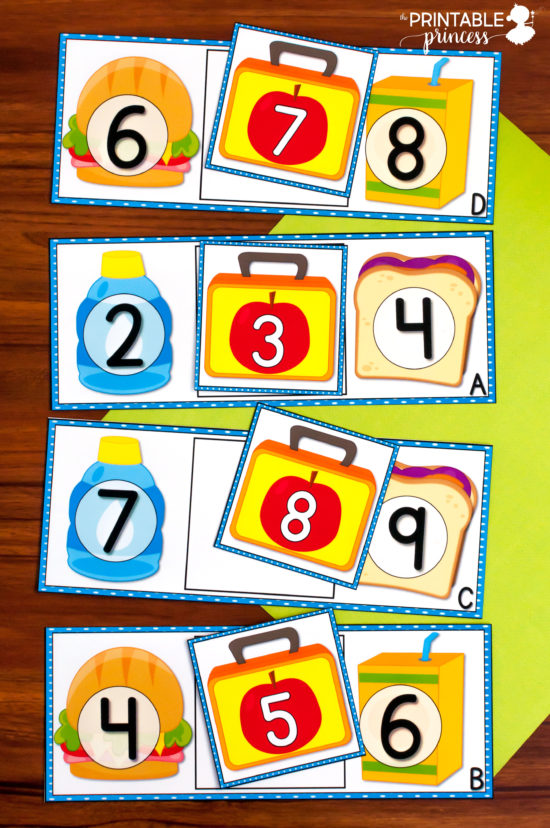 Students will count to fill in the missing number.
Count On and Dab

Students practice counting on within 5 in this center. They start counting at the number on the crayon and use the crayons on the right to count on. You can use bingo dabbers or crayons for students to record their answers.
You can check out all 23 back to school math and literacy centers here.
Back to School Freebie
I made this activity years ago using ketchup and mustard cut outs from the Dollar Tree. When I shared it with teachers, those cut outs were easy to find. But as years passed, they either don't carry them anymore or they are incredibly hard to find – because I haven't seen them in ages!
So I remade it, but the letters and numbers cards are included for you.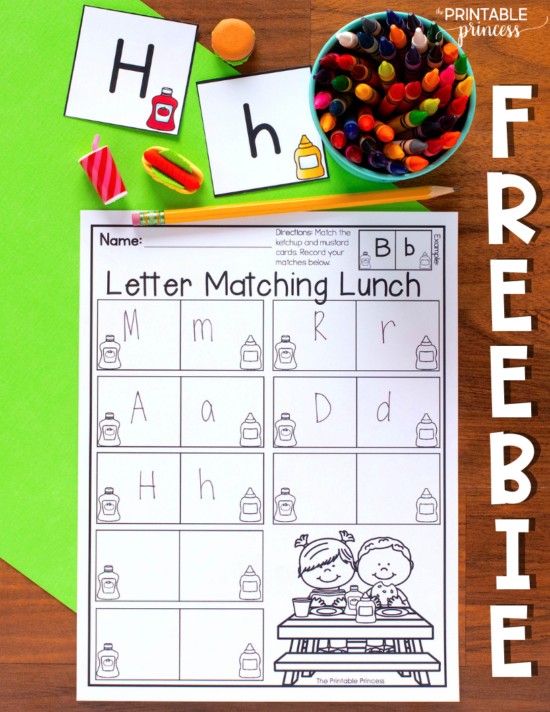 You'll want to print, laminate, and cut apart the "I Can" cards and the matching cards. Print a recording sheet for your students. Students match the ketchup and mustard cards (or the scissors and glue) to create a match. They record their matches on the recording sheet.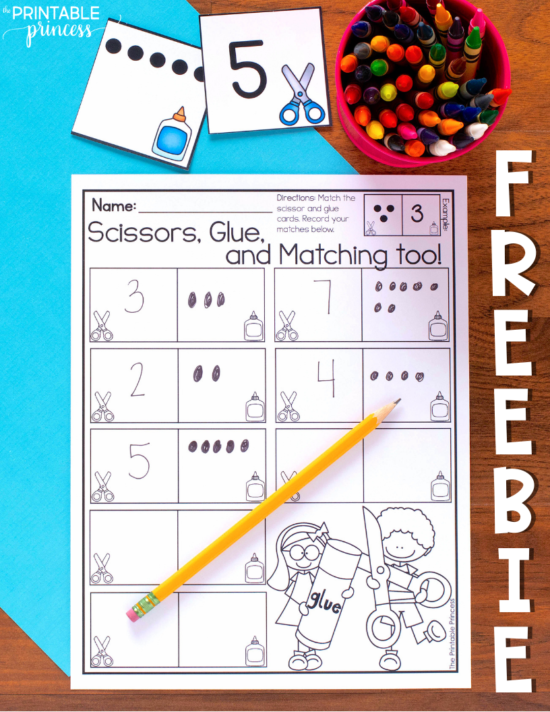 You can download the back to school freebie by clicking here.
Thanks so much for reading along as I shared about our Kindergarten Back to School centers! For more back to school ideas click here.