The Best Tools for Teaching Letter Recognition
The main focus of teaching kindergarten literacy, especially towards the beginning of the year, can be summed up in 2 words: letter recognition. With these letter recognition tools for kindergarten, your students will have multiple opportunities to practice and have fun.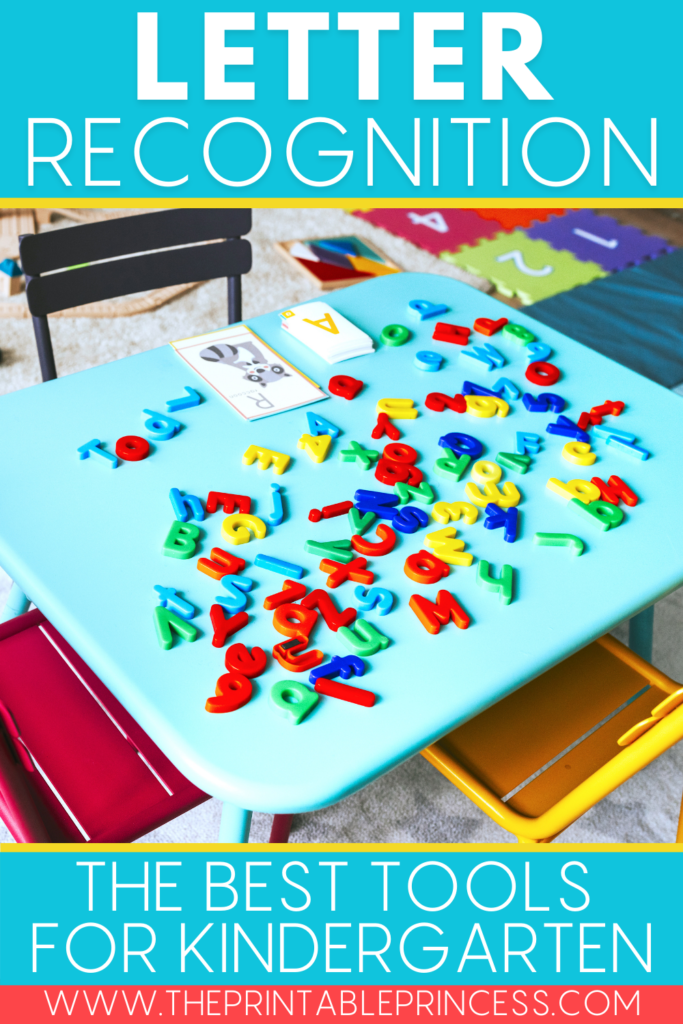 Letter Recognition Tools for Kindergarten
There are so many letter recognition tools for kindergarten that you can use to help your students recognize and form letters.
Keep in mind the different learning styles in your classroom and choose tools that will help all of your students, no matter what learning style they connect with most.
Anchor Charts and Posters
Having alphabet posters, anchor charts, and alphabet desk charts in your classroom is a great letter recognition tool for kindergarten. These can be prepped and present all year long without any additional effort.
These tools serve as a great visual aide for your students that they can reference throughout the day. It's a great idea to put your anchor charts and posters at eye level so your students can easily see them and access them when needed.
By seeing these posters and charts multiple times a day, your students will begin to recognize letters more efficiently because of the exposure they're getting daily by simply being in the classroom.
Brain Breaks
All kids need movement and activity, especially those kinesthetic learners. Using brain breaks and songs with actions that teach the alphabet is a great way to help students recognize letters.
These brain breaks and songs will even help them make connections between the letters and their sounds. Learning letters is so much fun with a little movement and singing.
Sensory Activities
Incorporating sensory activities is key for helping students learn how to form and shape letters. Using sensory materials such as sprinkles, cereal, pasta, rice, or even shaving cream will keep their attention and make recognizing and forming letters exciting.
These types of activities are perfect to use during literacy centers or free time activities. You can grab this cupcake alphabet sensory activity for free by simply filling out the form below.
Fine Motor Activities
Letter recognition tools and activities that use fine motor skills serve double-duty in kindergarten. You can use a variety of manipulatives to help students form letters and complete alphabet activities.
Using mini erasers and mini eraser mats is a fun way for students to recognize uppercase and lowercase letters and practice forming them with proper directionality.
You can also use play dough and play dough mats to do a similar activity using a different fine motor tool.
Bingo dabbers are another letter recognition tool for kindergarten that uses fine motor skills. Students can use bingo dabbers and plain white paper to dab the shape of letters on the page.
They can also practice uppercase and lowercase letter recognition in a variety of ways with letter recognition bingo dabber activities.
Digital Activities
Digital activities such as alphabet Boom Cards are interactive letter recognition tools for kindergarten. It's nice to mix it up by offering students a digital activity to practice with every once in a while.
Digital activities help students think critically and gain independence. They are great for students in all learning styles, visual, auditory, and kinesthetic.
Students can practice sorting uppercase and lowercase letters, recognizing letters, and discriminating letters with the fun, digital activities included in this alphabet Boom Cards bundle.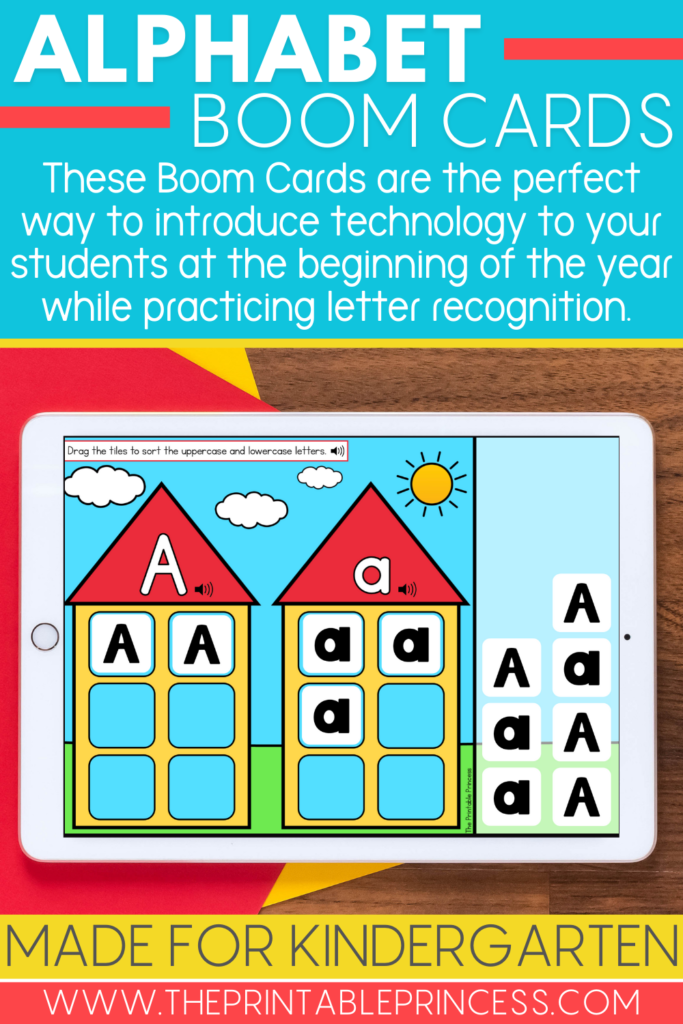 Hands-On Activities
Letter recognition is one of those skills that is practiced daily in kindergarten. Therefore, you need a variety of hands-on activities to choose from to prevent boredom with your students.
Engaging students with endless letter activities and games such as "Hidden Treasure", an alphabet find and cover game, is a sure way to keep them on task and excited to learn. Plus, if it feels like a game to them, they won't even realize they're learning!
Another cost-effective letter recognition tool for kindergarten is something you probably have laying around your house…magazines!
Students can use kid-friendly magazines to hunt for letters and cut and paste them on a recording sheet. You can grab a free magazine hunt recording sheet here.
While they hunt through the magazines, they'll even get a little bit of environmental print exposure too, another double-duty activity.
Alphabet Manipulatives
Alphabet manipulatives are also effective letter recognition tools. Students can use magnetic letters to identify letters, match uppercase and lowercase letters, and practice matching letters to their beginning sounds.
You can find a free apple-themed alphabet activity using magnetic letters along with other free apple activities in this blog post.
Another kid-favorite alphabet manipulative is alphabet stamps. Students love using stamps and different colors of ink to stamp the letters and match uppercase and lowercase letters.
They can also use alphabet stamps to stamp the letter of the beginning sound they hear in pictures.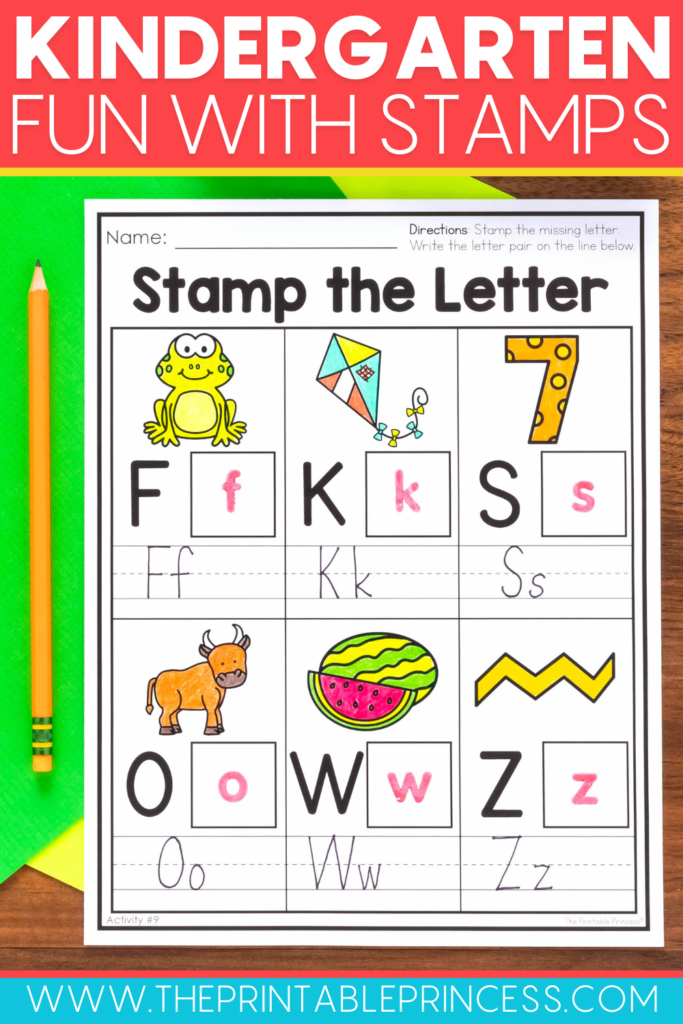 As you can see, there are so many great letter recognition tools for kindergarten that are sure to help your learners master their letters while having a blast.