Letter Naming Fluency Activities for Kindergarten
A large part of kindergarten literacy development is mastering the alphabet. Letter naming fluency is a key skill that is practiced daily. It is the foundation for all literacy skills to come. If students have not mastered letter recognition, learning to read and write is nearly impossible.
Read on to discover letter naming fluency activities and assessments that will make teaching this skill more effective in your classroom.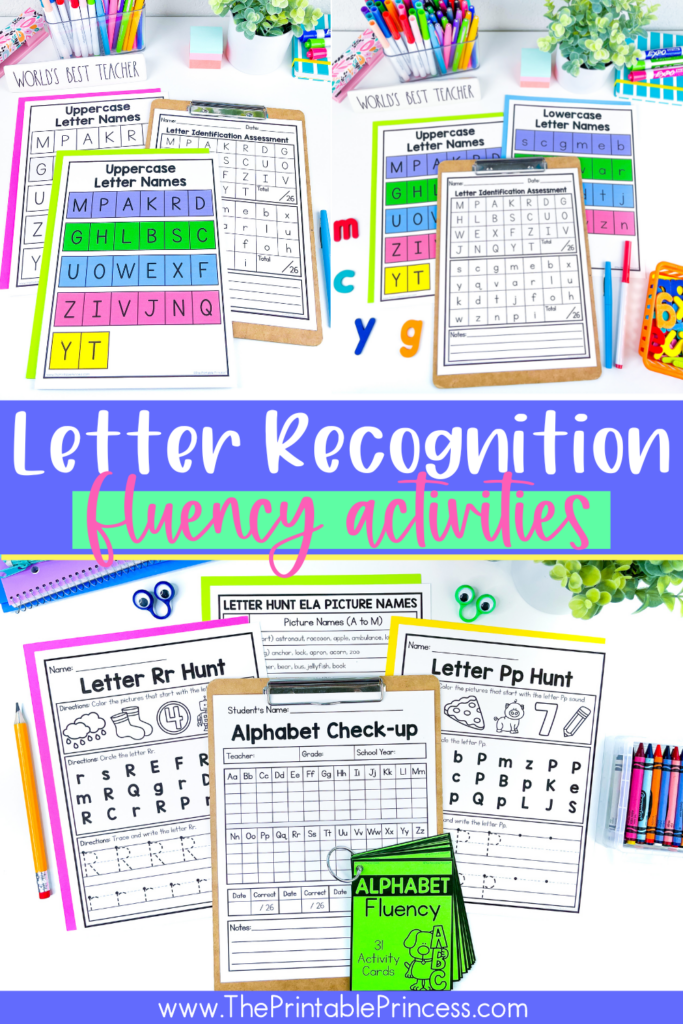 This article, along with many other articles on The Printable Princess website, contains Amazon affiliate links. If you purchase through the links, we earn a small commission. We only share links to things that we love.
What is Letter Naming Fluency and Why is it Important?
Letter naming fluency is the ability to recognize and recite letter names quickly and accurately. Students need to be able to identify letter names and do it well.
As kindergarten teachers, you spend a ton of time in the first few weeks and months of school to strengthen this skill, as it is the foundation for all other literacy skills.
Even though it may seem like an easy skill to teach, it doesn't come easy for some kiddos.
It's key to give students multiple opportunities to work on letter recognition with a variety of hands-on kindergarten alphabet activities, games, and paper and pencil pages.
By practicing letter recognition in different ways, students will become more familiar with letter names and increase their alphabet fluency.
Once they've built this strong foundation, naming letters becomes more automatic for them. They don't have to actively think about it, which makes it easier to recall the information and they become more fluent.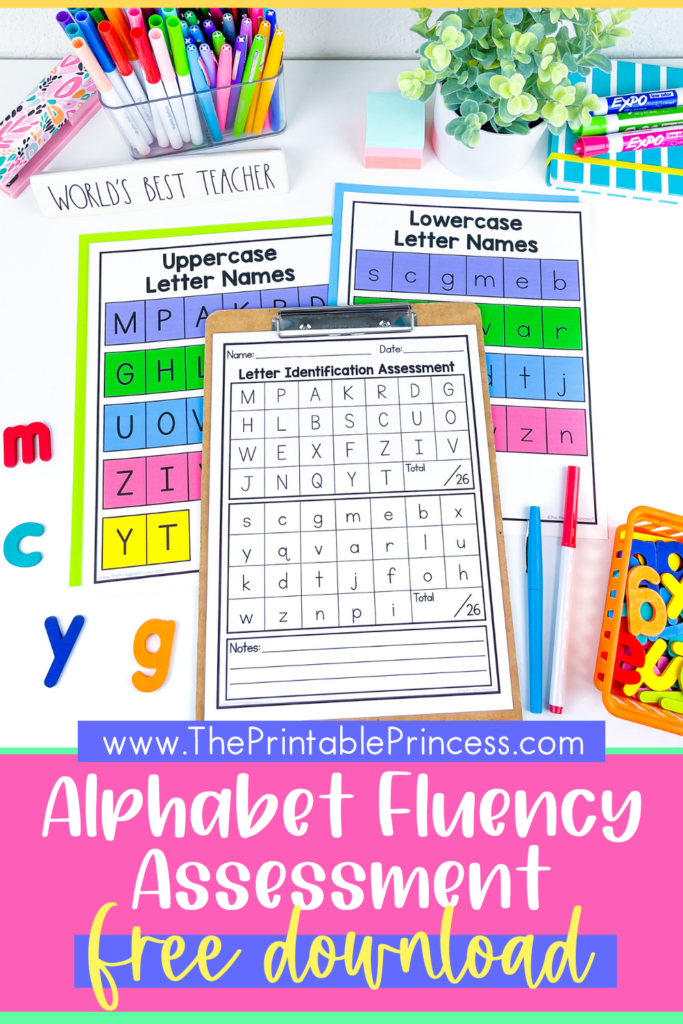 The Importance of Assessing Letter Naming Fluency
Before you begin teaching letters, it's important to assess students early on in the year to determine a baseline. This will help you see what they already know and show growth throughout the year.
As you work on letter naming fluency with your students, it's key that you assess students often to see how they're progressing towards mastery.
You can progress monitor students every 2 weeks to start. As they work towards mastery, you can move to assessing every month.
If a student is struggling and needs intervention, progress monitor them every week to ensure you're giving them the support they need.
You can grab this free letter names assessment download by filling out the form below. It will be delivered straight to your inbox so you can use it right away to check in on your students' letter naming fluency.
This letter names assessment includes student uppercase and lowercase letter pages in two versions, a grayscale and color option. Each line is a different color, making it easy for students to track print.
It also comes with a teacher data tracker, so you can easily record your students' progress and add notes. No more tracking data on sticky notes, teacher friends!
Letter Naming Fluency Activities
Alphabet Read Alouds
When beginning to teach letter names to increase alphabet fluency, it's important to make connections so students can grasp the letter names and their corresponding sounds.
Using alphabet read aloud books, such as Chicka Chicka Boom Boom and Miss Bindergarten Gets Ready for Kindergarten are great ways to develop a love of reading and expose students to letters and sounds.
After reading the story, go back through the book and have students identify each letter name and sound. They can write it on a whiteboard or a piece of paper as you go back through the book.
For more alphabet read aloud books and ideas, check out this blog post.
I Can Write Alphabet Sentences
A great way to help students practice letter naming fluency and make connections is to give them exposure to uppercase/lowercase letters as well as pictures that begin with that letter and sound.
This helps them increase their alphabet fluency while expanding their vocabulary. As students grow their skills, they can begin to complete sentences and trace sentences using those vocabulary words.
Using activities such as I Can Write Alphabet Sentences is great for your tactile learners.
Students hear letter names and sounds in books. They see letters as they read simple sentences and look at pictures.
By writing letters and tracing simple alphabet sentences using those letters, they feel how to form the letters, making that mind-body connection.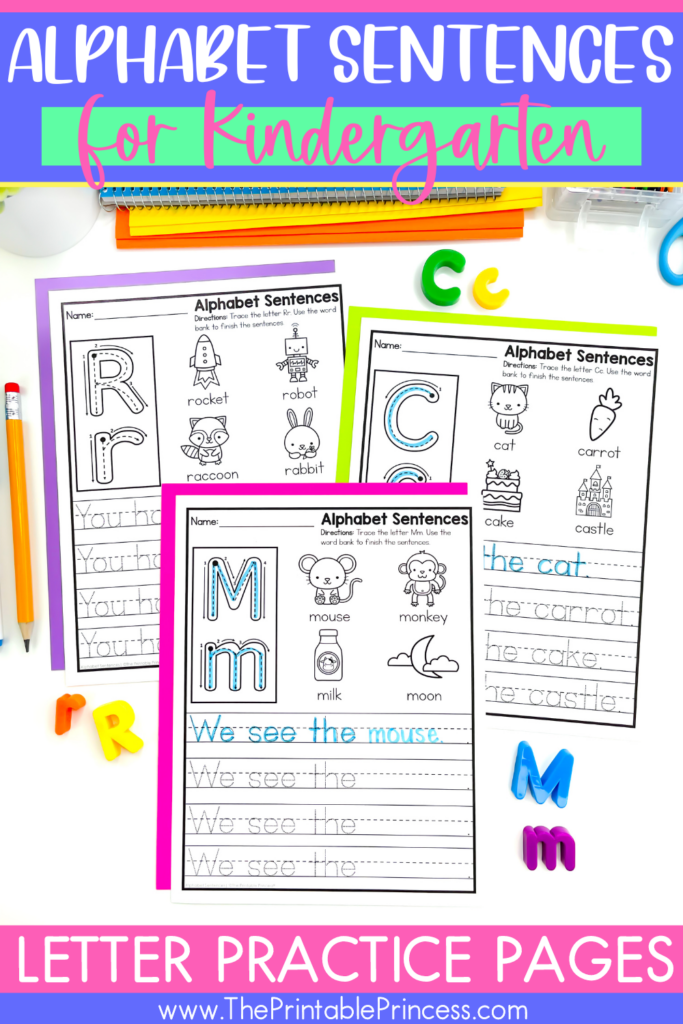 Alphabet I Spy
To make letter recognition practice fun, play a game of Alphabet I Spy. Start by saying "I spy something that starts with the letter R that makes the /r/ sound."
Students will look around the room to find the word. You can also play this by saying "I spy a bear. What letter does bear start with? What sound does that letter make?"
You can have students write the letter on a whiteboard, on a piece of paper, or show the letter by using a magnetic letter.
Draw a Letter
Hands-on manipulatives such as magnetic letters are great for letter naming fluency activities. Students can draw letters out of a container and identify the letter name. If you want to practice sounds, they can say the sound as well.
As students become more familiar with letter names, turn this into a small group game to see who can name the most letters accurately in 30 seconds. Whoever has the most letter manipulatives in their pile at the end of the 30 seconds wins.
Letter Hunt
Students can practice connecting letters and sounds to pictures using alphabet fluency cards and letter hunt pages.
The alphabet fluency cards are great for quick skill checks and letter recognition practice. These can be used for 1:1 practice with struggling students as well.
On the letter hunt pages, students identify the letter, the pictures that begin with that letter, and practice tracing and writing the letter in both uppercase and lowercase.
These alphabet fluency cards and letter hunt pages make the perfect letter naming fluency assessments. You can track their progress using the corresponding alphabet check-up page.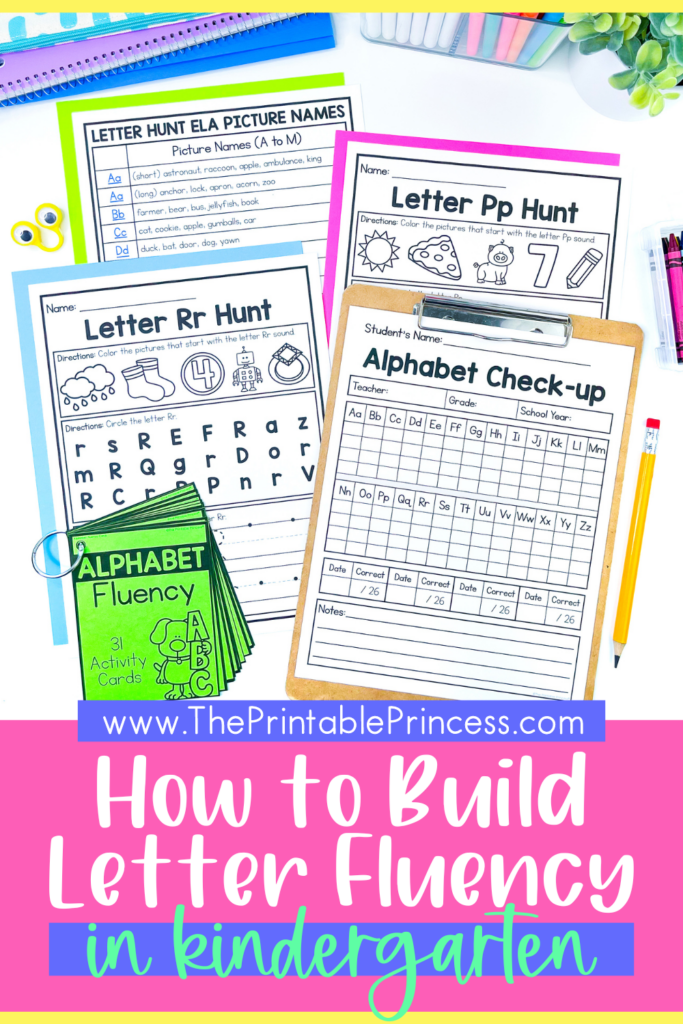 I hope these kindergarten alphabet activities and assessment options help your students master their letter naming fluency in no time.
For more alphabet activities and teaching tips, check out this blog post.
Are you looking for more engaging ways to help your learners master this important literacy skill?
Come join us over in our kindergarten teacher Facebook community and get ideas from other amazing teachers like you!