Community Helpers: Activities for Kindergarten
A community helpers theme is a great way to teach kids how the community works and about those who work behind the scenes to keep things running smoothly. Teaching about the different roles community members play helps students understand how everyone in the community has an important job.
Students can usually easily understand why a doctor or a teacher would be important, but through books, discussions, and questions students can learn why jobs like garbage collectors, construction workers, and mechanics are also very important.
So sit back and read aloud as I share some ideas to help you teach community helpers. Hang on until the end, because I've got a free download just for you!
Community helpers is a theme that works anytime throughout the year, but it works especially well during the month of October. Fire Safety Week is in October, so it's the perfect fit. Also, you might consider a Community Helpers Dress Up day if your school doesn't do Halloween costumes.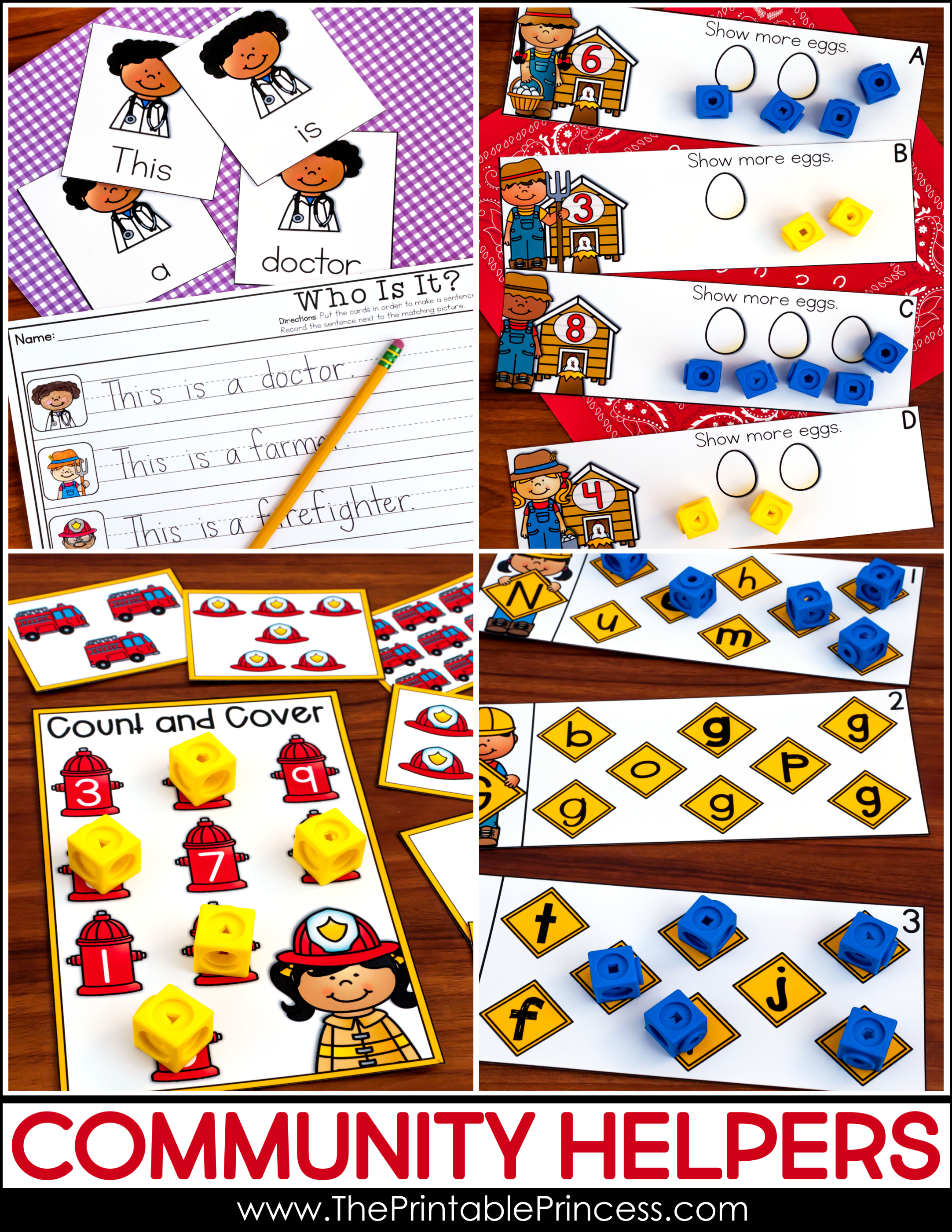 This article, along with many other articles on The Printable Princess, contains Amazon affiliate links. If you purchase through the link I earn a small commission. Clicking these links does not cost you any extra but helps this website to keep great articles and freebies coming your way.
Community Helpers: Read Alouds
To help you in your search to find the very best and most engaging Community Helpers books, I've put together a list of my favorites. There's tons of books available for specific occupations, you can easily find those to correlate to the jobs you are focusing on.
The books I'm sharing below are ones cover several different jobs. You can find clickable Amazon affiliate links immediately following the image below.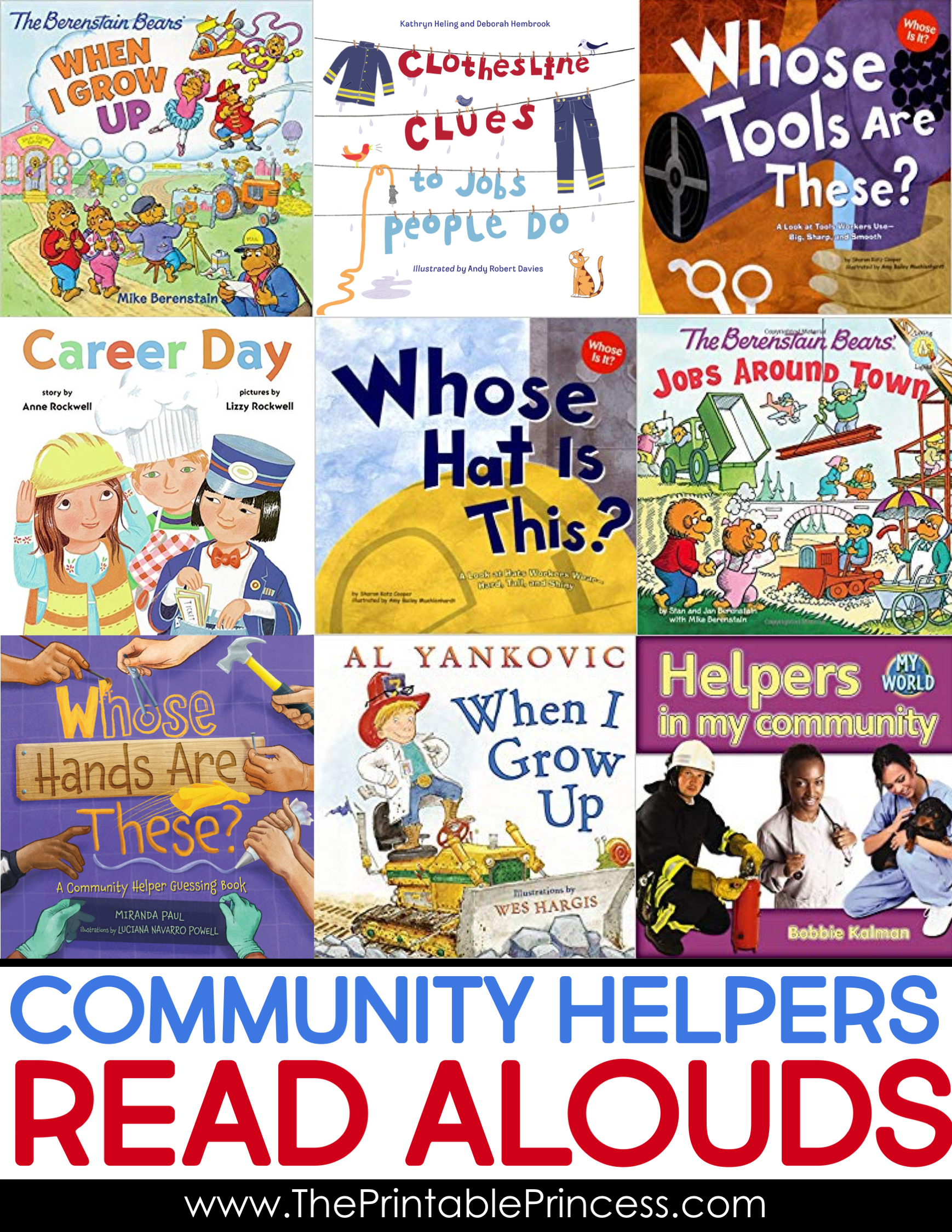 Community Helpers: Centers
If you've followed my blog for awhile, you know that I love coordinating center themes to go with holidays, seasons, etc. Community Helpers is no different! I wanted to share with you a sneak peek at the 6 Pack Centers: Community Helpers edition. It has three literacy, 3 math centers, and 6 themed no-prep practice pages.
Skills include letter recognition, beginning sounds, simple sentences, number recognition, counting on, and more. Most activities can be used without the recording sheet, making them also great for morning tubs or fast finisher activities.
Cover the Sound

Students identify the beginning sound of the picture on the card. They find the corresponding letter on the mat and cover it. To show their work, they'll find the same picture on the recording sheet and write the letter to show the beginning sound. There's two activities with two different themes included.
Constructing Letters

This center includes nine activity cards. Students cover the corresponding lowercase letters and then they write the letter pair on the paper.
Count and Cover

This activity is set up just like the Cover the Sound activity above. Students count the objects on the card and cover the number on the activity mat. There's also two activities and two themes included for this set as well.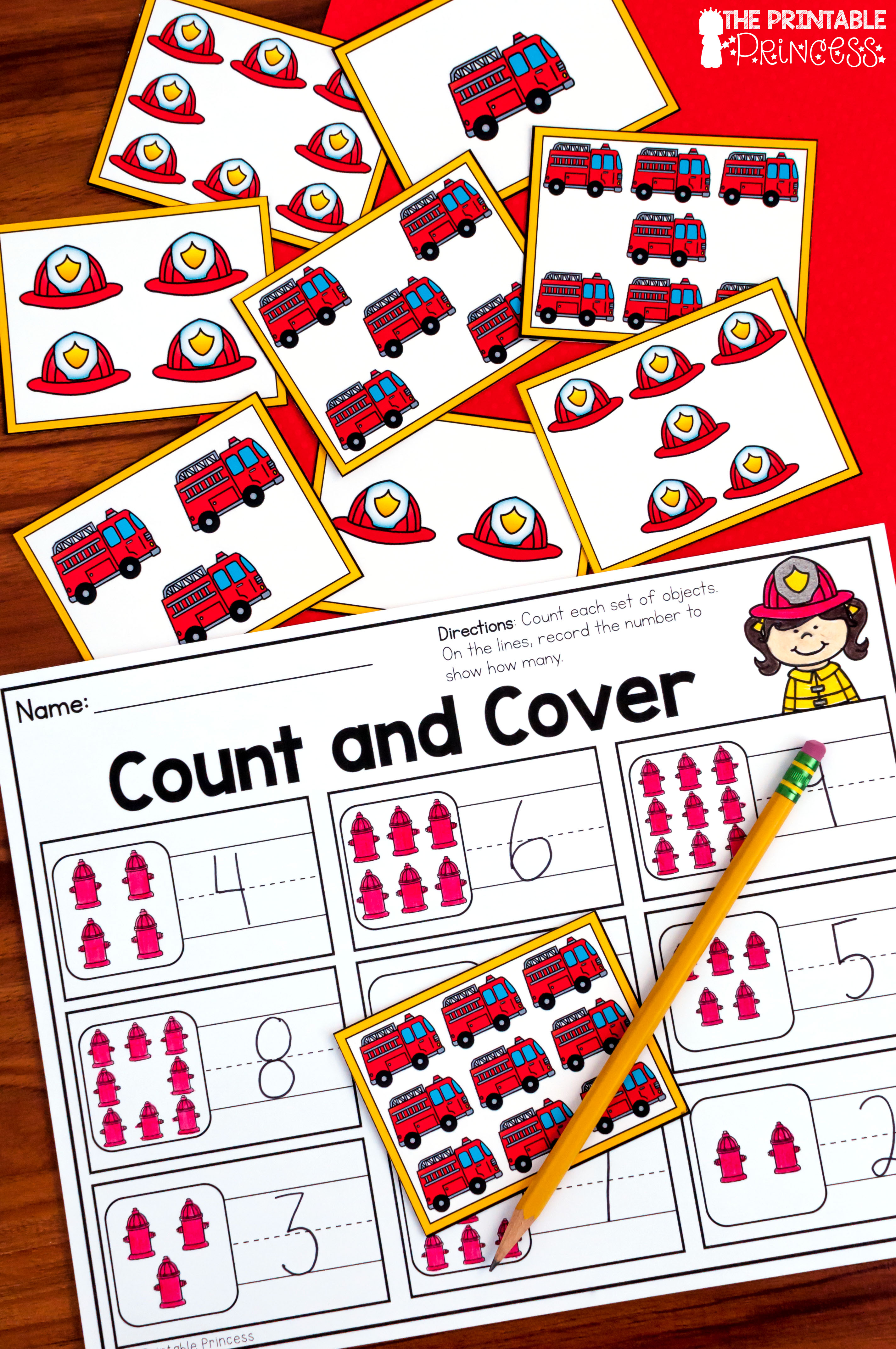 To record their answers for Count and Cover, students will count the objects on the recording sheet and write the number to show how many.
Egg-Cellent Counting

Students practice counting on with the Egg-cellent Counting activity. They identify the number of eggs on the card to determine where to begin counting. They add more in order to show the number on the hen house.
Number Check-Up

And the last activity to round out this six pack, is Number Check-Up. Students look at the pictures to decide which number is represented on the card and record their answer on the recording sheet.
No Prep Pages

And last but not least, here's an example of the no prep pages that are included with each activity. You can see how the no prep page is a review of the activity students completed in centers.
Community Helpers: Freebie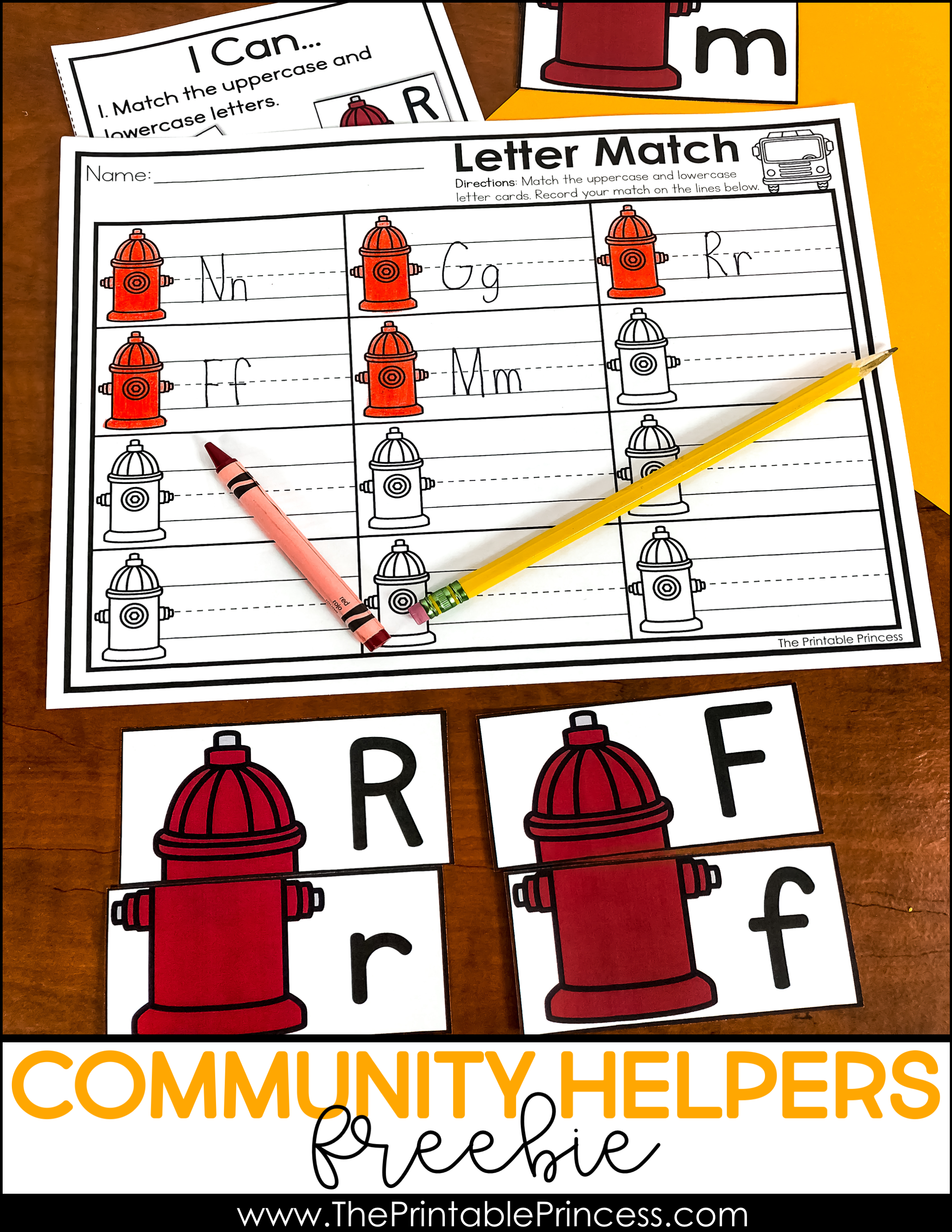 This freebie works great for a community helpers unit or for fire safety week. Just click here to download your freebie.
You'll need to print, cut-apart, and laminate the fire hydrant letter cards. You also need to print the corresponding recording sheet. An "I Can" visual directions page is also included.
Students will match the uppercase and lowercase letters to create a fire hydrant. They will record the uppercase and lowercase letter match on their paper.
You could also have students use this activity to create a memory game. Students to all of the cards face down and try to make an uppercase and lowercase letter match.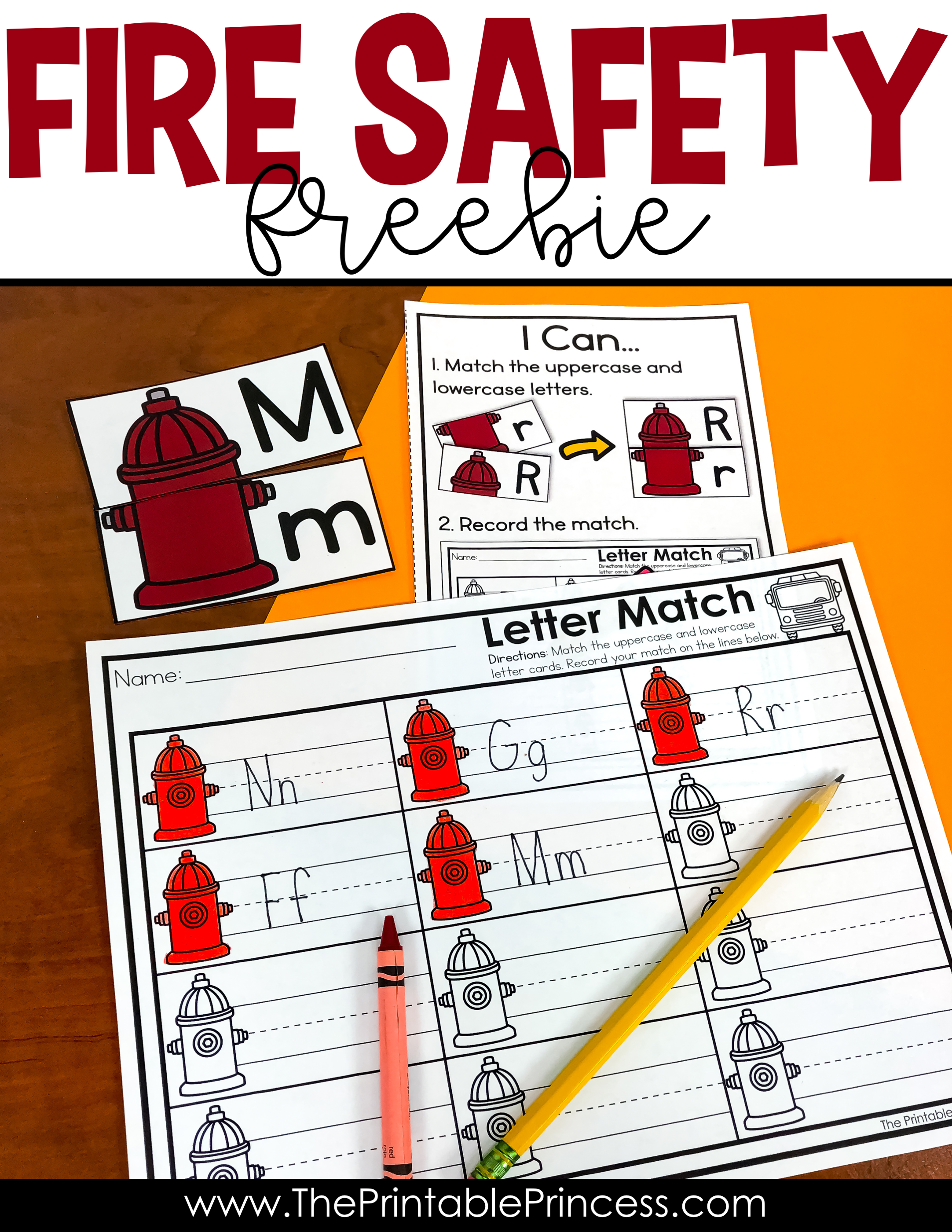 I hope this has given you some new and fresh ideas for community helpers!
Until next time,