Small Group Ideas for Kindergarten Virtual Learning
Teaching in small groups is one of the greatest ways to get to know your students, serve them at their level, and give them the instruction and feedback that they need to learn, grow, and be successful. There are so many fun activities you can do in small groups, but how do you do this with virtual learning? How do you navigate the technology side and the fact that your students are not right there with you? Have no fear, because these virtual small group ideas for kindergarten will help you navigate your small groups from the planning and communication stages, to the activities and strategies needed to support your learners.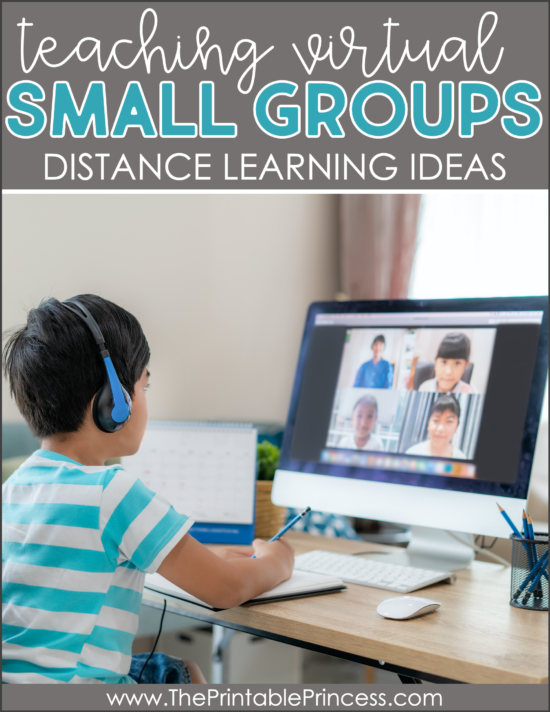 Planning and Communicating
Think back to what it is like when you are teaching in a typical school setting and structure. The parents know exactly when school starts and ends, where students will be, and they have a schedule of the day so they know when each subject is and what their child is doing during the day. They send their student with their backpack and school supplies on that first day so they are prepared. You communicate with parents about special events, progress updates, and any changes to the schedule.
Sounds familiar, right?! Here's the good news! When it comes to teaching and learning virtually, you are going to take the same approach to planning and communication! It is the key to making sure everyone is on board, feels supported, and is set up for success.
Make a Detailed Schedule
In order to communicate effectively and ensure there is full-circle communication between you, the parents, and the students, make a detailed schedule to send weekly that outlines exactly what will be happening in your virtual classroom and virtual small groups that week. A few key items to include on your schedule are:
The dates and times of class and small group meetings.
The link to access each meeting via Zoom, Google Meet, or whichever video platform you are using.
The subject for each class or small group meeting.
The supplies students will need.
The activities students will need to complete.
The due dates for each activity.
This schedule will save you and the families a lot of time and headaches by laying out the expectations clearly. Another idea for virtual small groups is to include a "Technology 101" guide with your weekly schedule.
This guide can have common questions and technology tips on it so that your students and their parents can easily access and reference it when needed. You can send this out one time and ask them to keep it handy for future reference or you can include this as a second page to your weekly schedule so they always have it right there.
Additionally, you can include a list of ideas and ways that parents can help their students at home and reinforce important skills. Teach them how to support their student at home in fun ways. This is a great opportunity for students to get real-world learning experiences that go beyond worksheets!
Come Prepared
Just like you are preparing your students and families by giving them everything they need to be successful during small groups, don't forget to take the time to do the same for yourself! Outline your lesson plans in a similar way so that you have all of your meeting times, small group lists, links, lesson materials, activities, and technology ready to go.
Have your virtual classroom area set up so that you don't have to leave the camera. This will ensure that you can host your small groups feeling confident, prepared, and bring a lot of energy and fun to your students.
If you are feeling overwhelmed or stuck, don't hesitate to ask your coworkers for help! Ask them how they are teaching the skills remotely and structuring their small groups. Remember, "the most valuable resource that all teachers have is each other. Without collaboration our growth is limited to our own perspectives." – Robert John Meehan.
Virtual Small Group Ideas
You may be wondering what activities and lessons to do during your virtual small group time. While this style of teaching and learning does look very different, I encourage you to take a deep breath and try not to overcomplicate it!
Do a brain-dump of all of the activities you typically do during small groups. Then, highlight activities that you can do seamlessly with virtual learning. For the activities that may need some tweaks, jot down ideas for how you can make them work for virtual learning. You will be surprised to find that with a few adaptations, a lot of the activities can still be used!
Forming Your Small Groups
When it comes to forming your small groups, you can do this in different ways and have different types of groups. For instance, you may have small groups a couple of times a week that are based on skill level, allowing you to differentiate instruction.
On other days of the week, you may have small groups based on social-emotional skills, giving you an opportunity to connect with students that may be struggling, need more support, or need more of a relationship-building focus.
Learning Activity Ideas
Small groups are a great time to break down skills, take the learning a step further, and get to know your students and their skills in a fun way with different learning activities. Students can collaborate with their peers as well as work 1-on-1 with you by taking turns. You can teach your small group lesson and while students are completing their learning activity, you can have one student at a time un-mute themselves to have some 1-on-1 time with you. They can ask questions, read to you, or even do mini-assessments virtually this way. Here are more academic virtual small group ideas for kindergarten:
Read alouds.
Reading in small groups, pairs, or 1-on-1.
Use digital task cards to practice skills. These digital learning Boom Cards are great for use as a small group activity via screen-share or as an independent activity for students to complete on their own.
Number talks.
Show what you know using "dry-erase boards" made by sliding white paper into ziptop baggies and writing over top.
Sorting activities using simple materials at home. Sort by color, size, shape, or make groups with certain number amounts.
Build letters or numbers using materials at home such as play dough, cereal, cotton balls, etc.
Make patterns with simple materials or on "dry-erase boards."
Do class polls and create a graph.
Give your students challenges to complete, such as these choice board activities for kindergarten.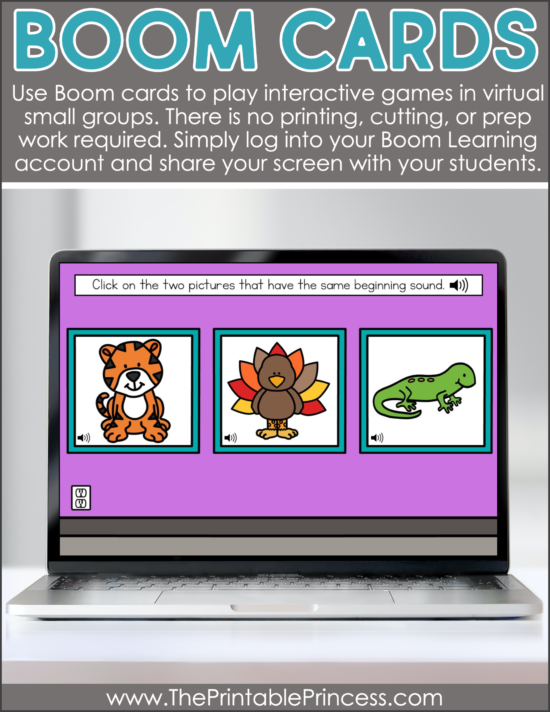 Game Ideas
Incorporating games into your small groups is a fun way to switch up the learning and have fun doing it! These games will help you sneak in skill practice so they don't even realize they are learning! A few game ideas to incorporate into your small groups are:
Scavenger hunts. Students can go find something that starts with a letter, is a certain color, or find a certain number of objects.
"Thumbs up, thumbs down" or "sit down, stand up." You can play with various skills by asking them if a word has a certain beginning sound, if two words rhyme, or use number sense or addition/subtraction questions.
I Spy games using letters, numbers, colors, etc.
Word games such as word ladders, guess the word, sight word games, etc.
Alphabet and counting games.

One person starts and the next student says the next letter or number and so on.
Have students come up with words that start with a certain letter or sound.

Review with a game of bingo by creating a simple game board and sharing your screen.
Relationship Building Ideas
Small groups are not just great for differentiating instruction, but they are also key in building relationships with your students. Small groups give you an opportunity to connect with your learners who are struggling with virtual learning in a smaller setting. If they feel lost during whole group, small group time gives them a chance to connect with you and ask questions.
Chances are, if one student is struggling, others are too. Form a small group with those students so you can help them through! Here are some virtual small group relationship building ideas for kindergarten:
Celebrate special days and birthdays.
Morning meetings.
Virtual calendar time.
Play ice breaker games.
Social emotional check-ins.
Academic check-ins.
Sing both fun and learning songs and do brain breaks via screen-share.
Directed drawings.
Show and tell.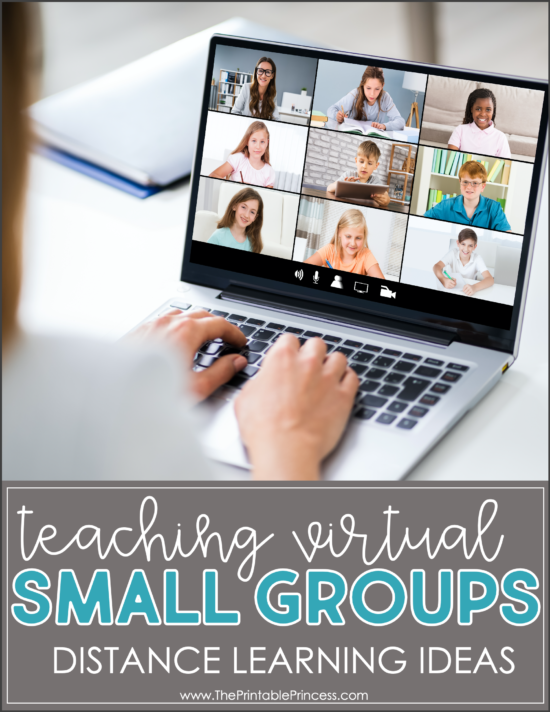 With these virtual small group ideas for kindergarten, your students are going to feel right at home…pun intended. 🙂 You will be able to connect with your students and support your learners no matter where they are in their learning journey.
For more virtual teaching tips, check out this blog post. Have you tried something in your virtual small groups that has worked well? Leave a comment below and share it with me!