Dental Health Read Alouds and Freebie
February is Dental Health month. If you think about it, it's pretty appropriate. After students come down from the sugar high that Valentine's Day bring, it only seems fitting to now teach them how to take care of their teeth. Class discussions and dental health read alouds are a great foundation to a "tooth"rific lesson!
I've put together a list of some of my favorite Dental Health read alouds for Kindergarten. These books are a fantastic way to help students learn about their teeth and how to take care of them! But as we all know, it's important to have fun in the classroom. Some of the books like Bear's Loose Tooth and How to Catch a Tooth Fairy, are just plain cute and kid-approved.
Dental Health Read Alouds: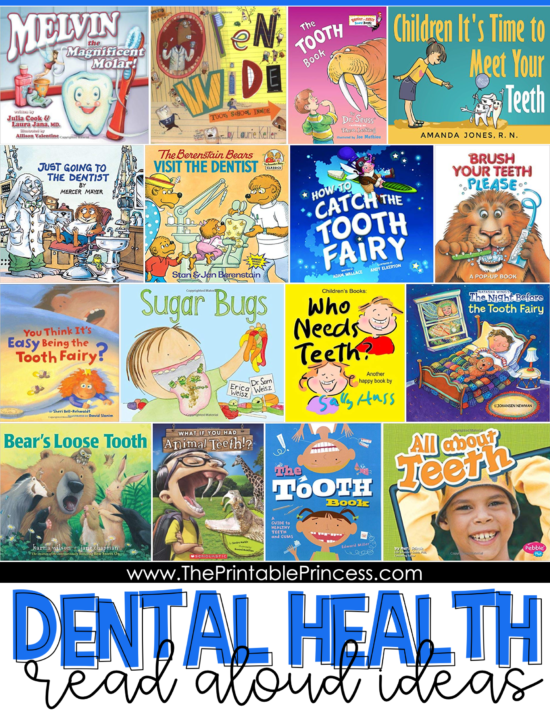 This article, along with many other articles on The Printable Princess, contains Amazon affiliate links. If you purchase through the links I earn a small commission.  Clicking these links does not cost you any extra but helps this website to keep great articles and freebies coming your way. 
Non-Fiction Dental Health Read Alouds
For a lot of children (and adults) going to the dentist can be a scary experience. So in addition to the books listed above, it's great to incorporate some non-fictions titles in your Dental Health read alouds. This helps students learn about the dentist, what tools they use, and what to expect during a visit. So great suggestions are:
This Dental Health read aloud has real photographs and shows students what dentists wear and what they do to help people. This book is packed full of information, so you might want to read it over the course of a few discussions.
A group of kids visits the dentist, Dr Florez. They try out her dentist chair, look at x-rays, and discover how she helps keep teeth clean and healthy.
Join Sarah, Josh, and Rabbit as they head to the dentist. This book teaches students what to expect during a typical visit to the dentist.
Dental Health Freebie:
When covering Dental Health in the classroom, it's the perfect opportunity to sneak in a little sequencing lesson. Students might know how to brush their teeth because it's something they do every day, but putting those steps into words is a different skill.
Included in this Dental Health freebie are step-by-step picture cards as well as cut and paste recording sheet. The picture cards are perfect for a class discussion while the recording sheet allows students to apply their sequencing knowledge. You'll want to print the picture cards on cardstock and laminate them for durability.
This activity works well in a center or as a whole group activity. While it is perfect for Dental Health month, it can also be used year-round as part of your sequencing lessons.
You can download your copy of the Dental Health sequencing freebie by filling out the form below and it'll be delivered straight to your inbox!
For more dental health activities for kindergarten, check out this blog post!