Winter Center Ideas for Kindergarten
There are so many important skills to teach your students in the winter months. The days can be cold and dreary, but that doesn't mean your centers have to suffer. These winter kindergarten center ideas will bring the fun to your math, literacy, and writing centers!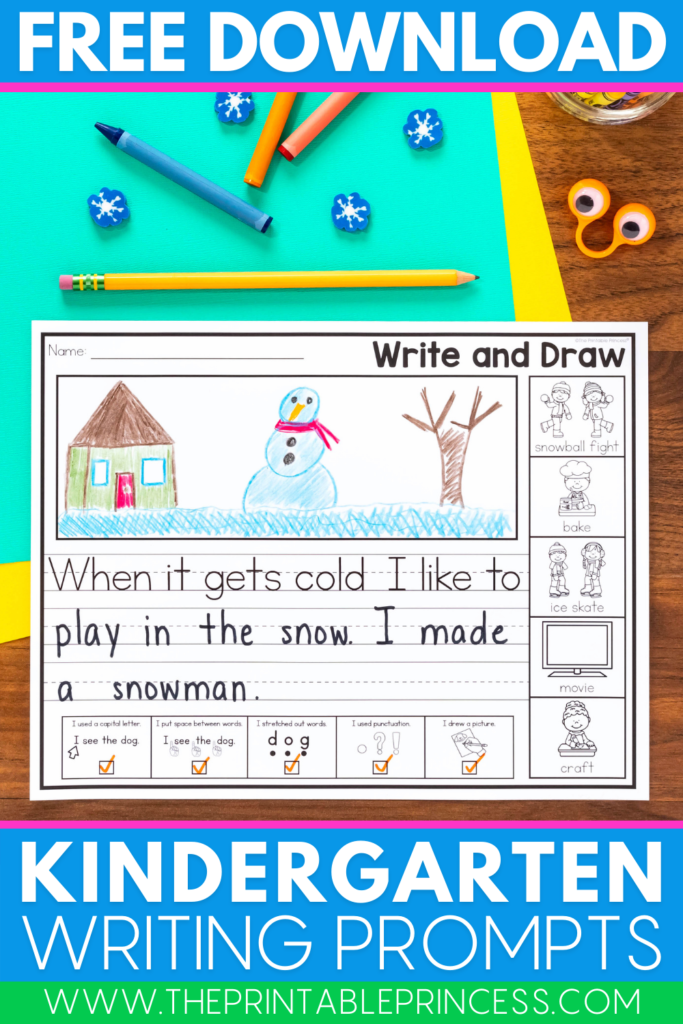 Why Using Centers Is Important In The Winter
I'm a firm believer in using centers with kindergarteners anytime of year, but especially during the winter.
The winter days can be long and cold. It can be easy to get bored and feel unmotivated. This goes for both kids and adults!
The best way to keep your students engaged, excited, and motivated to learn is with activities and routines that will keep them moving, thinking in different ways, and having fun.
Using a variety of hands-on kindergarten center activities will keep students active and on task.
Centers are also a great way to ensure you are reaching all of your students, no matter their learning style.
By switching up the activities, your students will use all the different parts of their brain. This leads to true comprehension and mastery of skills.
Centers also allow you to differentiate activities for your students to meet them where they're at. Therefore, all of your students can practice the same skill, but at the level that is just right for them.
Winter Literacy Center Ideas
When it comes to teaching literacy, there are a vast amount of skills to teach in kindergarten. You may have students reading at a 2nd grade level while others are working to master their letters and sounds.
The best way to ensure you are giving each student exactly what they need while keeping them engaged all winter long is to use winter kindergarten literacy centers.
The winter themes, such as snowmen, snowflakes, polar bears, and penguins will catch their attention. However, the array of winter kindergarten center ideas will keep them on task all winter long.
Students will practice key literacy skills such as rhyming, beginning sounds, sentence building, CVC words, and more.
You can even try a DIY version of this Winter Sentence Shuffle center. Simply write sight words and winter words on notecards to make up a sentence.
Shuffle the cards and have students unscramble the words to build a complete sentence. Have them write the sentence on a piece of lined writing paper and illustrate it.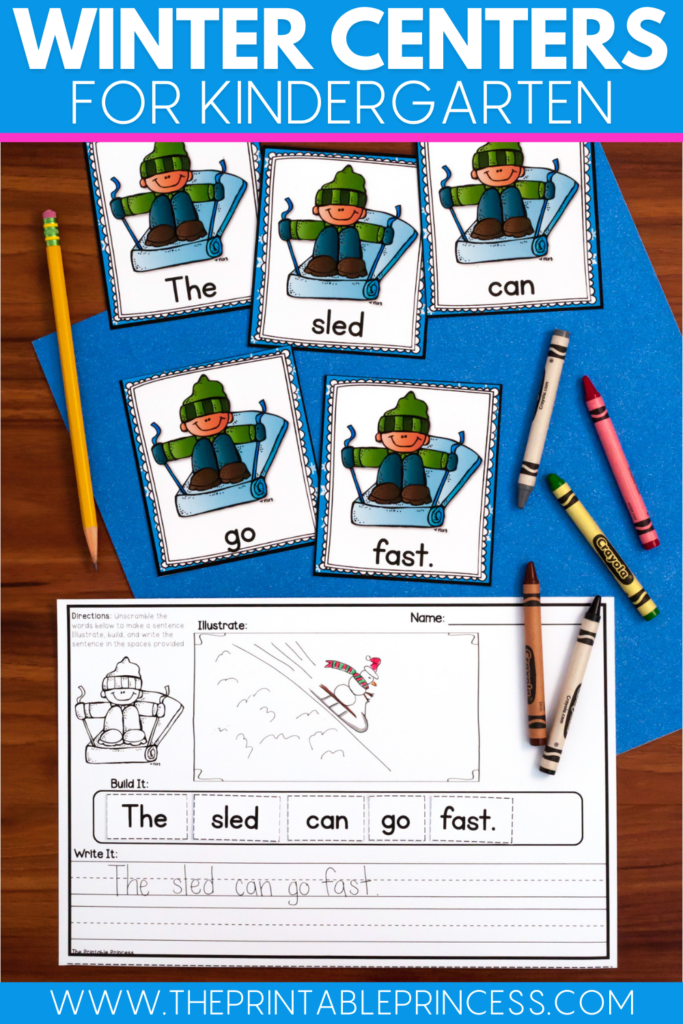 Winter Math Center Ideas
Just like with literacy skills, there are a lot of important math skills to cover in the winter months.
From addition and subtraction to teen numbers and missing numbers, there's a lot of ground to cover this season.
While it's important to differentiate the skill level of your winter math centers, it's also important to differentiate the way students practice these skills.
Using various manipulatives and tools to help students work with mathematical concepts is the best way for them to learn. This also helps them find the strategy that works best for them.
For example, in these winter math centers for kindergarten, one of the activities is called Let's Make 10. Students look at the page to determine how many more are needed to make 10.
In this particular center, students use a bingo dabber to record how many more are needed.
However, some students may need a more hands-on approach. They may need to use manipulatives to count how many more are needed.
You can use plastic math cubes, mini erasers, or pom-pom balls to help them with this strategy. Other students may choose to keep track using tally marks to determine how many more are needed.
That's the beauty of winter math centers. You can always differentiate by adding basic manipulatives and encouraging students to try a new strategy.
Winter Writing Center Ideas
The first half of the school year focuses a lot on fine motor skills, handwriting, and helping students build up to writing complete sentences.
Once winter comes, it's time for your students to apply their beginning writing skills. They'll begin working to gain independence and use their creativity in writing.
By using winter-themed writing centers in your classroom, your students will learn seasonal vocabulary words as well as different types of writing. Some examples are opinion writing, story writing, sequencing, labeling, list making, and more.
You can give winter writing centers a try in your classroom by completing a DIY version. Make a list of winter words with your students on the whiteboard.
Write the sentence starter "I like ______ because __________" on the whiteboard.
After discussing the words, have each student choose one word to write about to complete the sentence starter.
Have students use lined writing paper to complete the sentence and draw a picture of the animal they chose.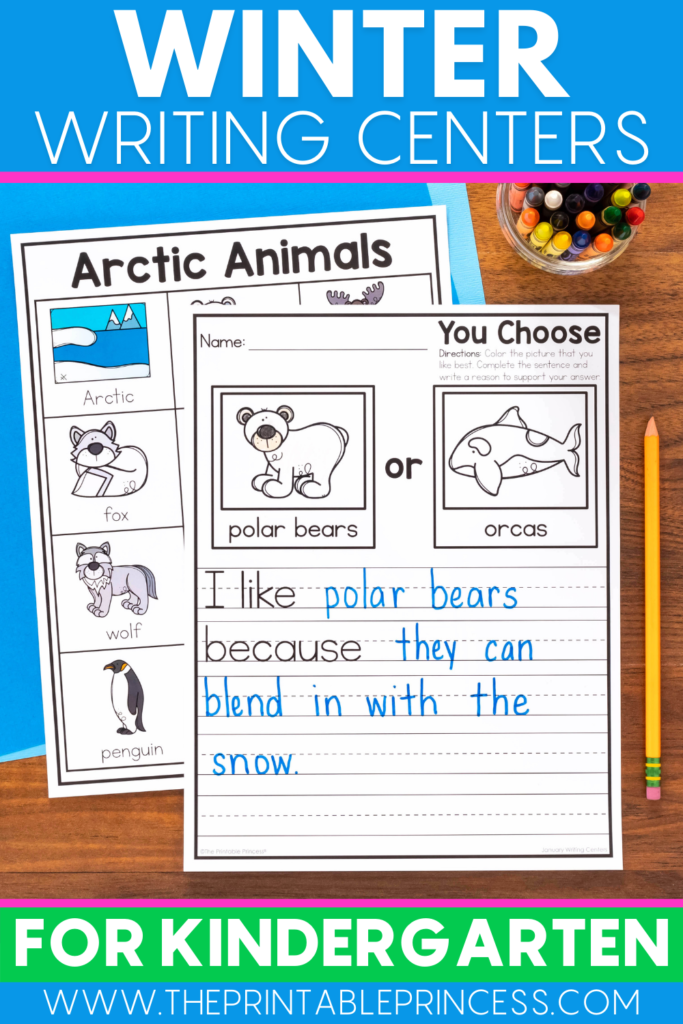 Free Kindergarten Writing Prompts
Another quick and easy winter kindergarten center idea is to use these FREE kindergarten writing prompts at your independent writing center.
With various seasonal and non-seasonal writing prompts, your students can practice writing and illustrating while focusing on handwriting and writing conventions.
You can even encourage students to read their writing pieces aloud to practice reading fluency, speaking, and listening skills.
Just fill out the form below and they'll be delivered straight to your inbox!
I hope you enjoyed these winter kindergarten center ideas! For more winter activities and learning ideas, check out this blog post.