Free Editable Sight Word Choice Boards for Kindergarten
Be sure to grab your free editable sight word choice boards in this blog post. Read on for many different ideas for using the free printables.
It's no secret that along with learning letter names and sounds, learning sight words is next on the list of important literacy skills students must master in the primary grades. These words will become the foundation upon which your students learn to read, so they must be practiced daily. Yes, I said it–daily!
It can be hard to come up with activities for your students to practice these sight words in a meaningful way without getting bored. Bored students = less engaged learning. Lucky for you, I have something that will keep your students excited and eager to work on sight words. I present to you, sight word choice boards! The best part? They are FREE and EDITABLE!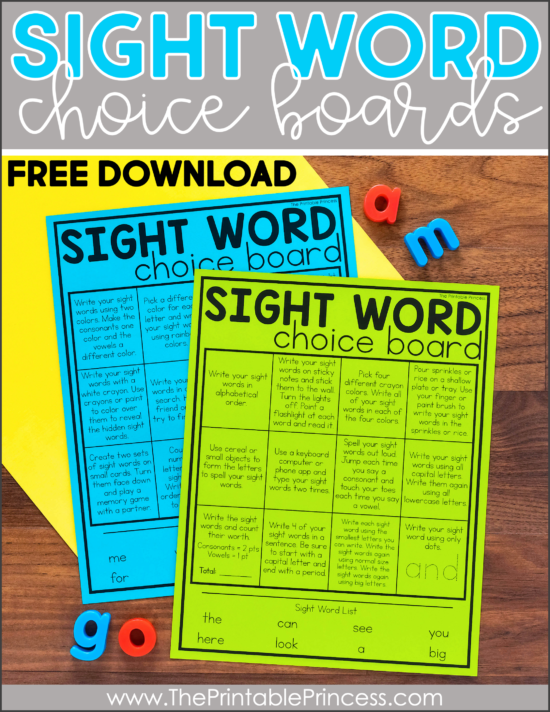 This post may include Amazon Affiliate links. We may earn a small amount when you use the links, at no cost to you and we only share things we love.
Benefits of Sight Word Choice Boards
These free editable sight word bingo choice boards have so many benefits. First off, they are editable! Who doesn't love that? You can easily type in your own sight words, which means they are perfect for any word list. The variety makes this something you can use weekly by putting a fresh spin on it. 
Secondly, they are perfect for kids ages Kindergarten through 2nd grade. You can tailor the difficulty to your students, making differentiation a piece of cake. No matter the age, students will love choosing their own activities and working towards a bingo. There is so much power in giving students choice!
Lastly, these free sight word choice boards are versatile and easy to use.  You can use these boards in various ways and times of day. Not only do they help your students practice sight words, but they also get fine motor practice and direction following all wrapped up into one!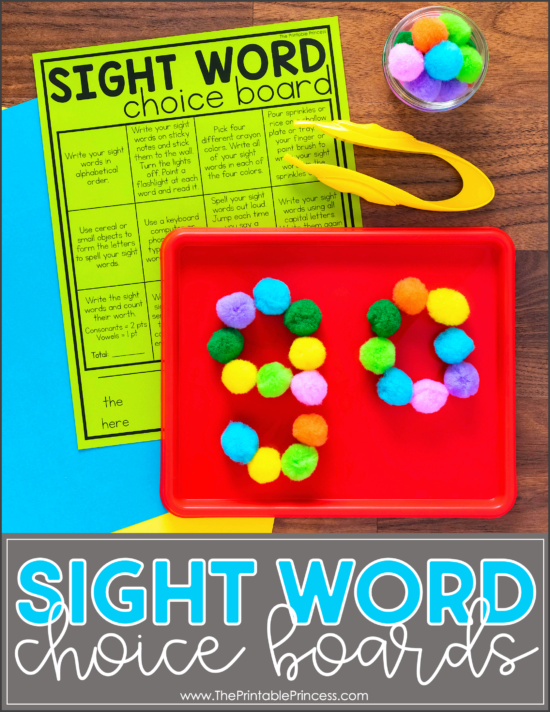 One activity to include on your bingo board is to build the sight word using pom-poms and jumbo tweezers! The students will use their little hand and finger muscles to grab the pom-poms with the tweezers and build the word. This promotes fine motor strength all while learning sight words and practicing letter formation. 
Sight Word Choice Board Tips and Tricks
With so many ways to use these free sight word choice boards, I want to share some of my best tips and tricks to save time, plan ahead, and get the most out of them! 
Teacher-Proven Tips and Tricks.
Type your sight word list in FIRST, that way you don't forget.
Include a variety of activities in those spots so they aren't only writing or only doing fine motor activities.
Include a list of supplies you'll need for each choice board and attach it to the front for easy planning and prep.
Have all of your supplies ready to go in tubs or baggies so your students can grab and go.
By implementing these four tips and tricks, you will set yourself and your students up for success. For more ideas on sight word activities to include on your choice boards, check out the post What Are Sight Words and Why Are They Important?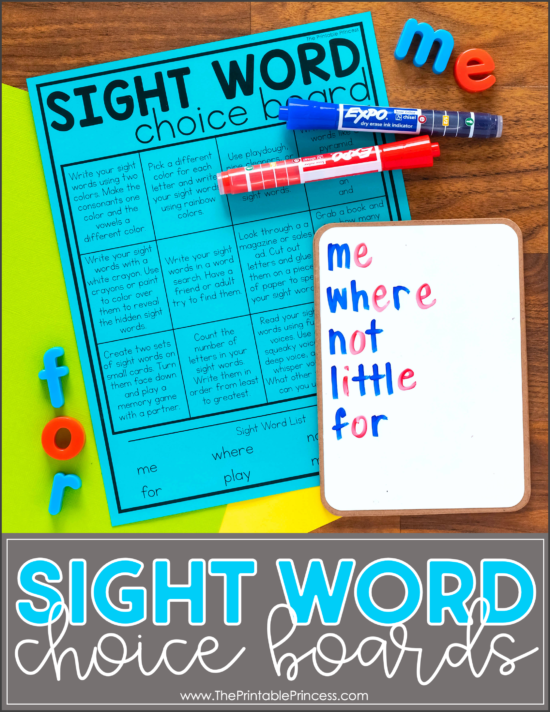 Having your students build the sight word with magnetic letters, using blue for consonants and red for vowels is a fun way to sneak in consonant and vowel practice. Your students can then write the word with blue and red dry-erase markers. This activity can easily be adapted for students to do at home by using a blue and red crayon, marker, or any colored writing tool they have.
Ways to Use the Sight Word Choice Boards
These free sight word choice boards are an amazing resource to have in your teacher toolkit. They can be used in so many ways in your classroom or at home with your students. 
Use them as homework.
Since when are kids excited about homework? Since now! These sight word bingo choice boards will make homework less of a chore and more of a fun activity for your students. Having the ability to CHOOSE how they practice their sight words puts the learning in their hands. Plus these boards give families the ability to choose the order they do the activities in. 
Use for distance learning.
These sight word choice boards are great to use for distance learning. Your students can complete the activities and submit proof via Google Classroom, Seesaw, or other interactive learning platforms. If you do use these for distance learning, just keep in mind the supplies your students may or may not have access to. You want to make sure everyone can be successful, so you might have families pick the activities instead of completing all of them.
Use as a word work center.
Sight word bingo choice boards are the perfect addition to your word work center. I've come up with the activities for you! Your students will be able to grab their choice board activity and supplies and work independently while you are leading a teacher group or helping other students. They will have fun challenging each other to get a bingo. 
Use as a fine motor station.
Fine motor skills are key for young learners. These bingo choice boards don't have to be used just during reading time, but can be used during fine motor stations. Use these as a soft start to your day or as an afternoon activity to keep your students engaged before dismissal. For more ideas on how to incorporate fine motor practice, check out this blog post full of ideas.
Use as an early finisher activity.
As teachers, we know that not all students finish their work at the same time. This is why having early finisher activities is a great idea! Instead of rushing to come up with something for those "I'm done!" students to do, teach them to work on their sight word choice boards when they are finished with their other work instead. They'll get sight word, fine motor, and direction following practice while you help other students or wrap up what you're doing. Everybody wins!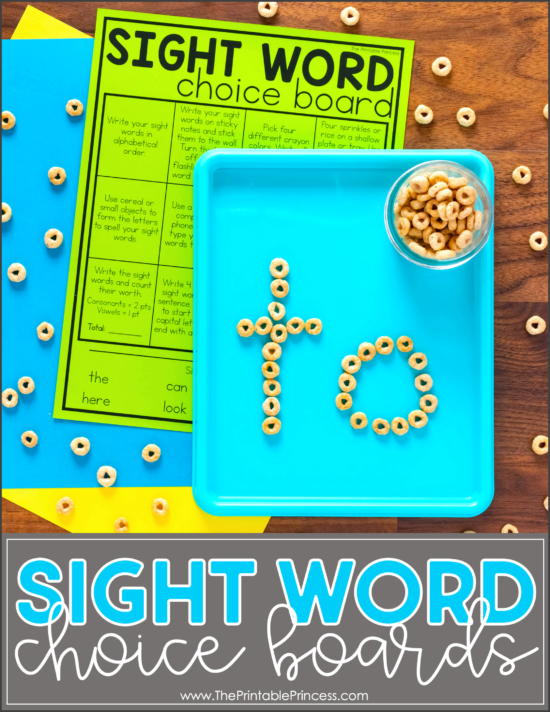 These sight word choice boards can also be a snack! Seriously, when food is involved, kids go crazy! Include an activity on your board where they get to build the word with food such as cereal, marshmallows, or chocolate chips. Once they are done, they can eat. Talk about a motivator! This is another at-home friendly activity to include on your board.
Incorporating these editable sight word choice boards in your classroom will help improve your students' sight word accuracy and up the fun too! Easy to use, versatile, and engaging–what's not to love?!
Fill out the form below to join our email family and have this editable freebie delivered right to your inbox!