Developing Fine Motor Skills
Taking the time to build and develop fine motor skills is just as important as teaching your kindergarten students their letters and numbers.
Fine motor skills are the foundation for many other skills, including grasping a pencil, controlling a writing utensil, using scissors, and having good handwriting.
In this post, I'll be sharing several simple activities that you can do with your students to help them develop fine motor skills.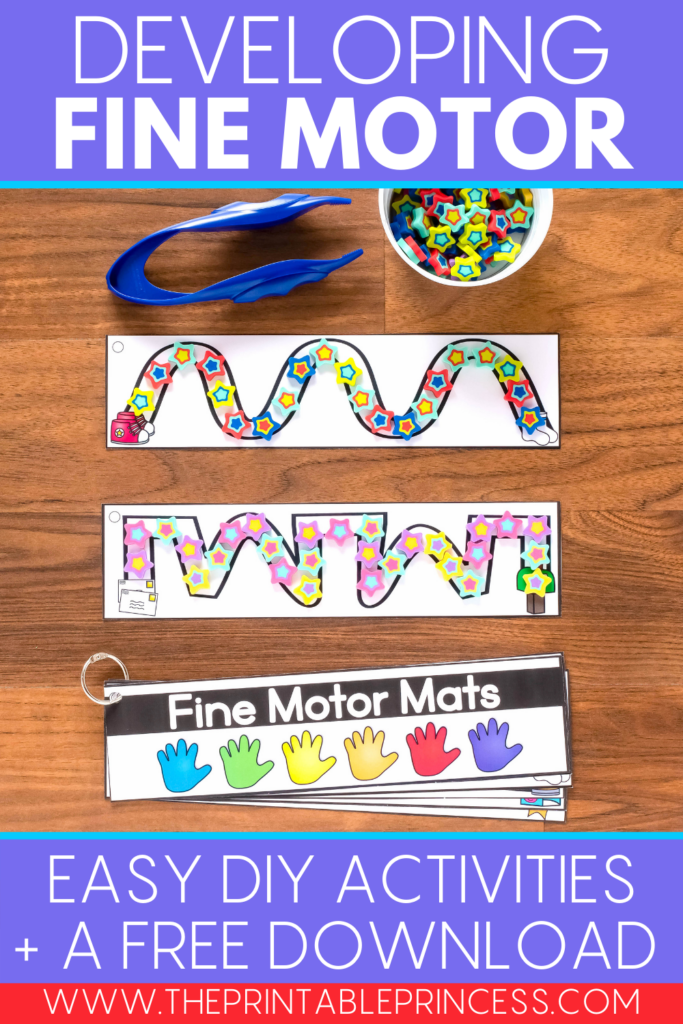 Activities To Help Develop Fine Motor Skills
It takes time for children to build strength in their little hands and fingers. Someone who has never exercised wouldn't go out and run a 5K, now would they?! The same thing is true with students.
They need exercise and consistent practice to build those strong muscles and develop fine motor skills. It's important to plan activities that will help students strengthen those muscles.
Thankfully, there are many fine motor activities you can incorporate into your classroom.
They can be as simple or elaborate as you'd like. The most important thing is that you add them to your lesson plans, especially at the beginning of the year.
DIY Fine Motor Activities
If you're looking for some affordable and low-prep fine motor activities, there are a ton of DIY options. You don't have to spend a bunch of money on extra materials. Look around your classroom and get creative with what you already have.
Ideas using construction paper:
Place 4-5 stickers randomly across 4″ strips of construction paper. Draw a star on the left hand side.

Students begin at the star and use a dry erase marker to draw lines around the stickers to get from one end of the paper to the other. Laminate to use time and again.
Cut a 9″ X 12″ piece of construction paper in half length-wise. Use a Sharpie to write each student's name in large print. Space the letters out to take up as much of the strip as possible.

Students take a sticker off the page and put it on the paper to make their name. Taking the sticker off of the page and putting it on the paper are both great exercises to develop fine motor skills.
Tear construction paper into small pieces. First, cut the pieces of construction paper into quarters to make it more manageable for little hands. This helps develop fine motor skills and prepare students to use scissors.

To make a simple name activity from the torn paper, use a Sharpie to write the first letter of the child's name at the top of the paper in large print. At the bottom of the paper write, "is for ___." Write the child's name in the space. Students will tear the paper and glue it on the large letter.
Cut 2″ X 6″ strips of paper. Place stickers across the paper. You could use stamps, draw lines, or make bingo dabber dots to show students where to cut.

Students will snip with scissors up to the sticker. This teaches students how to hold the paper when they cut, how to open and close the scissors, and where to place the scissors. As students get more advanced, you can draw lines for them to cut on in between the stickers.
Ideas using basic classroom supplies:
Cut straws into 1″ pieces. Have students string them on pipe cleaners, shoelaces, or use a plastic needle and yarn. This activity encourages hand-eye coordination.

Use jumbo tweezers to put pom-poms into empty ice cube trays or egg cartons.

Use

bingo dabbers

to practice letter and number formation and name writing.

Cutting coupons is an easy, low-prep activity. Ask parents to donate old coupons at the beginning of the year. Be sure to preview the coupons first to ensure they are kindergarten appropriate.
Play-based ideas:
Play with snap cubes or Legos. It takes strong hand muscles to snap the cubes or Legos together and unsnap them.
Playing with play dough is a great activity for developing fine motor skills. Students can simply play and create, practicing rolling, squeezing, pinching, and pressing. You can add in some letter and number practice with these play dough mats.
Use lacing cards or turn a paper plate into a lacing activity by punching multiple holes in the plate and adding some yarn or shoelaces.
Done for You Fine Motor Activities
If you are looking for some fun fine motor activities to add to your lesson plans, there are several done for you activities. This is great if you don't have the time or energy to make your own. Most of them are just print and go!
Mini Eraser Make It mats
Mini Eraser "Make It" Mats are perfect for developing fine motor skills along with letter and number recognition. Students can draw an uppercase or lowercase letter or number card and use a pair of jumbo tweezers to build it with mini erasers.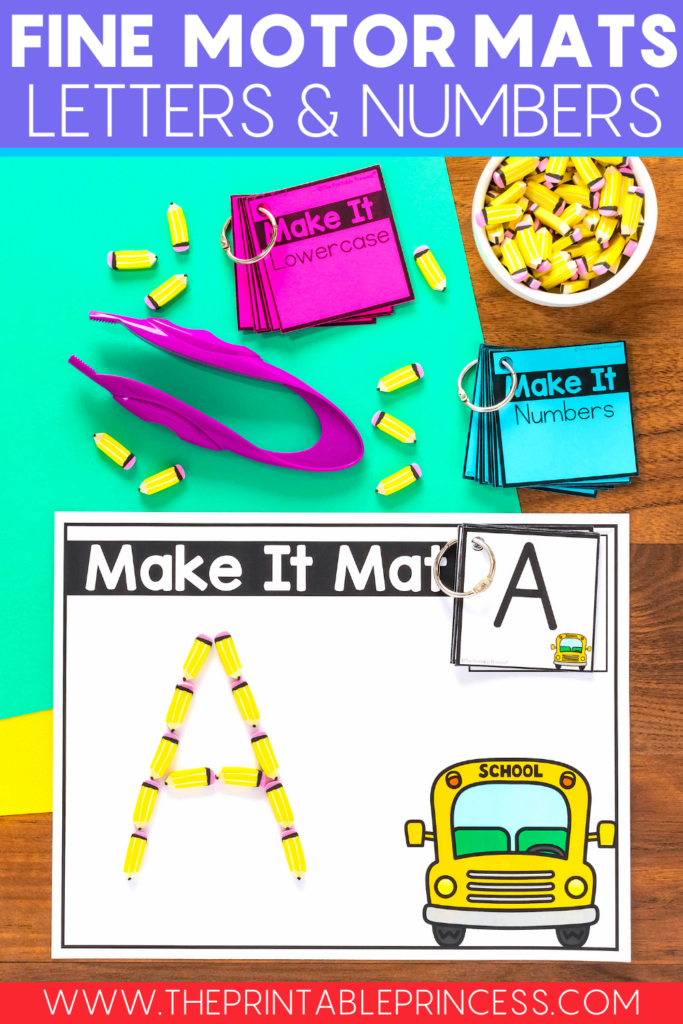 Roll and Match with Colors Fine Motor Mats
If you're looking for an activity to help students practice fine motor skills, color recognition, and color words, these Roll and Match with Colors Fine Motor Mats are perfect!
All you need are dice and snap cubes. Students will roll the dice, choose the corresponding color of cube, and match it to that color on the mat to create a picture.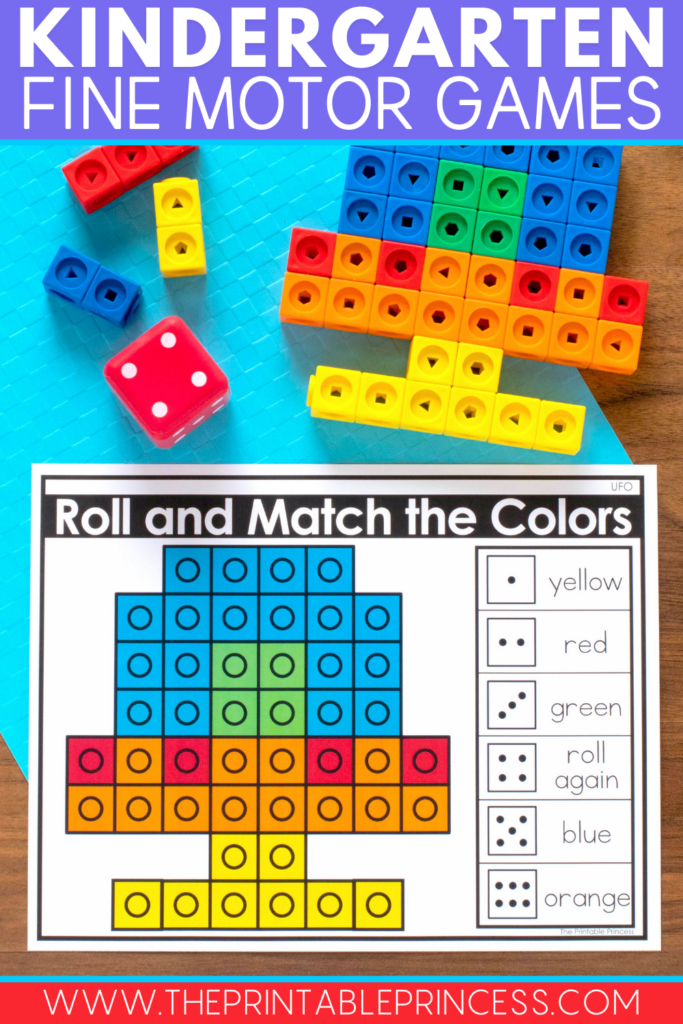 Magazine Letter Hunt
Practice letter recognition, environmental print, and fine motor skills with this Magazine Letter Hunt activity. Students will search through magazines to find the target letter, cut it out, and glue it onto the page.
There are also options for sorting the target letter by:
Uppercase and lowercase
Target letter and not the target letter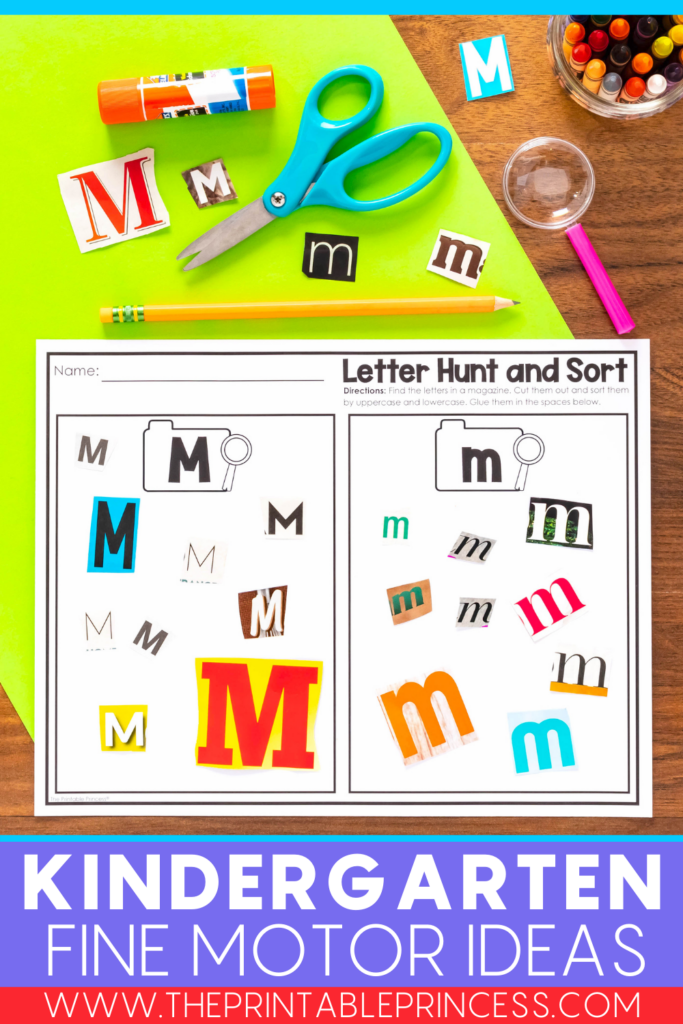 Fine Motor Mats Free Download
To help you start implementing fine motor practice into your daily routine, you can grab this Fine Motor Mats Activity free download by filling out the form below and it'll be delivered right to your inbox.
You can find more ways to use this free download in this blog post.
I hope you enjoyed these ideas for implementing fun and practical fine motor practice into your classroom. For 12 more fine motor activity ideas, check out this blog post.
What are some of your favorite ways to help students develop fine motor skills? Tell me in the comments below!