How to Make a Student Portfolio for Kindergarten
Kindergarteners learn so many important skills throughout the year. It's essential to document their progress and keep track of their growth throughout the year. One of the best ways to do that is by making a kindergarten portfolio for each of your students. Read on to learn how to make a student portfolio and what the benefits are.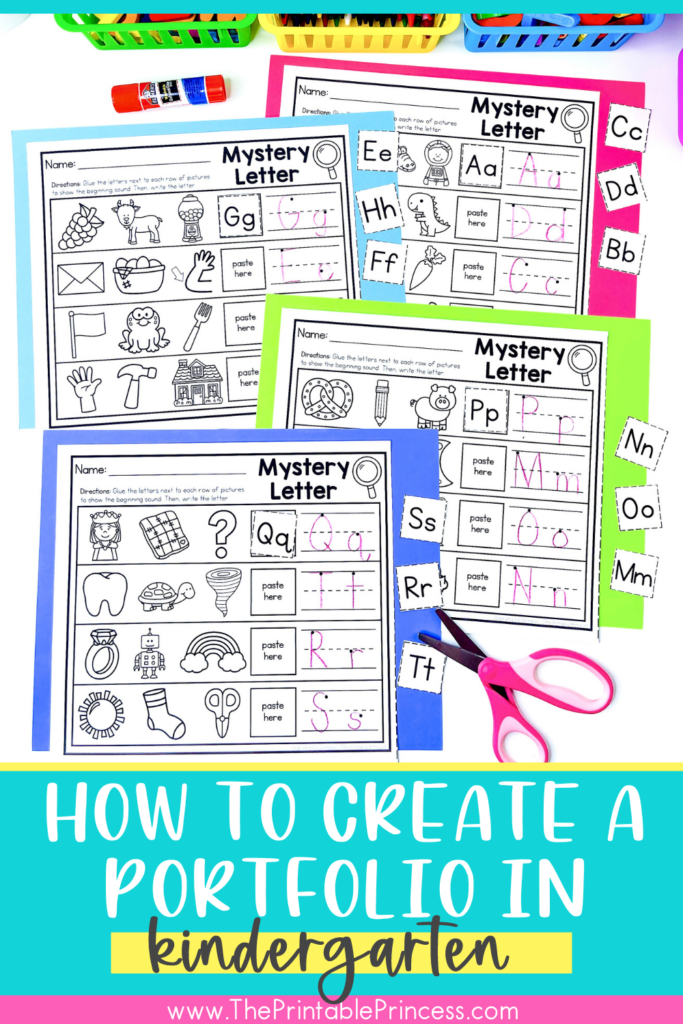 What is a Kindergarten Portfolio?
A kindergarten portfolio is an authentic way to assess a student's skills, growth, and progress throughout the year.
A kindergarten portfolio is a collection of student work samples, teacher notes and documentation, and assessments from the year. You can also add photos, art projects, and memories from the year.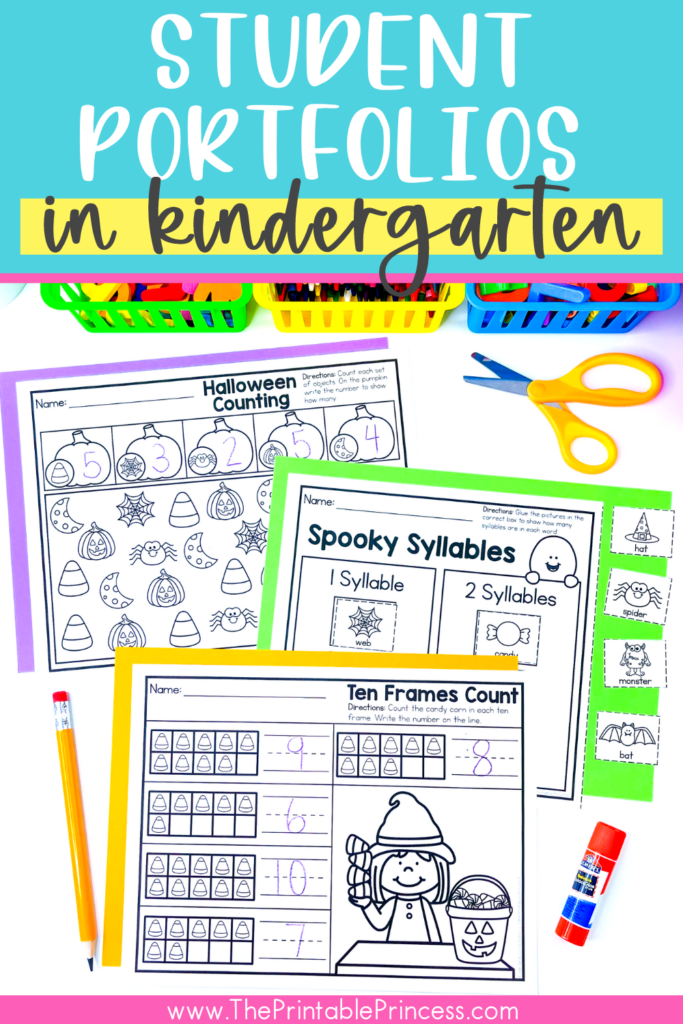 What are the Benefits of Using a Kindergarten Portfolio?
Kindergarten portfolios have a ton of great benefits for students, teachers, and parents.
The items included in a kindergarten portfolio give everyone involved in a child's education a snapshot of the strengths, areas of growth, and progress made by the students during the year.
A kindergarten portfolio gives you documentation and examples of your students' skills so you can plan instruction accordingly. They are a great way to document student growth on various skills as well as keep track of skills they need more practice with.
This helps teachers guide instruction, lead parent teacher conferences, and make informed decisions for students. It can also be helpful in forming small groups.
Having a student portfolio helps teachers prepare for parent meetings or other meetings related to student intervention.
It provides visual proof to back up your concerns and areas of growth. A student portfolio is a powerful way to show parents how their child is progressing.
By including students in the process of choosing what work samples and special projects are included in the portfolio, they'll be encouraged to take ownership of their work and feel a sense of pride and motivation to work hard.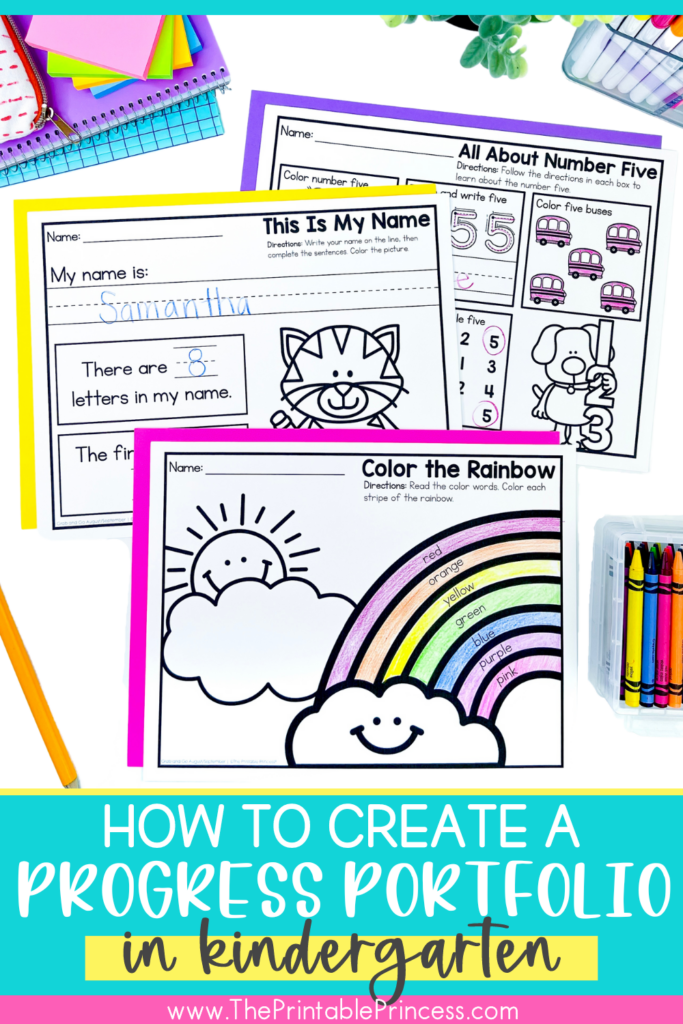 How to Make a Student Portfolio
To make a kindergarten student portfolio, have students decorate a plain folder and label it with their name. This will help them feel included in the portfolio and not see it as intimidating.
Have a designated place where you keep work samples and items for the student portfolio. This could be a drawer, basket, etc.
Once a week, file the items into each student's portfolio. Store the portfolios in a filing cabinet or in a basket in your teacher area or closet.
What to Include in a Kindergarten Portfolio?
The great thing about student portfolios is that they are super customizable and you can include a variety of items.
Student Work Samples
Student work samples showing progress on key kindergarten math and literacy skills are important to include.
You can use a no prep math and literacy worksheets to quickly assess or check-in on your students' skills. Once you record the data, the worksheet can go into the portfolio to back up your data and show the student's work.
Writing Samples
Writing skills are important to track progress on in kindergarten. In your kindergarten portfolio, include samples of various types of writing, such as name writing, handwriting, sentence writing, etc.
At the beginning of the year, your students will be working hard on writing their names and letters. By the end of the year, they'll be writing sentences with more detail.
Writing prompts are a great way to see students' writing skills and how far they've come. Save these writing pieces in your students' portfolios to show their writing progress as well as their progress with using writing conventions, vocabulary words, etc.
Math and Literacy Skill Samples
Collect math and literacy skill samples in your kindergarten portfolio to help showcase growth.
You definitely don't have to save every page of work your students complete. Choose one or two worksheet samples for each key skill you want to track.
For math, this may be number writing, counting, patterns, basic addition/subtraction, shapes, etc.
For literacy, it may be letter writing, rhyming, syllables, phoneme segmentation, story sequencing, etc.
Assessments and Progress Monitoring Checklists
Assessments, progress monitoring checklists, and data are also important to include in a portfolio. You may want to group these items with the work samples used to assess or collect the data.
Letter names, beginning sounds, sight words, number recognition, and counting are a few important skills to assess and monitor throughout the year and include in the portfolio.
To help make assessing letter naming fluency easy, you can grab your free copy of this assessment and teacher data tracker by filling out the form below.
Fine Motor Samples
Fine motor skills are key in kindergarten, so it's important to collect samples on these skills.
Have students complete no prep cutting, pasting, and coloring worksheets to use for skill checks and to include in your kindergarten portfolio.
Art Samples and Memories
A student portfolio doesn't have to be all about skills and data. It can also include fun art projects that students are proud of, pictures, and memories from the year.
Your students can help choose their favorite art projects to add to their portfolio, which is a good way to include them in making the student portfolio.
Teacher Notes
Teacher notes are another great item to include in a student portfolio. This could be notes on social emotional skills, behavior, learning styles, positive feedback, or special memories.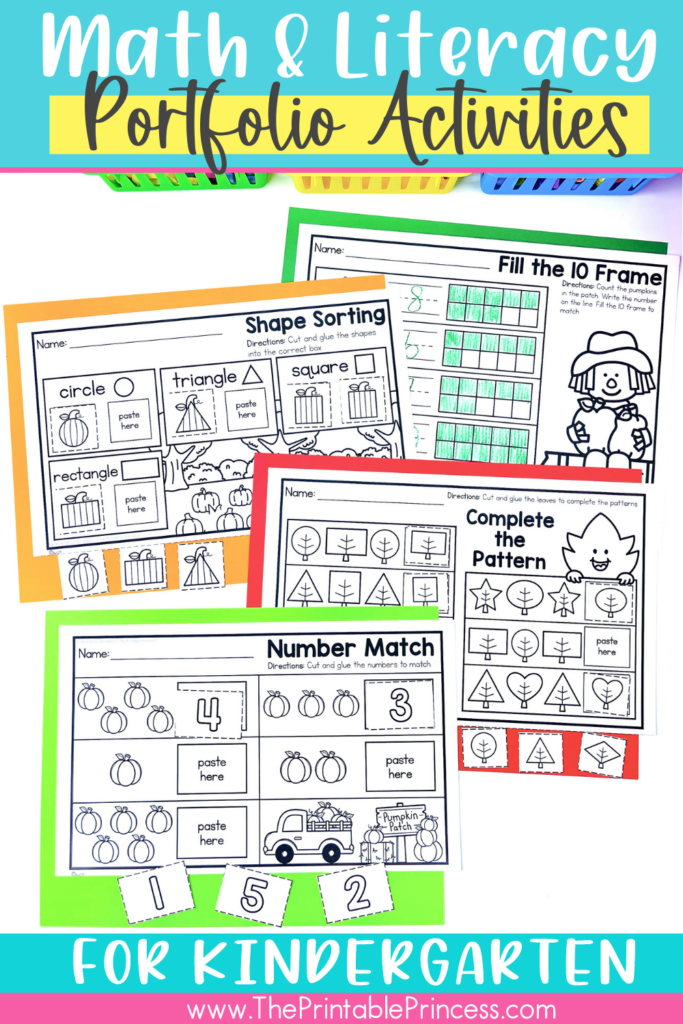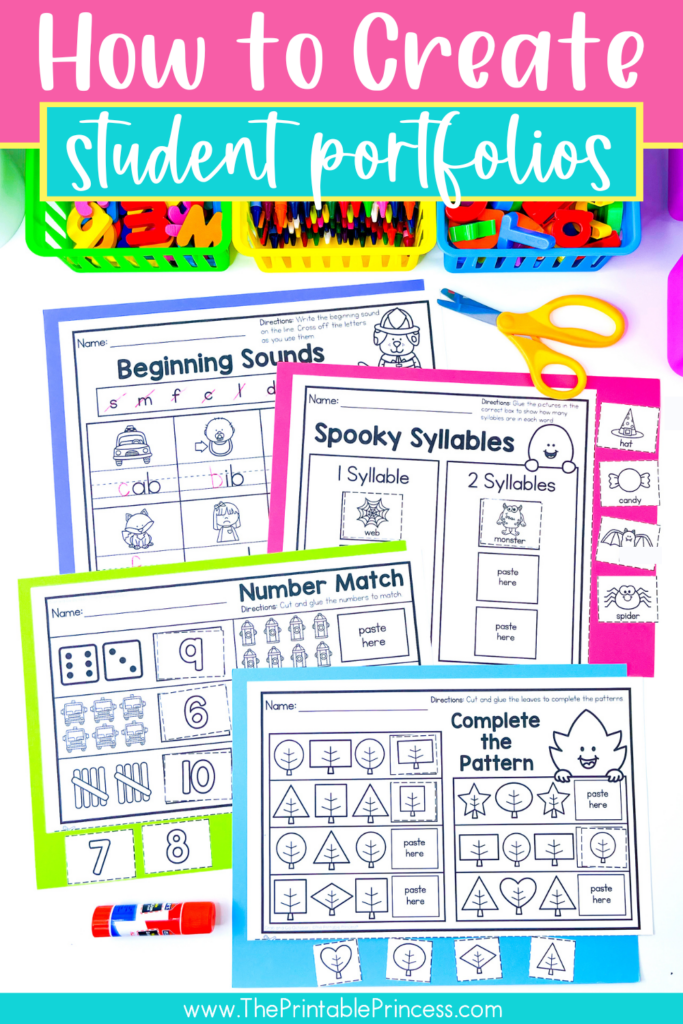 If you're ready to implement student portfolios with your students and would like more math and literacy worksheets to include in your portfolios, check out this Grab and Go Math and Literacy Worksheet resource bundle.
You'll be set for collecting math, literacy, and fine motor work samples all year long!
Do you use kindergarten portfolios in your classroom? Tell me in the comments below!