For most Kindergarten students, this marks their first "official" year of school. It's definitely a year of growth. The sweet little faces staring back at you in May are not the same faces that you first saw in August. These little people have grown so much because of the time they have spent with you.
These students have learned so much, and made new friends, as well as a ton of memories. One of my favorite ways to document and remember all of the fun is with a Kindergarten Memory Book.
These Kindergarten Memory Books are perfect for the last few weeks of school. They are great for wrapping up the school year and saving the last few days together, while still working on those reading and writing skills. Plus I love seeing student opinions on things, like their favorite field trip, favorite class activity, or even their favorite lunch!
Parents LOVE Memory Books too! For one they provide a glimpse into their child's year with you. Plus it serves as a sweet memento that students and their families will look back on for years to come.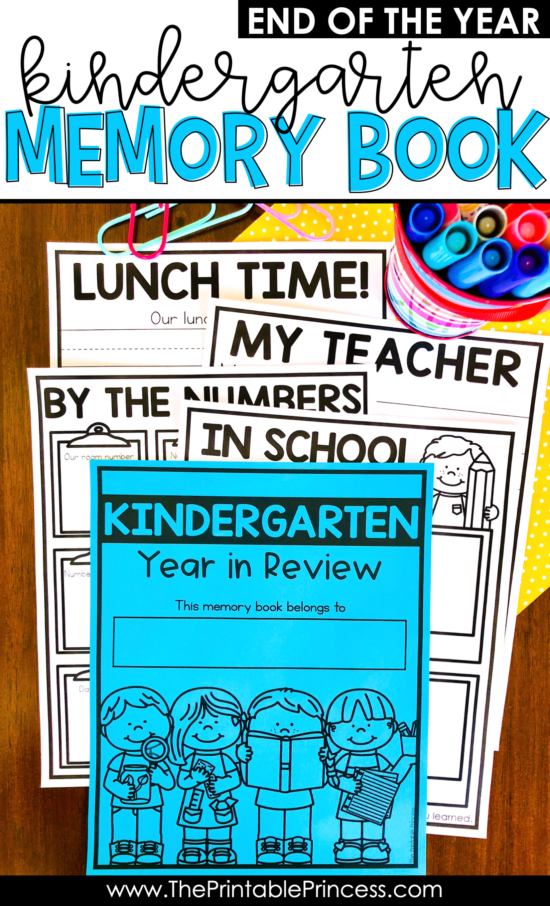 About the Memory Book:
This memory book was designed specifically for Pre-Kindergarten through first grade students. This means that the pages are kid-friendly with large spaces for drawing and larger dotted lines for writing. Several of the pages have multiple options, depending on how much writing you want
This entire resource is photocopy friendly – it's all in black and white. Students will just need pencils and crayons. There are four cover page options included: PreK, Kindergarten, 1st Grade, and one generic cover which would work for any grade level. The covers look great printed on colored paper!
You can complete these as a class in a whole group activity, but they also work in a small group too. Plus, it's a great project that parent volunteers can help out with.
Memory Book Pages:
Each page focuses on only one theme. Theme pages are offered with differentiated options, which allows you to pick which lay-out works best for your students. Pages range from drawing a picture only, a picture and a simple written response, or a drawing and lines for a sentence or two.
A few of the themes include: recess activities, a special day, class parties, favorite lunch, a trip to the nurse, my friends, my teacher, "you're special" (great for paras or parent volunteers), along with skills centered pages. There's also pages for students to record their summer plans and what they hope to learn next year. You can visit TpT to view a complete list of the pages and themes included.
You do not need to use all of the pages in this book. There are several options and differentiated levels included in this resource. Pick the topics and levels that work best for you and your class.
How to Make the Memory Book:
To create the memory book, ideally you would want to complete only one page per day. This means starting a few weeks before school it out.
But let's face it, sometimes life happens and you get in a pinch. So if you're in a time crunch, at the very least space out the pages. Maybe do one in the morning, one mid-day, and one in the afternoon.
Students can get confused or overwhelmed by doing too many pages at one time. Plus doing too many at one time doesn't give students enough time to organize their thoughts.
First select the page that you will be working on. Next, as a group, have students brainstorm a list of ideas surrounding that theme or topic. This is a super important step to refresh student's memories. Record or draw their ideas for them to refer to.
You can staple the pages together or use a binding machine to create the books.
Sample Pages:
Here's a sample of some of the pages included in the Kindergarten Memory Book.
My Favorites: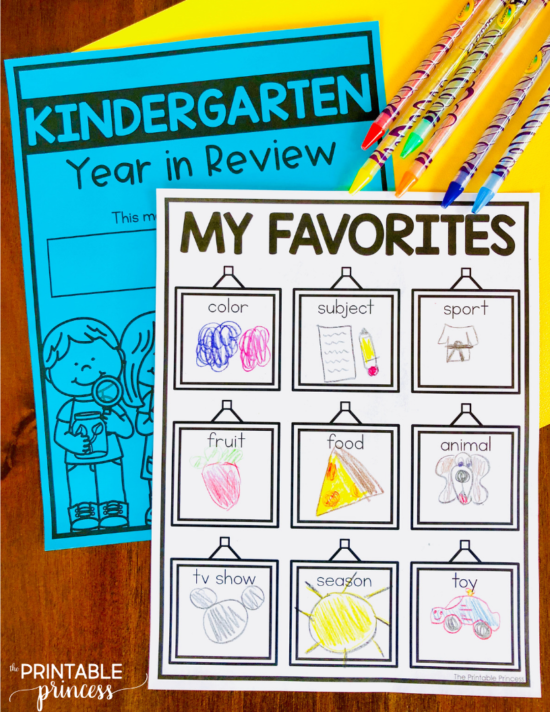 This is a fun page for students to share their opinions on their favorite things, such as: color, sports, food, animal, etc. There's no writing required, therefore students draw a picture to show their response. Some of the other pages included things that make them happy, pictures of themselves, and filling in simple personal information like their name and age.
My Teacher: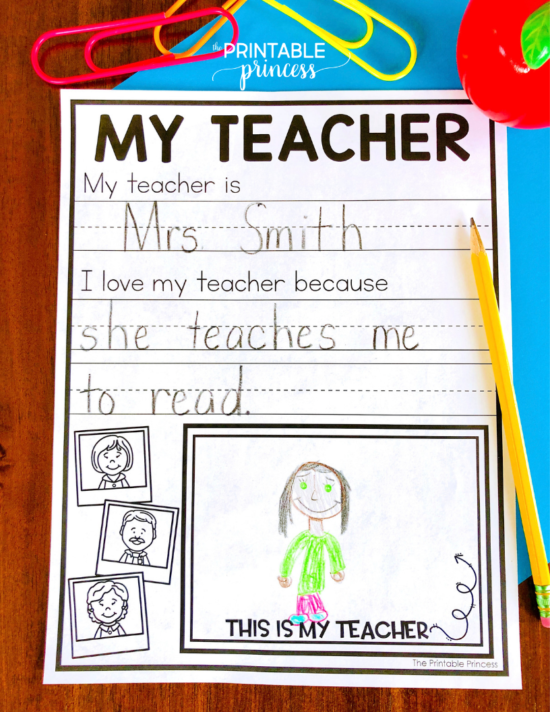 On this page students can write about their teacher. There's two options included. The other option has less writing, with a space for students to write their teacher's name and draw a picture. There are also pages for students to record memories of their friends as well as a "You're Special" page. This page is generic can be used for para's, special volunteers, etc.
In School I Learned: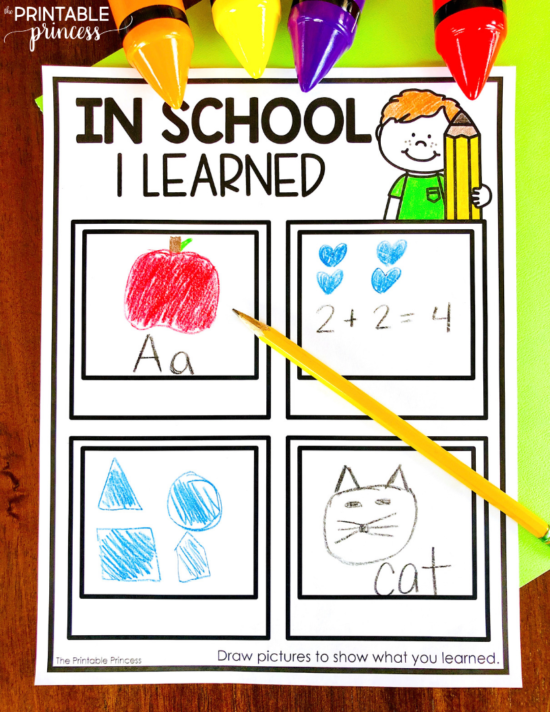 This page is a generic page for students to record what they learned in school. There are three options included: no writing (pictured), a little writing, and even a little more writing. There are pages included specifically for reading, for math, science, and social studies if you prefer. In addition, there are pages for students to record how they write their letters and numbers.
By the Numbers:

This is one of those fun pages that work well done as a whole group. All of the responses on this page are numbers. Students love counting the items and filling in their answer.
Lunch Time!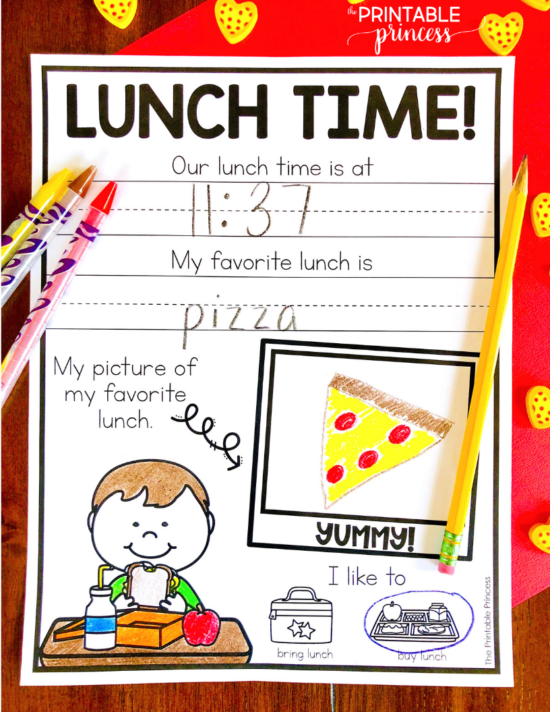 Everyone's favorite time of the day has its' own page! Students record their lunch time, their favorite lunch, and draw a picture. There is a non-writing option included too. There's also pages for students to document their favorite book, favorite recess activity, and field trip.
End of the Year Kindergarten Freebies:
In addition to making a Kindergarten memory book, the end of the year is also a great time to play games and just spend quality time with these little people who now feel like family. Here are two of my favorite end of the year activities. These are both so fun for kindergarten and first grade.
Pair and Share

This game is great for time fillers. Plus it's fun for students to reflect and share with their classmates. And it gets the kids up and moving!
To prepare the Pair and Share activity, print, laminate, and cut apart the partner matching cards and teacher question cards. Mix up the partner cards, turn them face down, and pass one out to each student.
Students will find the classmate that has the matching partner card and stand next to them. Then, select a question card and read it to the class. Students turn to their partner and answer the question. You can have students give their answer and a reason to support their answer.
To play again, have students turn the cards face down. Students will circulate the room for a set amount of time. You might play music or a few seconds of a song. When the music stops, they trade cards with the nearest classmate (cards are still face down). Then begin the activity again either using a new question or repeat the same question so students can share their answer with another student.
As a bonus, you can add your own questions and keep the game going!
Find Someone Who…
This freebie is a no prep activity that will also get students up and moving around. Use it as an indoor recess activity, or just a fun game on the last few days. Each student will need a copy of the "Find Someone Who" page.
Before the activity begins, read each space with the class and draw attention to the picture cues. Students will circulate the room and find someone that fits each description. The classmate will write the name in the space. Students can only use each classmate once.
You can download your copy freebie copy of the End of the Year Games Freebie by clicking here. You can check out the End of the Year Memory Book on TpT here.