Creating a Kindergarten Memory Book
For most kindergarten students, this marks their first "official" year of school. A fun and memorable way to celebrate a year of growth is with a kindergarten memory book!
Just think back to the beginning of the year. The sweet little faces staring back at you in May are not the same faces that you first saw in August. Those little people have grown so much because of the time they have spent with you.
Your students have learned so much, and made new friends, as well as a ton of memories. A kindergarten memory book is a great way to capture all of the good times from the year while giving students a sweet memento to cherish forever.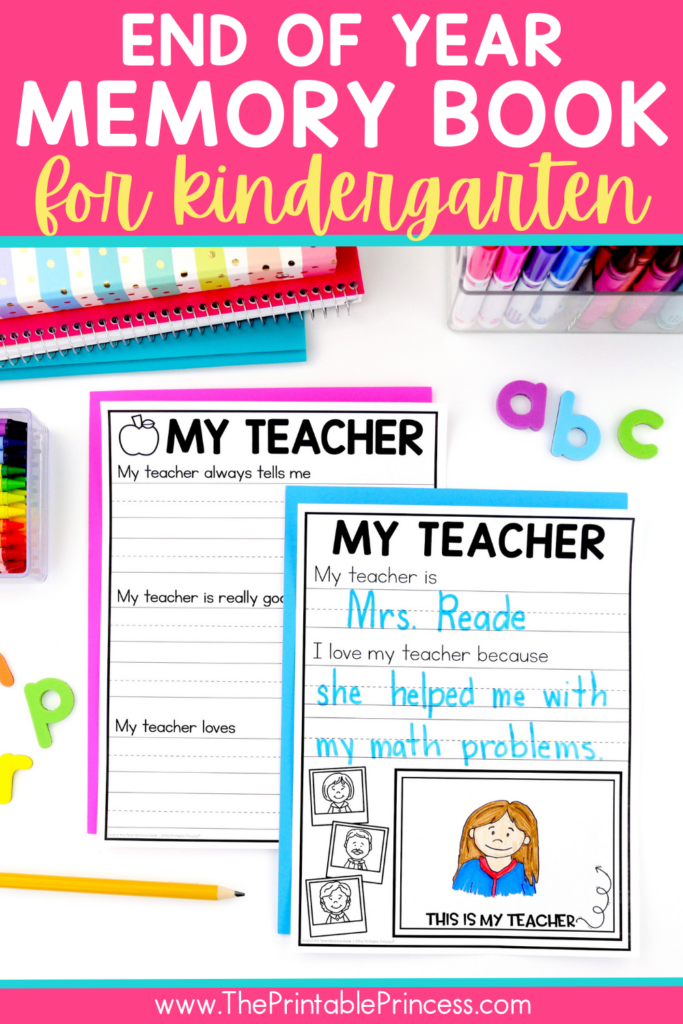 Why Create Memory Books with Students?
Kindergarten Memory Books are perfect to make during the last few weeks of school. They are great way to wrap up the school year and savor the last few days together, while still working on important reading and writing skills.
Plus, it's so fun to see each student's opinion on events throughout the year, like their favorite field trip, favorite class activity, or even their favorite lunch!
Parents love memory books, too. For one, they provide a glimpse into their child's year with you. They also serve as a keepsake that students and their families will look back on for years to come.
A memory book is the kind of thing that parents will bring out at their child's high school graduation to look back on their years in school, which all started with your classroom.
Creating a Kindergarten Memory Book
Creating a memory book can be simple, especially if your using this ready-to-go Kindergarten Memory Book resource. You will need a few things: prompts for students to write about, a nice page layout with space to write and draw, and covers for the memory books.
With the Kindergarten Memory Book resource, I made it simple. The memory book was designed specifically for kindergarten students. This means that the pages are kid-friendly with large spaces for drawing and dotted lines for writing.
The pages have multiple options, depending on how much writing you want your students to do. This makes for a great differentiated writing activity that you can use during the final weeks of school.
Plus, the memory book is copy machine friendly with black and white colors only. Therefore, it doesn't require you to use up your precious colored ink. Students can add color with markers, crayons, colored pencils, and more! They will create their own unique drawings to match the writing prompts.
There are 4 cover page options included: Pre-K, Kindergarten, 1st Grade, and one generic cover which would work for any grade level. The covers look great printed on colored paper. You can print the pages on different colors and let students choose or give students the freedom to draw on their covers.
You can complete these books as a class in a whole group or small group activity. If you have parent volunteers that help out in your classroom, this is a great project for them to help with!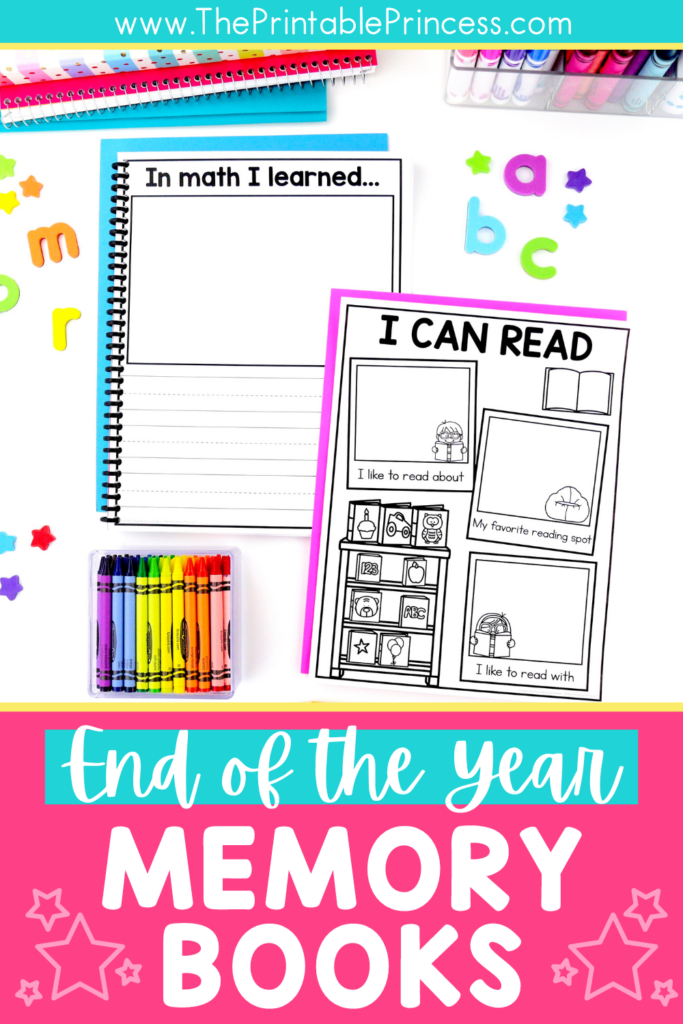 Memory Book Pages
If you decide to create your own memory book, I suggest coming up with various topics to help students explore and reflect on the entire school year. If you grab the ready-to-go Kindergarten Memory Book, I've included 40+ prompts and various page options, so all you have to do is choose a writing option and print!
Each page of the memory book focuses on one theme. The themed pages are offered with options for differentiation, which allows you to pick which layout works best for your students.
I also like to pair writing and drawing together. In the Kindergarten Memory Book, many of the pages include different options: only drawing a picture, writing a simple response plus a drawing, and writing 1-2 sentences and drawing.
A few of the themes included are:
Recess activities
A special day
Class parties
Favorite lunch
A map of my classroom
In school I learned
My friends
My teacher
You're special (great for paras or parent volunteers)
There are also subject and skills-centered pages for students to share what they learned in reading, math, science, social studies, and so on.
You'll also find pages for students to record their summer plans and what they hope to learn next year.
This memory book is jam-packed with options and pages, but you do not need to use all of the pages in this book! There are several options and differentiated levels included in this resource. Pick the topics and levels that work best for you and your class.
How to Make a Memory Book
To create a memory book, I recommend working on it throughout the last month or so of school and complete just a page at a time. This will keep you and your students from getting overwhelmed and avoid students rushing through the activity.
Let's face it though, sometimes life happens, and you get in a pinch. If you're in a time crunch, you can space out the pages over a week or two. You can do one page in the morning, one mid-day, and one in the afternoon. However, I would avoid this if possible.
Students can get confused and overwhelmed by doing too many pages at one time. Plus, this doesn't give students enough time to organize their thoughts and put their best effort forward. It's okay to have a smaller memory book!
Completing the Memory Book
It's simple to bring a memory book into your classroom, especially if you're only completing a few pages each week. You can have students work on the memory book during your writing block, small group instruction, or centers.
Here's how I recommend prepping for memory book work:
First, select the page that you will be working on. If you are using the Kindergarten Memory Book, simply print the pages you will need.
Next, as a group, have students brainstorm a list of ideas surrounding that theme or topic. This is a super important step to refresh students' memories. Record or draw their ideas on the whiteboard for them to refer to.
Lastly, give students a generous amount of time to draw and write to complete the page. You may work with a few students during this time if they are struggling or provide some sentence starters for the class.
If you have extra time, ask students to share their writing. You can read a few examples to the class or have them share with a partner. This is a fun way to look back at the school year together!
As your students complete the pages, I recommend collecting them and storing each child's pages in a folder with their name on it. Then, before they head home for the summer, you can staple the pages together with the front cover (or use a binding machine) to create the books. You can even add a special ribbon and notecard to the front to make this a special gift for them to take home!
Example Memory Book Pages
Are you ready for a little sneak peek? Read on to check out a few examples of the pages included in the Kindergarten Memory Book!
My Favorites
This is a fun page for students to share their opinions on their favorite things, such as their favorite color, sport, food, animal, etc. Students can write out their responses or draw an image for each category.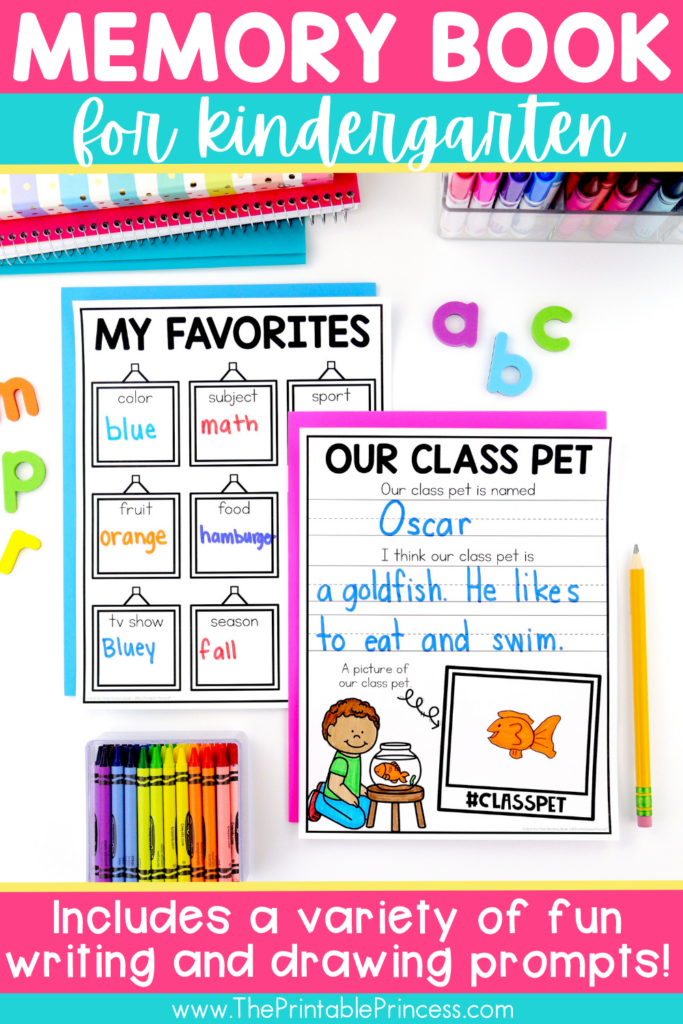 My Teacher
On this page, students can write about their teacher. There are two options included, one with three different prompts and lots of writing space. Another is with a space for students to write their teacher's name, a bit of writing, and space to draw a picture.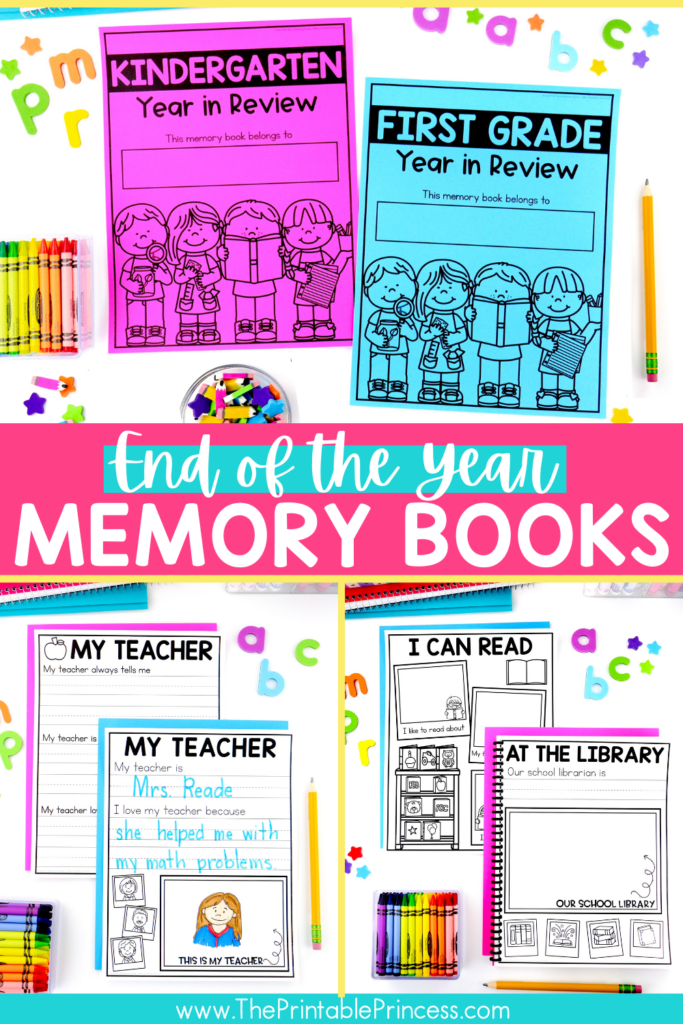 In School, I Learned
There are lots of prompts and pages that cover various subject areas. For example, pages specifically for reading, math, science, and social studies. In addition, there are pages for students to record how they write their letters and numbers.
There are also more general subject-area prompts, like asking students what they read this school year and their favorite book.
Free Kindergarten End of the Year Games
In addition to making a kindergarten memory book, the end of the year is also a great time to play games and spend quality time with your students who now feel like family.
I've put together a pack of two of my favorite end of the year class games for Kindergarten and First Grade students!
Pair and Share
The first game is called "Pair and Share." This game is great for a quick time filler at the end of the year. It's a fun way for students to reflect and share with their classmates while getting them up and moving!
Students will each receive a partner card and find a classmate with a matching partner card to stand next to. Then, the teacher will select a question card and read it to the class. Students will turn to their partner and share their answer to the question along with a reason to support it.
Play continues as students find new partners to share their answers to various questions with. You can play music and have students stop and find their new partner when the music stops. As a bonus, you can add your own questions and keep the game going!
Find Someone Who
The second game is called "Find Someone Who." This game is no prep and will also get students up and moving around. Use it as an indoor recess game, or just a fun game to play during the last few days of school.
Each student will need a copy of the "Find Someone Who" page. Before the game begins, read each space with the class and draw attention to the picture cues. Students will circulate the room and find someone that fits each description. The classmate will write their name in the space. Students can only use each classmate once.
You can download these end of the year class games by filling out the form below. They'll be sent straight to your inbox!
I'd love to see your finished Kindergarten Memory Books and hear how your class liked these free games! Snap a picture and come share in my Kindergarten Teacher Facebook Group!