CVC Activities for Kindergarten
Building words is imperative to becoming a great reader and writer. CVC words are particularly important, as they are the foundation for putting letter sound knowledge to the test as students sound out and blend words. These activities for CVC words will make practicing fun, engaging, and effective for your young learners.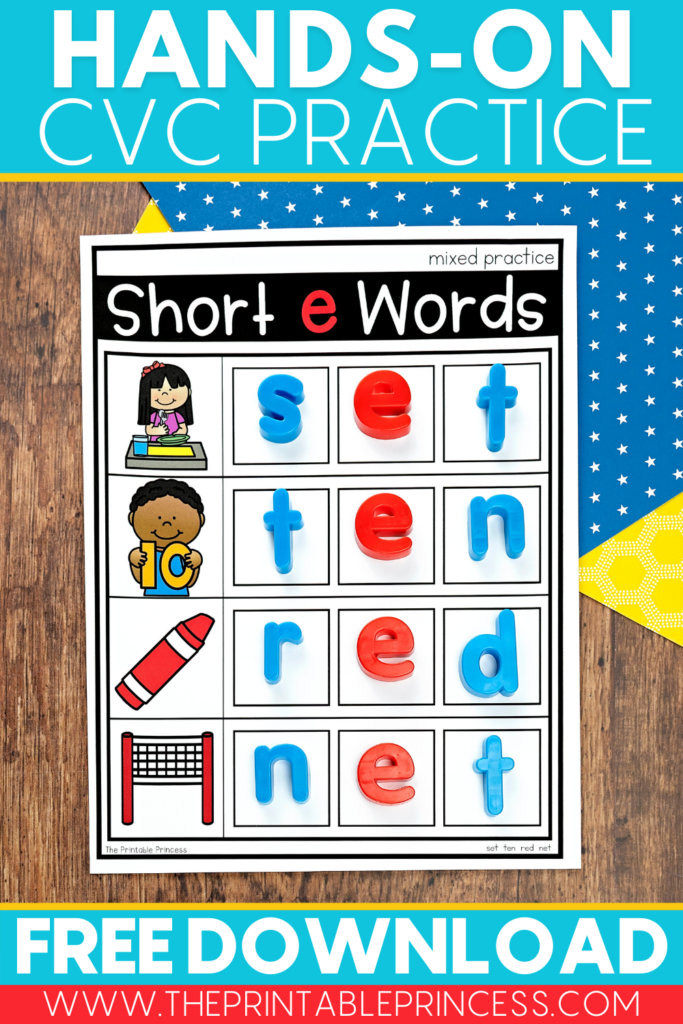 Tips For Teaching CVC Words
While teaching CVC words is a big deal in kindergarten, getting there can be a challenge for some students. They need practice and repeated exposure to master this critical skill.
As a teacher, you know that the more hands-on, interactive activities you use, the more your students will be actively engaged. And higher engagement leads to more growth and success!
So before we dive into all of the activities for CVC words, let's first talk about some tips for teaching CVC words.
Tip #1: Know when your students are ready for CVC words.
Here's the thing… even though your kindergarten pacing guide might say that you need to be teaching CVC words at a certain time of year, if your students aren't ready, it's better to hold off.
To learn more about the signs of CVC word readiness, check out this blog post.
If your students are not quite ready for CVC words, that's ok! Keep working on the basics of letter recognition and letter sounds.
Tip #2: Provide multiple opportunities to work with CVC words.
Let's face it, students don't have a super long attention span. They also get bored easily doing the same activities for CVC words every day.
That's why it is so important to provide multiple opportunities for them to work with CVC words in different ways.
Additionally, all students have different learning styles. What clicks for one student may not for the next.
Therefore, it is a good idea to incorporate activities that use pictures, letters, hands-on CVC manipulatives, and even a word work station into your CVC word practice.
Tip #3: Use pictures that are clear and kid-friendly.
Speaking of activities for CVC words that use pictures, it is essential that the pictures are clear and kid-friendly. Students should be able to look at the picture and know exactly what the word is.
This will help avoid any confusion and give students more success as they work independently.
Tip #4: Practice, practice, practice!
Just like the old saying goes, practice makes perfect! And not just practice every once in a while, but daily CVC word practice.
You can add CVC work into your morning routine, carpet time, reading warm-ups, mini lessons, word work, CVC literacy centers, writing lessons, etc.
If you have a few minutes before lunch or the bell rings for the end of the day, you can go around the room and practice spelling and saying CVC words or saying CVC words in the same word family.
There are so many ways to practice, and they don't have to be time-consuming or complicated!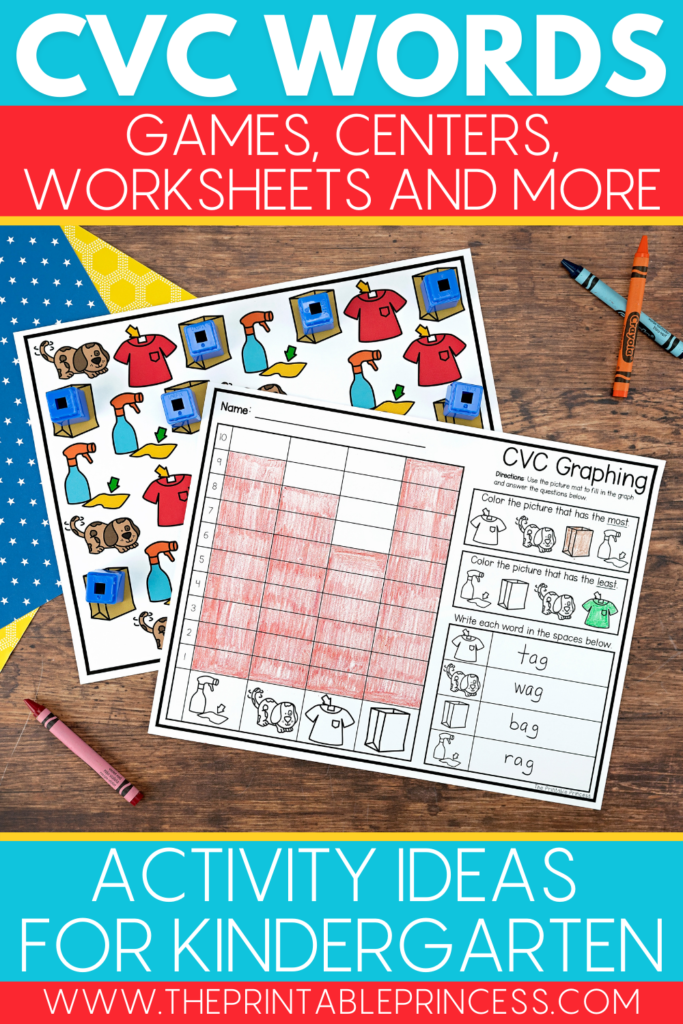 Activities for CVC Words
There are so many ways to practice CVC words, and luckily, many of them are easy to prep and use basic classroom supplies. There is so much you can do with plastic cubes, magnetic letters, dice, and mini erasers.
Word Family Activities
When students are practicing CVC words, it is helpful for them to work with the same word family. This helps them master that particular sound and get a lot of great repetition.
Using word family activities such as match and cover, CVC graphing, and CVC word mats are a great way to give students hands-on practice as they master CVC words and word families.
Build a Word Family
For a simple and no-prep word family activity, you can use magnetic letters to build words in the same word family.
Give students a pile of magnetic letters. You can either call out words in the word family for them to build or give them a stack of word family cards to flip and build.
Write a Word Family
If you're looking for an easy way to get students active, you can do this write a word family activity.
To begin, write a word family on the whiteboard. Have students take turns writing a word that belongs in the word family on the board.
This would be a great whole group warm-up or mini-lesson activity.
Mixed Vowel CVC Activities
As students progress with their CVC skills, you can start to incorporate activities for CVC words that use mixed vowels.
CVC word searches, roll and read, and spell it are all great ways to practice identifying and reading words with different middle vowels.
Word Family Mix Up
Another fun and DIY way to practice CVC words in various word families is to play word family mix up.
Draw a simple T-chart on a whiteboard or chart paper. Write various word families on the top of the chart. Write different CVC words in the various word families on notecards and mix them up.
Have students take turns drawing a card, reading the word, and writing the word under the correct word family on the chart.
You can also play by mixing up all the cards face up. Call out a word family and have students take turns finding a word card in that word family. Then they will write it under the correct word family on the board.
This is a great whole group or small group game to practice CVC words.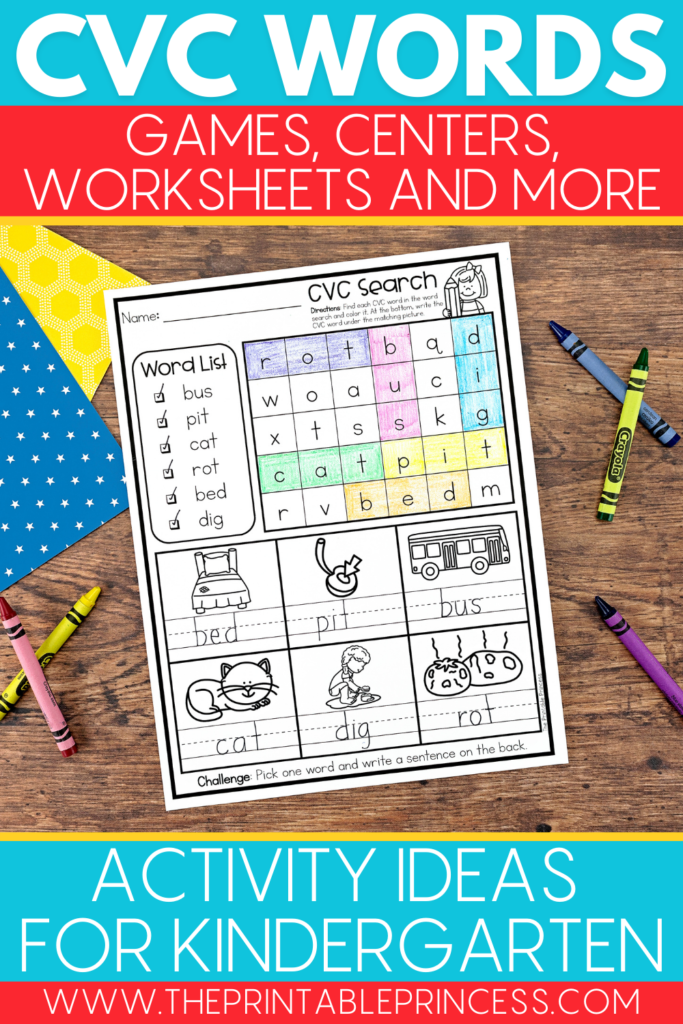 CVC Bundle Sampler Freebie
Since you can never have too many activities for CVC words, I have just the freebie for you! You can try a free sampler of my CVC Words Bundle by filling out the form below.
It'll get delivered straight to your inbox with a sample of several of the activities included in the bundle for you and your students to try!
I hope these activities and tips for teaching CVC words have been helpful and make learning more fun for your students!