Owl Activities for Kindergarten
Around October many classrooms do a study on bats, spiders, and owls. As part of your owl activities for Kindergarten you might read books and learn about their life cycle and habitats. You might also do an activity to help students learn to label the parts of an owl.
That's where today's blog post comes in. I've got a great freebie and fun snack idea to help students label the parts of an owl. Not only is this hands-on and fun, but it's also a visual way to help students remember.
A quick Google search will reveal that there are so many Rice Krispie treat variations, but today I wanted to share a fun and easy Rice Krispie treat variation that'll fit it perfectly with your owl unit.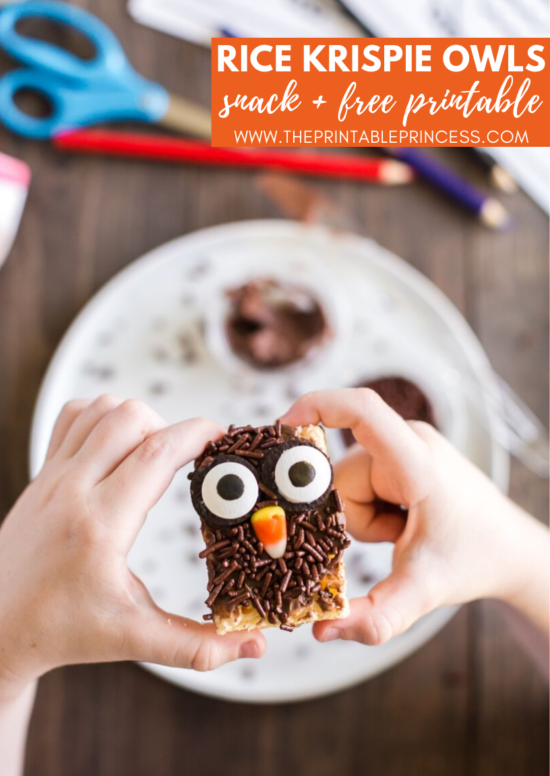 This article, along with many other articles on The Printable Princess, contains Amazon affiliate links. If you purchase through the links I earn a small commission. Clicking these links does not cost you any extra but helps this website to keep great articles and freebies coming your way.
Owl Themed Read Aloud Suggestion:
Most teachers do a lot of read alouds to go along with a unit of study. As students eat their owl snack, it's also a great time for a read aloud. Their mouths are full, they are enjoying their snack, and I find this to be a time where they are extra engaged. Of course you don't have to do a read aloud as part of this snack, but here are two book suggestions for you.
I'm included my favorite fiction and non-fiction books about owls. Owls by Gail Gibbons is great non-fiction book that would pair well with this snack-tivity. If you're looking for a fiction book, check out Owl Babies by Martin Waddell.
Rice Krispie Owl Snack Ingredients: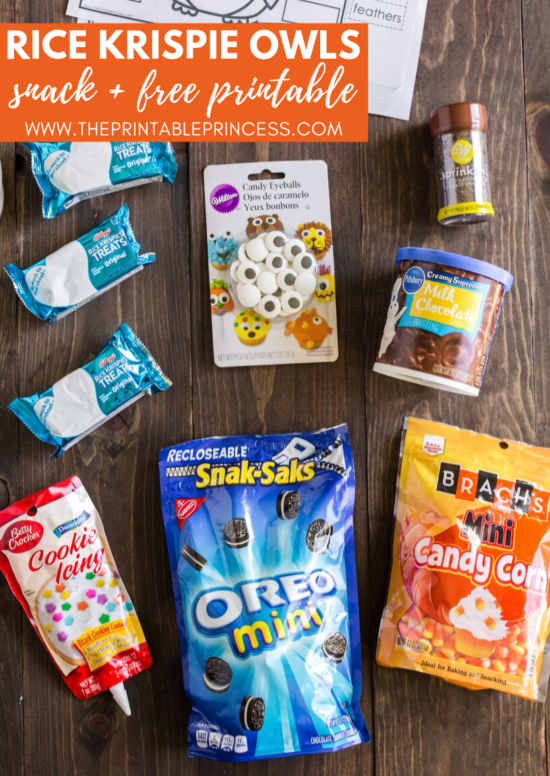 You'll need just a few ingredients for our owl activities snack: Rice Krispie treat, chocolate frosting, mini oreos, candy corn, white icing, large candy eyes, and chocolate sprinkles.
Each student or little owl expert will need:
1 Rice Krispie treat square
approximately 2-3 tablespoons of chocolate frosting
1 or 2 mini Oreo cookies
2 small dots of white frosting
2 large candy eyes
chocolate sprinkles
How to Make this Owl Activity: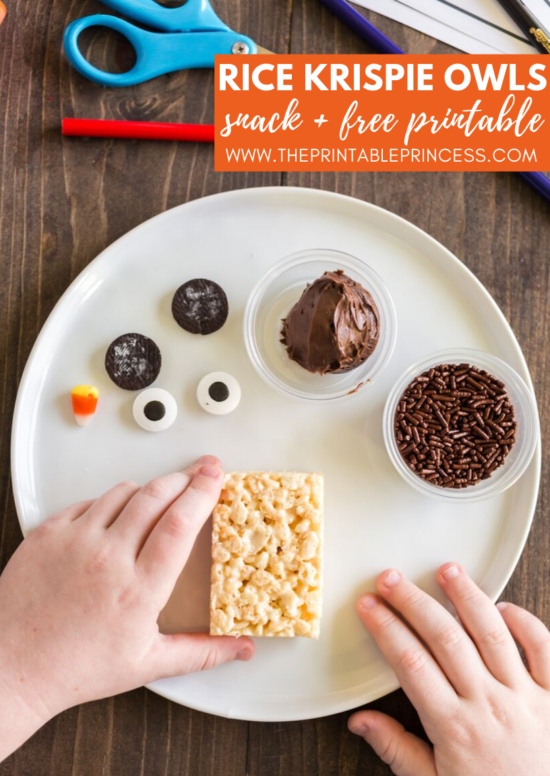 Begin by supplying each student with a paper plate and the ingredients they will need. I like using a paper plate as a work surface because it provides a visual workspace and it also makes clean up much easier. This activity works well in a whole group or in a small group rotation.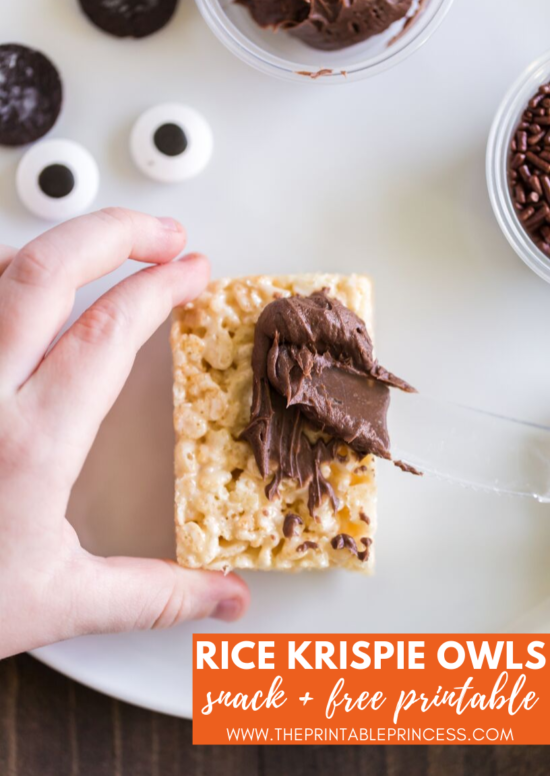 Students will need about two to three tablespoons of chocolate frosting. They will spread the frosting to cover the top of the rice krispie. You can have students use a plastic knife or spoon or a tongue depressor to spread the frosting. The rice krispie represents the owl's body.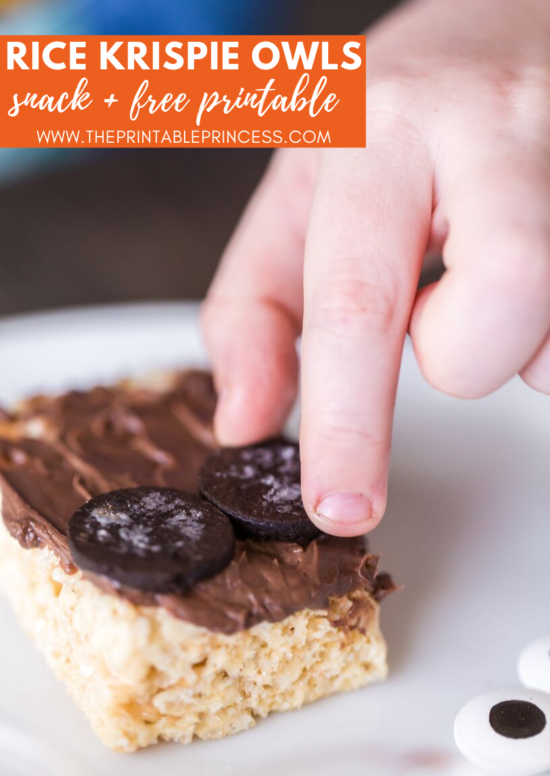 Students will need one or two mini Oreo cookies. The easiest way is to supply students with two cookies and have them twist each cookie apart. They can eat the side that has the frosting on it. They will use the frosting-free side as the base for the owl's eyes.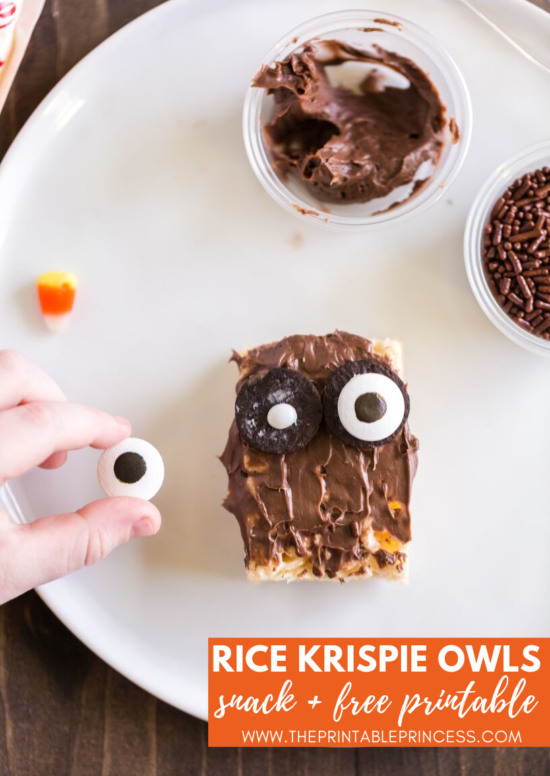 Students will need two large candy eyes. These are found in the cake decorating section of a craft store. If you can't find large eyes, smaller eyes would work too. Students will need a small dot of white icing to act as the glue to secure the candy eyes to the mini Oreos.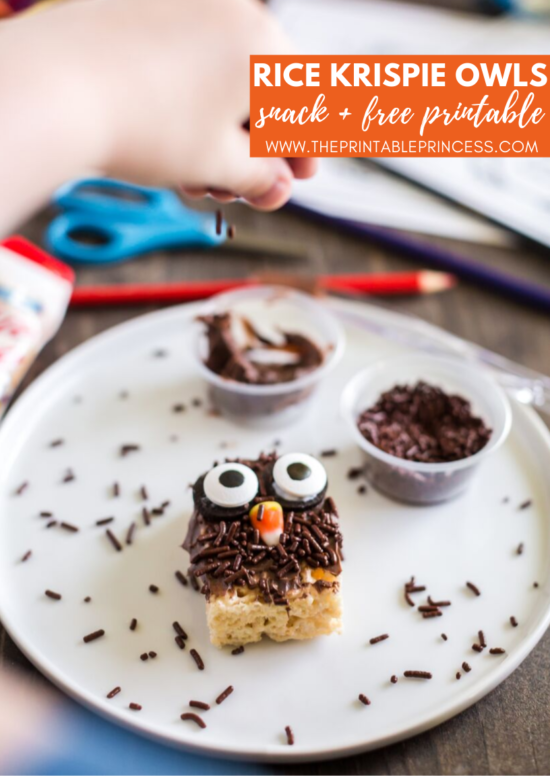 To complete the owl snack, students will add a candy corn and chocolate sprinkles on top of their owl. The candy corn represents the beak, while the sprinkles represent the feathers. This is where having that paper plate is super helpful because kids can be messy! The plate helps catch the loose sprinkles that don't quite make it on to the owl.
For step by step directions on how to make the Rice Krispie Owl treat, check out this video:
Label the Owl Kindergarten Printable:
To complete the owl snack-tivity and add an educational component, I've put together a free Label the Owl printable page. This page can be completed before the owl snack or use it as an extension activity. Whether it's done before or after, labeling is a must when it comes to owl activities for kindergarten.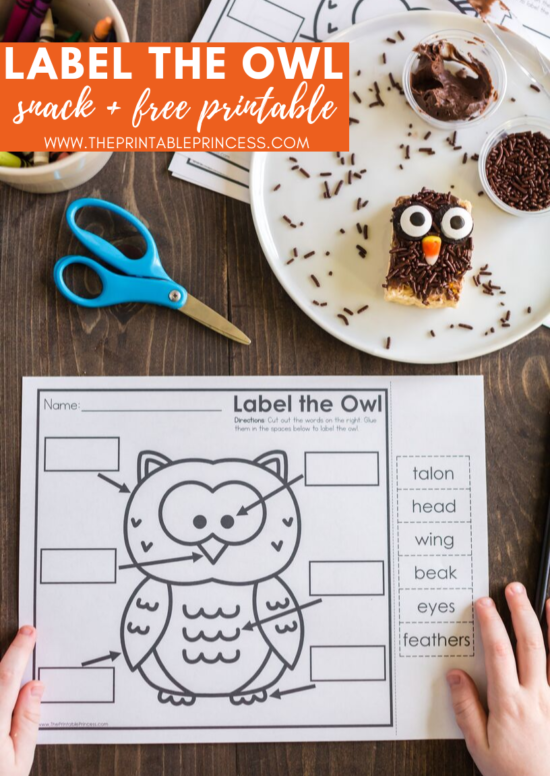 There's no prep work required for this Label the Owl printable, which makes it great to pull out at a moments notice.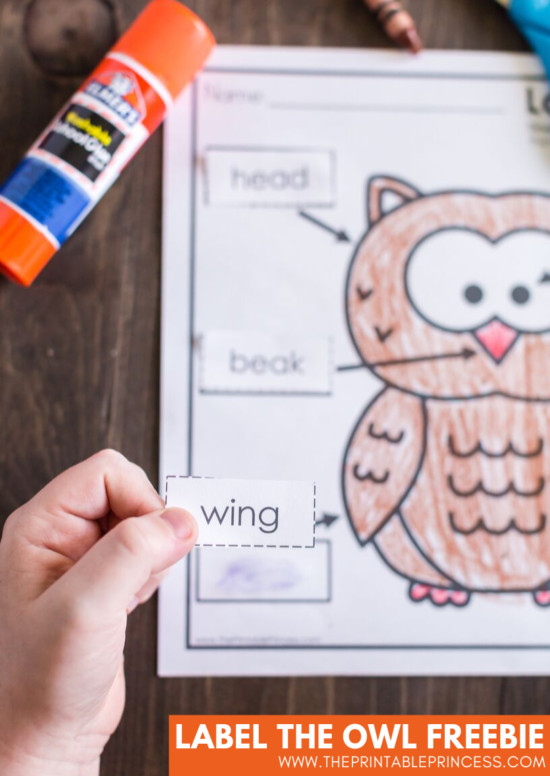 Students will need glue, scissors, and crayons to complete the page. They will cut out the owl labeling words on the right and glue them in the boxes to show the parts of the owl.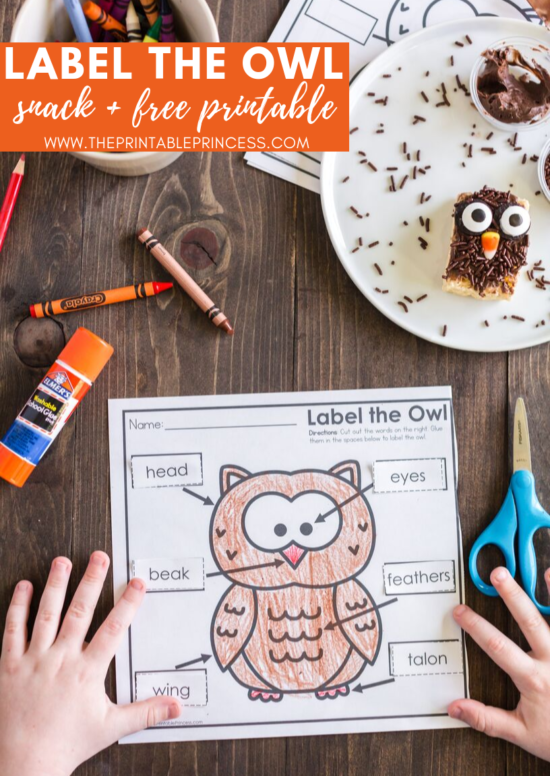 Once the students have completed the activity, they can color the picture.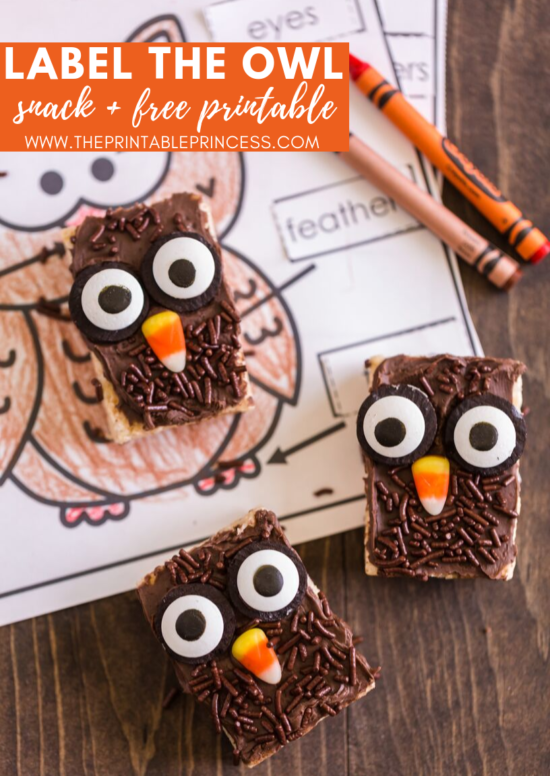 If your owl unit has already passed, be sure to pin an image to remind you next year. You'll have a head start on planning your owl activities for Kindergarten.
You can download your copy of the free Label the Owl printable here. Find more snack-tivity ideas here.