Conflict Resolution in the Classroom
As teachers, we invest a lot of time setting up a safe learning environment for our students. But inevitably, whether because of personality clashes, misunderstandings, or maybe just someone having a bad day, classroom conflicts occur. Handling conflict resolution in the classroom is a real part of our jobs as teachers.
Dealing with classroom conflict on a daily basis can be time consuming and disruptive, taking the focus off of our most important objective: learning. And while it's not likely anyone's favorite, teaching conflict resolution in the classroom is an important part of our work.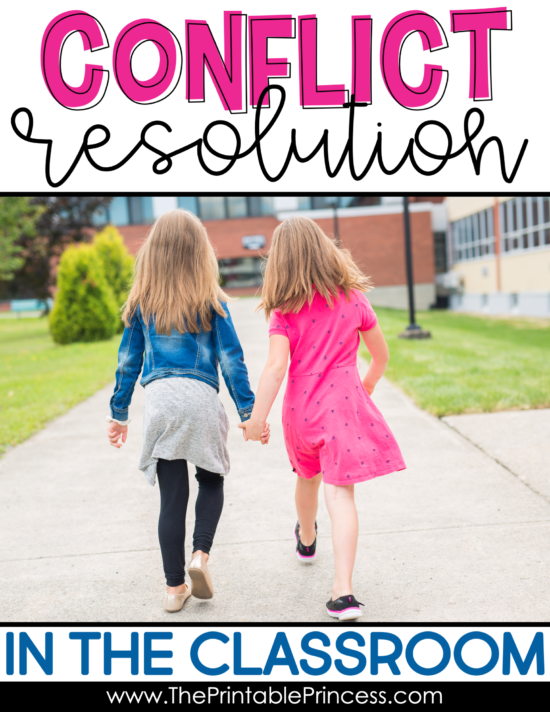 This article, along with many other articles on The Printable Princess, contains Amazon affiliate links. If you purchase through the link I earn a small commission. Clicking these links does not cost you any extra but helps this website to keep great articles and freebies coming your way. 
Conflict Resolution in the Classroom:
Here are a few tips to help you not only keep the peace in the classroom, but equip your students with valuable skills that will benefit them throughout their lifetime.
Model the behavior you hope to see.
A great way to handle conflict resolution in the classroom is to stop it before it even starts. Encourage students to think about how their actions affect the people around them and teach them healthy ways to express frustration.
Read books that tackle the topic in a kid friendly way. Some great book suggestions are:
Gather kids on the rug for whole class discussions about ways to solve problems, using role play to practice techniques. Capture 'teachable moments' to reinforce behaviors that reflect good problem solving skills.
Don't ignore problems.
As aggravating and time consuming as handling conflict resolution in the classroom can be, it's sometimes tempting to ignore them. Dealing with problems swiftly and decisively will benefit not only the students involved, but your whole classroom community.
Stay neutral.
Although it may be tempting, it's very important to not take sides when you are dealing with conflict resolution in the classroom. You need to be on the side of both children to set a positive example, especially if you feel yourself getting emotionally pulled into the situation.
Expecting the same high standards of behavior from every child in your class is critical to setting a tone of equity in your classroom.
It's also important to note that you need to stay calm when working through the problems with your students. It can be easy to get frustrated or angry, but you need to control your emotions. Stay calm. Stay neutral. Remember, they are not giving you a hard time – they are having a hard time.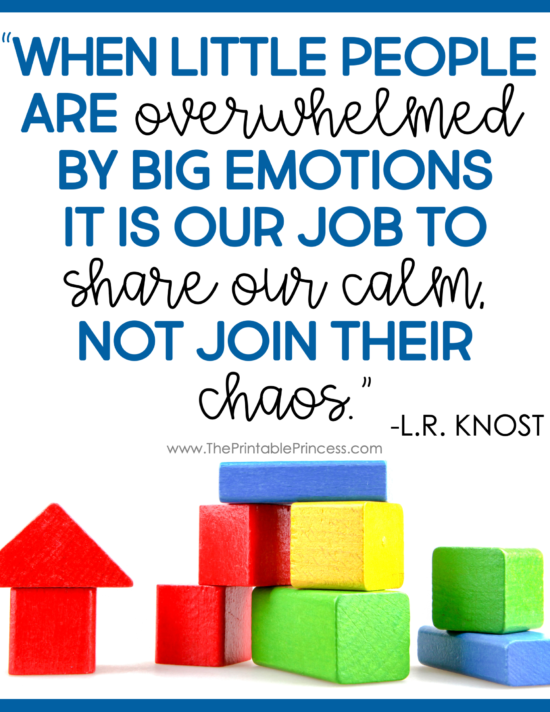 Exercise empathy.
Remember that most conflicts arise from fear, anxiety or frustration. You can help students learn to recognize emotional triggers and manage them in healthy ways such as taking a movement break, sitting quietly in a safe space, or taking time to write/draw a reflection.
Teach conflict resolution techniques before problems arise.
It is a great investment at the beginning of the year (and throughout the year as needed) to set aside purposeful time to teach your students effective methods to manage conflict in a healthy way.  Here is a simple 4 step process you can teach that will work effectively for most conflicts.
Step one: Cool off.
It's hard to solve a problem when you're emotionally charged. Sometimes the best thing you can do is give the students involved the space to take a breath and calm down before bringing them together to tackle a conflict.
Step two: Communicate.
It's only fair that both (or all) parties involved get a chance to tell their side of the story without being interrupted.
One at a time, let each student speak directly to the other. Using "I" statements ("I really felt hurt when you threw my backpack on the ground.") they tell the other person what they think happened and how they feel about it. The student who is listening then repeats back their understanding of what they heard.
Students switch places and the speaker becomes the listener and the listener becomes the speaker.
Step three: Brainstorm solutions.  
Once both (or all) students have had a chance to tell their side of the story, they need to work together to figure out what that will make things better. With little ones you may need to provide options for them to choose from. Once a choice is made, make sure they both (or all) understand and agree.
Step four: Follow up.
Once students agree on a solution, it's important for you to keep an eye on the situation. You'll also want to provide a supportive check-in after a little time has passed. This helps to hold students accountable to their promises and reinforces the process.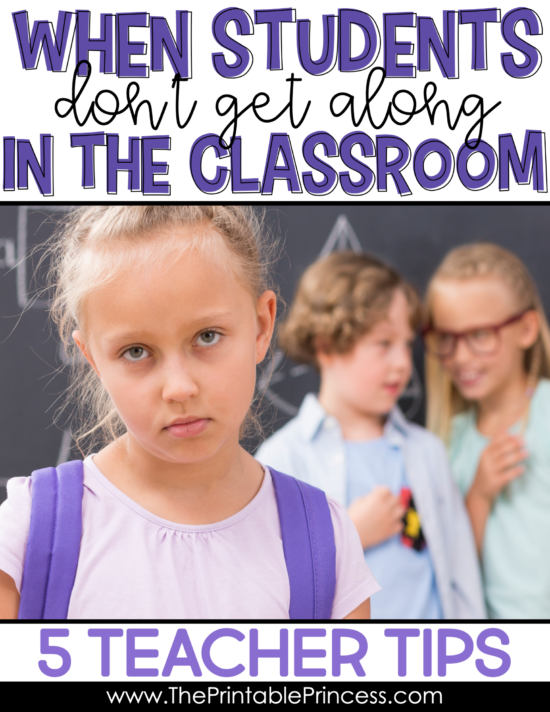 Although it sometimes feels uncomfortable, conflict provides an opportunity for children to learn valuable lessons about kindness, cooperation and compromise. Giving our students the tools to deal with conflict empowers them to take responsibility for their actions, learn from their mistakes and to see themselves as problem solvers. And these are valuable skills that will last a lifetime.
For more tips on living your best teacher life, check these out posts.
Until next time,