Teacher End Of Year Reflection: A Year of Growth and Change
As the school year comes to a close, it's important for teachers to take some time to reflect on the year and all of the growth and change that has happened. Use this end of the year reflection for teachers as a guide to reflect on the year, acknowledge the challenges, celebrate your growth, and honor the connections you've made.
Just like you encourage your students to reflect, now it's your turn.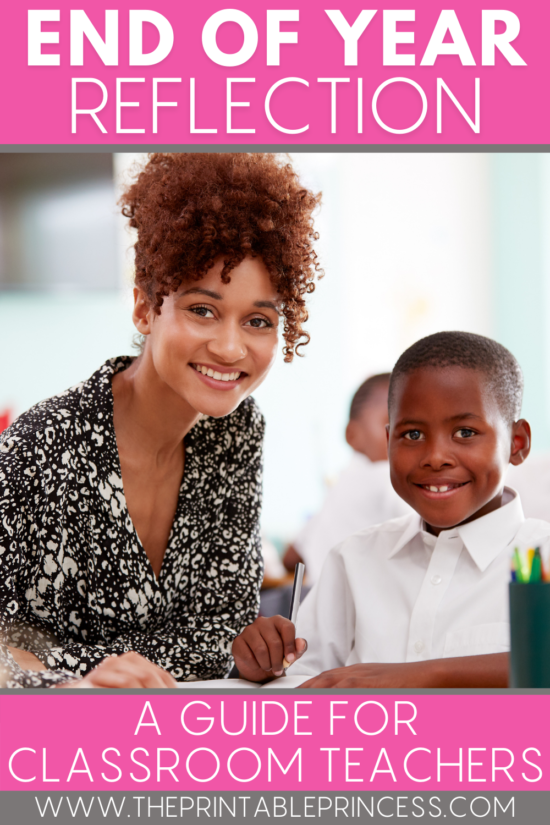 Reflect
The first step in the end of the year reflection for teachers is to simply reflect on and celebrate a year of growth and change in the world of education.
Each school year brings different challenges, twists and turns. It's okay to acknowledge that…even the tough moments. But on the other side of this acknowledgement, think about all of the ways that you adapted, changed, and overcame those challenges.
Whether you take some time to reflect by journaling in the peace and quiet, while out on a walk, or as you pack up your classroom, I encourage you to make this a priority as you head into summer break. It will help you decompress and leave this school year on a positive note so you can enjoy your summer.
Overcome
As you reflect, it's important to consider the challenges you were faced with that you overcame this year. While some of these challenges may be difficult to revisit, use this opportunity to remind yourself of all the ways in which your strength and passion for teaching helped you overcome them.
Ask yourself what challenges you faced that were really tough? What did you learn through these challenges? Did you overcome challenges that you are proud of yourself for? What new strategies and techniques did you learn because of these challenges?
No matter what was thrown at you, you kept your students' best interest in mind and made the best of it. You learned new strategies and found different ways to teach, motivate, and inspire students. And that is something to be proud of.
As you reflect on these challenges, I encourage you to look for the good that came out of them. When you look for the positives, you'll start to find more of them in your life.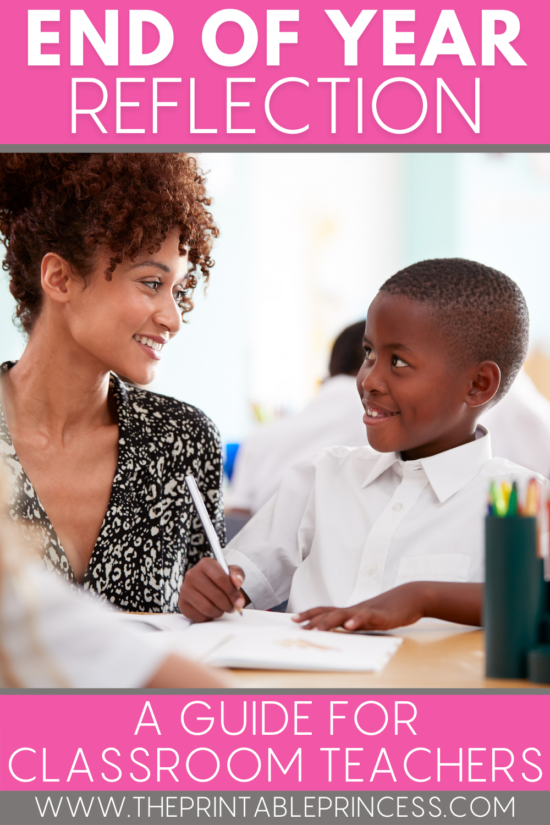 Grow
Here comes the fun part of the end of the year reflection for teachers…focusing on the growth! You've taken the time to think through the challenges and tough parts of the year. Now, it's time to focus on how these challenges helped you and your students grow this year.
Ask yourself what good came out of these challenges? Did you learn something new that really worked well? Try a new strategy that you'll continue implementing with your students? Find a great activity that was a total hit with your students?
Think about how you grew as a teacher this year and how your students grew as learners and people. Growth doesn't always have to be measured in test scores and teacher evaluations. Growth can also be measured by the relationships formed and the kindness spread throughout the year.
Connect
If there's anything this year taught teachers, it's that relationships are everything. Relationships with your students, their parents, your colleagues, administration, and other teachers are essential.
With colleagues and administration.
Use this part of the end of the year reflection for teachers to reflect on how this year helped you connect deeper with your colleagues and administration.
How did your relationships grow this year? Did you work together more collaboratively to solve problems, plan lessons, and provide opportunities for students to learn and enjoy school? How did these relationships affect the school morale this year?
With your students and their parents.
On the other hand, how did you connect with your students in different ways? Whether it was in person, at a distance, or via a computer screen, what did you do to make sure those relationships were nurtured? Did you learn something new about building relationships and classroom community?
It's also a good idea during your end of the year reflection for teachers to think about how you stayed connected with the parents of your students this year. Working with parents as a team is a key part of each student's success.
Did you communicate this year in a way that was effective that you'll continue to use in years to come? Did your methods of communication lead to more parent involvement? How did this affect your students' learning?
With other teachers.
Finally, this year has brought teachers together from all across the country, even the world. I believe this has been one of the most beautiful, positive outcomes from this past year.
Did you find other teachers to connect with in Facebook groups or other online spaces? Were you able to attend any online teacher professional development opportunities that made an impact on your life? Did you find a new teacher blogger you love to follow for ideas?
The good news is, no matter what the next school year holds, these connections and relationships will continue to grow with you.
I hope this end of the year reflection for teachers inspires you to reflect, honor the challenges, celebrate the growth you've made, and appreciate the connections you've formed.
I truly believe all of the change from this past year has only made teachers stronger, more effective, and more appreciated. Thank you for all of the work you do teachers!