Fire Safety Week Snack and Freebie
As you probably know at the beginning of October is Fire Safety Week. This is often a theme that students enjoy because they love fire trucks. With little learners it's important to teach them what to do in case of a fire, without scaring them.
I love to incorporate the theme into class discussions, centers, and even snacks! Today I wanted to share with you an adorable and yummy fire safety week snack and freebie.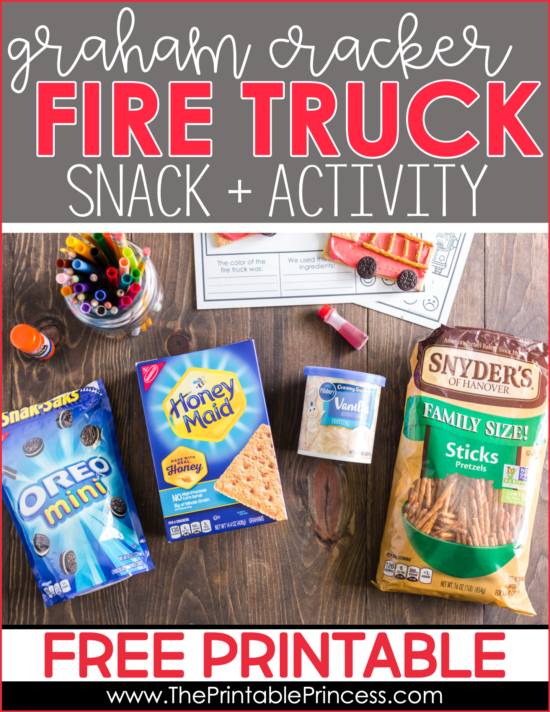 This activity is the perfect way to end fire safety week or for an afternoon snack after a trip to the fire station or a firefighter visit to the school. I like to do a read aloud while my students are enjoying their snack.
Two of my must-read books during Fire Safety week are No Dragons for Tea and Stop, Drop, and Roll. If those books are new to you, check them out on Amazon using my affiliate link: No Drags for Tea: Fire Safety for Kids and Stop, Drop, and Roll.
Fire Safety Week Snack Ingredients and Directions
You'll need five ingredients for this fire safety week snack: graham crackers, red food die, white frosting, pretzel sticks, and mini chocolate cookies.
Before students begin making the fire truck snack you'll want to add some red food dye to the frosting to make it red.
Each student will need:
1 whole graham cracker
1/8 graham cracker for the window
2 mini Oreos
3-4 pretzel sticks
red frosting.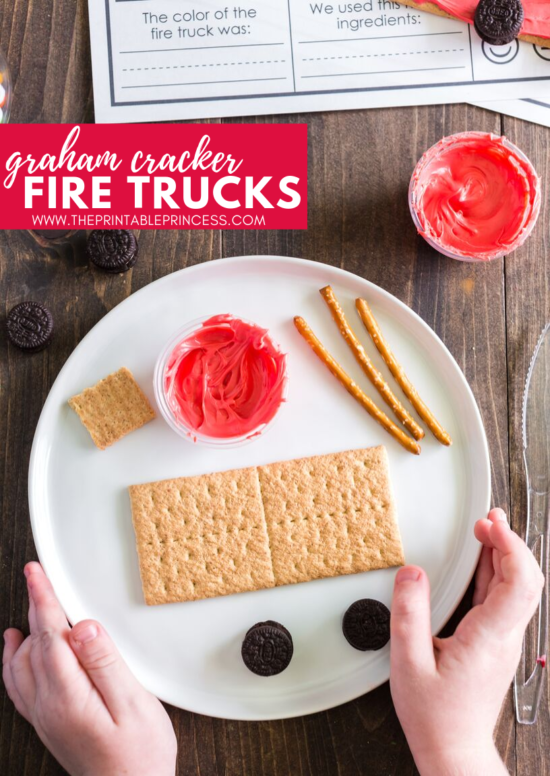 You'll want to supply students with a paper plate so they have a work surface to create on. Put the supplies students will need on the plate, along with a small scoop of frosting.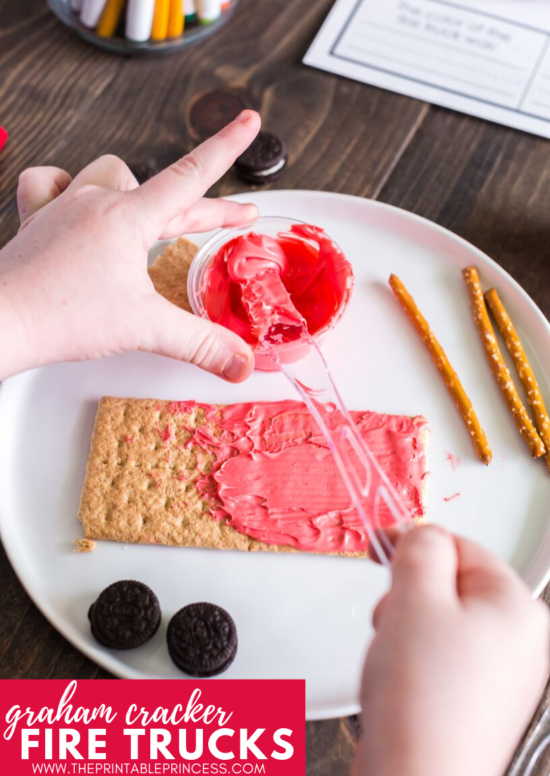 Students spread the frosting to cover the graham cracker. Next they will need three to four pretzel sticks to make the ladder. Two cookies for the wheels.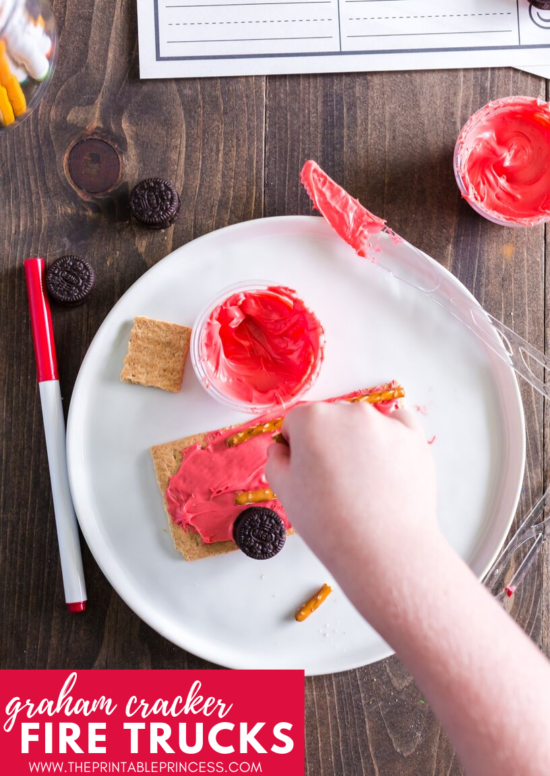 Then students assemble the fire truck by putting on the Oreo wheels and ladder. Students will need to break one of the pretzel sticks to create the steps on the ladder. For the window, I just broke graham crackers into 1/8th squares. You could use Cheez-It's or any type of square cracker…but why buy another ingredient? Just keeping it real! 🙂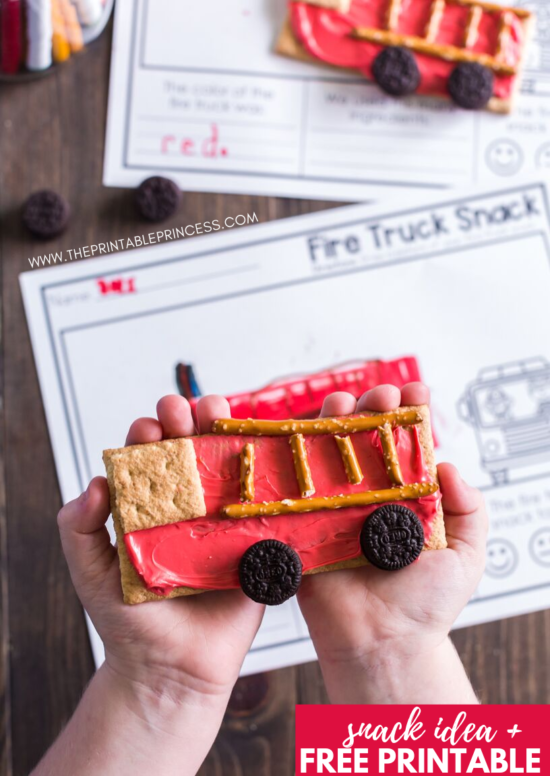 For step by step directions on how to make the Graham Cracker Fire Trucks, check out this video:
Free Fire Truck Printable:
I created a follow-up activity page to go with this activity. Of course you can absolutely use this idea without the activity page.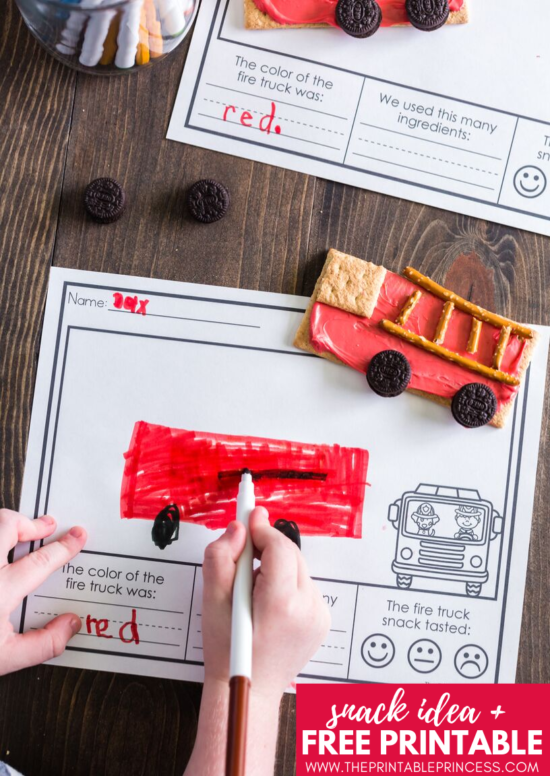 Students will draw a picture of their fire truck snack and answer three questions on the bottom. When students are counting the ingredients they used, remind them not to forget to count the food coloring!
If Fire Safety Week has passed, be sure to pin one of these images to remind your for next year!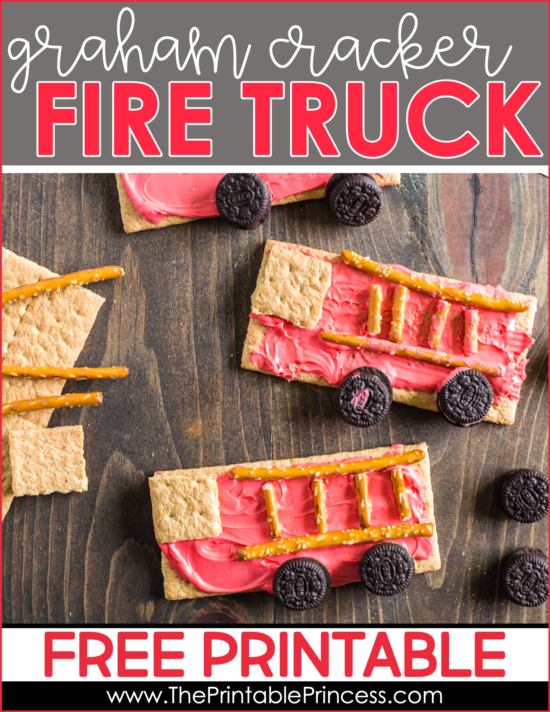 You can download a copy of this recording sheet by clicking here. For more fire safety activities check out this post.
Until next time,