Dental Health Centers for Kindergarten
February is the month of love. It's also the month of healthy teeth. This is such an important topic to cover in the early grades. As teachers it's a great idea for us to have conversations with our students about taking care of their pearly whites. Especially because most of our students don't have their permanent teeth yet.
Educating little learners early can hopefully help to set them on the path of good dental hygiene. Of course parents are hopefully teaching and encouraging at home. But as a teacher and a parent, I think it's important that students hear it from more than one source. There's power in numbers, right?
You're probably already covering this topic in your science unit and your read alouds – but I wanted to share with you some ideas for help you incorporate the theme with Dental Health Centers for Kindergarten. I've also put together a Dental Sort freebie that I think your students will love!
These activities are an easy way to help you bring this fun and important theme in to your classroom centers. These activities are a Kinder-friendly way to work on addition, subtraction, teen numbers, CVC words, rhyming words, and simple sentences.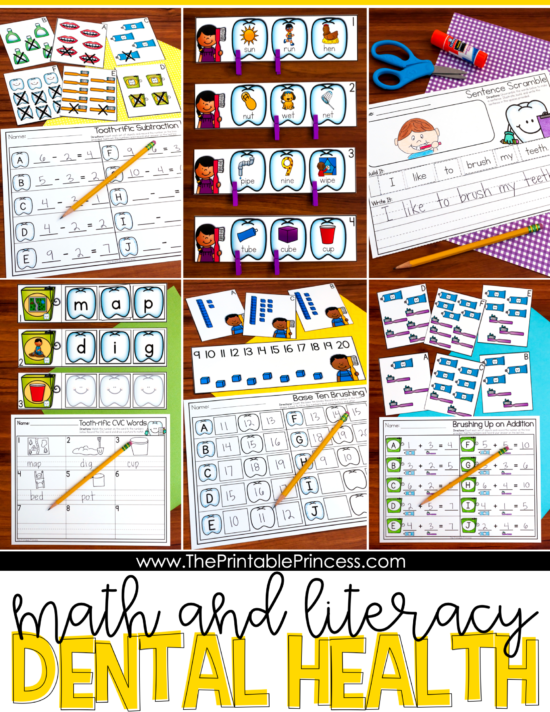 This article, along with many other articles on The Printable Princess, contains Amazon affiliate links. If you purchase through the link I earn a small commission. Clicking these links does not cost you any extra but helps this website to keep great articles and freebies coming your way.
Dental Health Centers for Kindergarten
The activities I'm sharing today come from the 6 Pack Center: Dental Health edition which is part of the 6 Pack Centers Year-Long Bundle. This is the perfect mini unit to add a little flare to your math and literacy centers. I mean, you already have to plan centers, so why not add a little theme to them?!
The activities included were designed with Kindergarten skills in mind. The skills included are most likely things your students are working on during the month of February.
Each individual theme includes three math and three literacy centers. Each center includes teacher-friendly directions which are so helpful if you have a parent or classroom helper leading the center.
They also include Kinder-friendly "I Can" visual directions to keep students on task and promote independence. All recording sheets are in black and white, which makes them printer-friendly!
Each center also includes a follow-up no prep page that you can use for early finishers, homework, an assessment, or as an extra center.
Brushing Up on Addition:
This activity will help your students brush up on their addition skills. They use the pictures on the card to create an addition equation. The toothpaste is one number, the toothbrush is another number. They use the picture cues on the recording sheet to write the the equation on their paper and solve.
Add in some small tooth shaped mini erasers and you've got super engaging Dental Health centers for Kindergarten!
Tooth-rific Subtraction: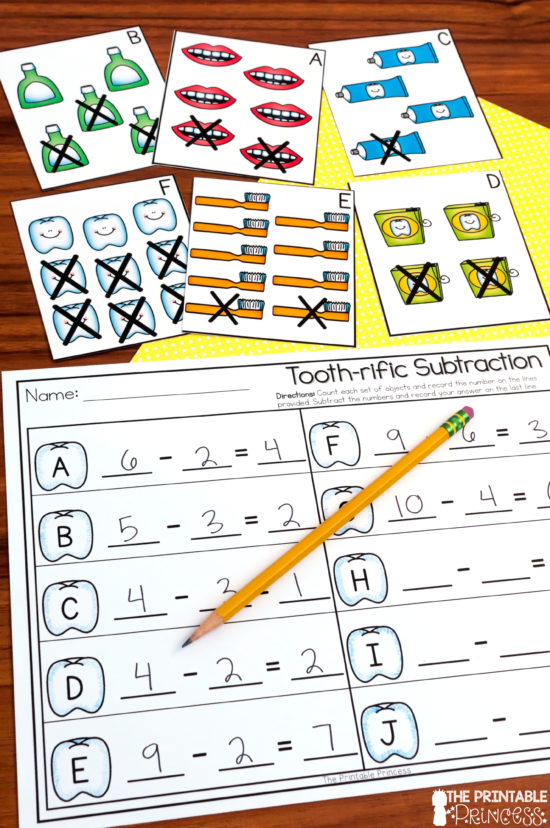 By this time of the year you have probably have students who have mastered addition and are ready for subtraction. This one's for them! Students will use the picture on the card to create a subtraction equation. They record the equation on their paper and solve.
Base Ten Brushing: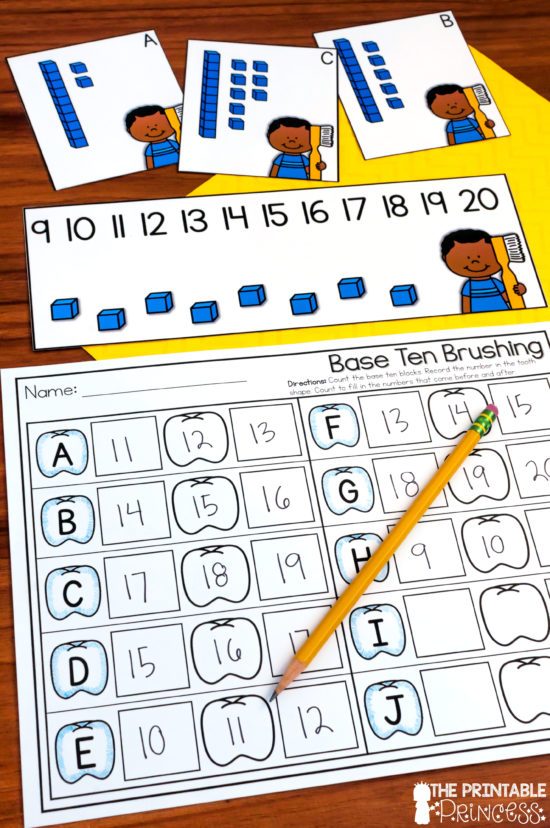 This is a two-for-one activity (which are my favorite activities)! Students practice two skills with one center.
Students will identify the number represented by the the base ten blocks. They record the number on their paper in the tooth. Next they count to fill in the numbers that come before and after. To show their work, they write those numbers in the corresponding boxes. There's an optional number line included for students who need extra support.
Ready to Rhyme:

Take rhyming to the next level with this activity. Students are shown a series of three CVC and CVCE pictures (with the words written underneath). They are to determine which two words make a rhyming match. They record the words on their paper to show their answers.
You can supply students with clothespin and have them "clip" their answers too.
Tooth-rific CVC Words:
The tooth-shaped letters make this activity a kid favorite. For this activity, your little learners say the name of the CVC picture to determine the beginning, middle, and ending sound. They use the tooth letters (or magnetic letters) to build the word. They record the word on their paper and draw a picture to match.
Writing Check-up / Sentence Scramble: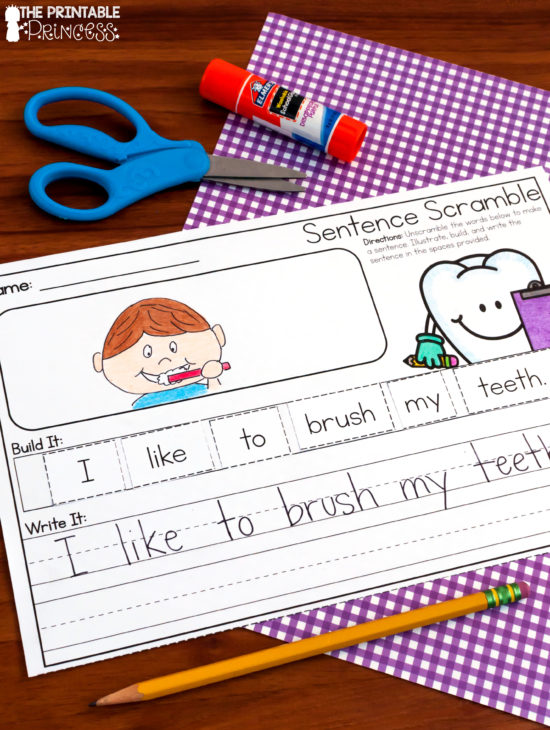 This one is perfect for pocket charts. Included in this activity are sentence cards. Students sort the cards by their pictures (there's three sets included). Then they put the picture cards in order to create a sentence. They record the sentence on their paper and illustrate it. The picture above is the follow-up practice page – each center comes with one. They are great for homework, morning work, or as an extra center.
Dental Health Centers for Kindergarten: Picture Sort
I don't think you can cover dental health in kindergarten without doing some sort of dental health picture sort. It just goes together like peas and carrots.
This activity is designed to help students recognize foods that are healthy and not healthy for their teeth. A sorting mat, picture cards, and a follow up recording sheet are included.
To prepare this activity print, cut, and laminate the sorting mats and picture cards. Print the recording sheet.
Students use the sorting mat to sort the foods that are good for their teeth and bad for their teeth. They will color the pictures on the recording page to show their work. You can use this activity as a whole group discussion tool or as an additional center. Or do both!
If you're needing more Dental Health centers for Kindergarten, you can download a copy of the picture sort freebie by clicking here.
Until next time,