Sale!
CVCe Words Bundle | Activities, Games, and Centers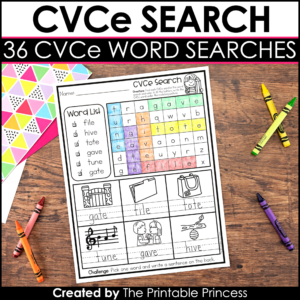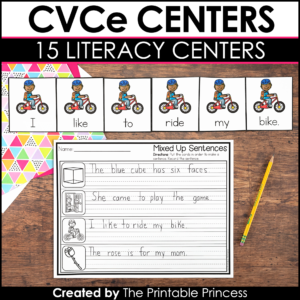 Description
If you're looking for and needing some fun and fresh ideas to teach CVCe words, then you're in the right place! This BUNDLE is packed full of hands-on and attention-grabbing activities to help your students learn to recognize, read, and spell CVCe words. Best of all, this bundle is packed with engaging activities NOT worksheets!
The resources in this bundle will feature the same high quality CVCe clip art throughout all of the packets. This will allow students to become comfortable and confident with the names of the images and will prevent you from having to go over picture names each time a new activity is introduced. This will also allow students to focus on mastering the skill and completing the activities correctly, instead of guessing and worrying about the name of each picture.
What's Included:
Match and Cover: CVCe Edition: There are two types of mats included. Mat #1 Students will read the CVCe word. Using the color code on the mat, they will cover the corresponding pictures with plastic linking cubes. Mat #2 Students will identify each CVCe picture on the color code. They will find the corresponding CVCe words on their mat and cover them with plastic linking cubes. 68 practice mats included!
CVCe Graphing: A great way to incorporate math and literacy! Students will sort and graph the CVCe pictures. They will use the graph to answer the questions and then spell the CVCe words on their paper. Makes a great center or fast finisher activity. 25 graphing activities included!
CVCe Word Mats: 50 mats are included in this easy to prep resource. There are three types of mats included: 1. Same word family 2. Same vowel with mixed word families 3. Mixed vowel practice. Students will use magnetic letters to build each CVCe word. To make these mats self-checking, the answers are written very small in the lower left corner. You can give each student a sticky note to cover the answers. Once they complete the mat, they remove the sticky note to check their work.
CVCe Word Searches: This resource includes 36 word searches. There are three types of word searches included: 1. Same word family 2. Same vowel with mixed word families 3. Mixed vowel / mixed word family practice. Students will read the "Word List", located on the left side of the mat. They will find each of the words listed and circle, color, or highlight the word. Finally, they will record the corresponding CVCe word under the matching picture at the bottom.
CVCe Centers: A collection of 15 low-prep centers to provide students practice with CVCe words. Centers include recording sheets, teacher friendly directions, student-friendly "I Can" pages, and answer keys.
CVCe Games and Partner Activities: A collection of whole group and small group partner games to make CVCe words fun and engaging.
For a closer look at some of the activities included, check out this video:
Only logged in customers who have purchased this product may leave a review.