10 Practical Tips for Surviving the Holiday Season
Thanksgiving has flown past us and before we know it, Christmas will be here! Even though this is a glorious time of year, it can be accompanies by elevated levels of stress. There's commitments at school and commitments at home. It can all add up!
Between the colder weather, school breaks, and the anticipated visits from the man in red…your students are excited and chances are you might see that come out in the classroom. Good news! The holiday season doesn't have to equal extra stress, if you're prepared! Keep reading for a few easy to implement holiday tips for teachers!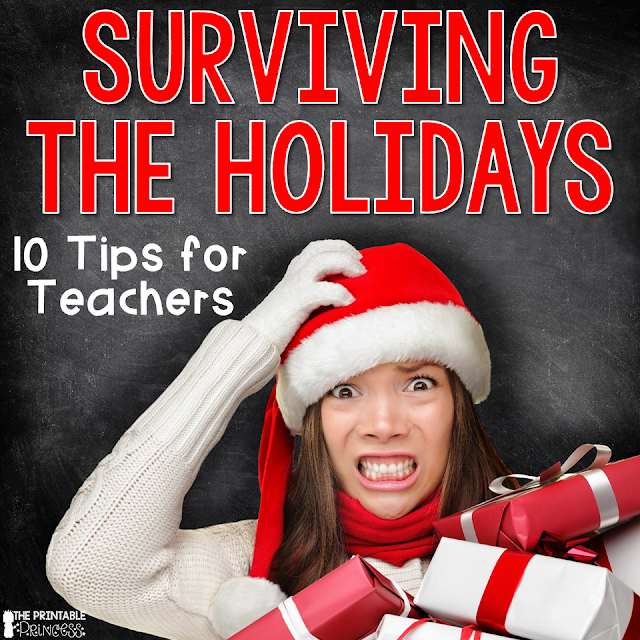 Here are 10 practical tips for surviving the holiday season with minimal stress. It's all about working smarter, not harder!
1. Stay Focused
With the hustle and bustle of the holiday season, it's so easy to get caught up in the madness. One of the easiest ways to survive the chaos is to stay focused. I know it's easier said than done, but stay in the moment! Don't worry about things you can't do anything about at that moment.
For instance, don't fret about holiday baking or gift shopping while you're in the classroom. There is nothing you can do about it while teaching, so let it go.
Continue your day to day routines and list any schedule changes visually so you don't forget. Set a reminder on your phone! When schedule changes arise, explain calmly right before an event is about to happen.
2. Make Lists
Keep yourself organized by writing things down or making lists. Sticky notes are your friend. Trust me! Write yourself a note and then put it where you can see it. Set an alarm on your phone if you need to. Don't rely on your memory during this time of year. (Or any time if you're like me and find yourself forgetting things as you get older!) Make lists so you can prioritize and make the most of surviving the holiday season.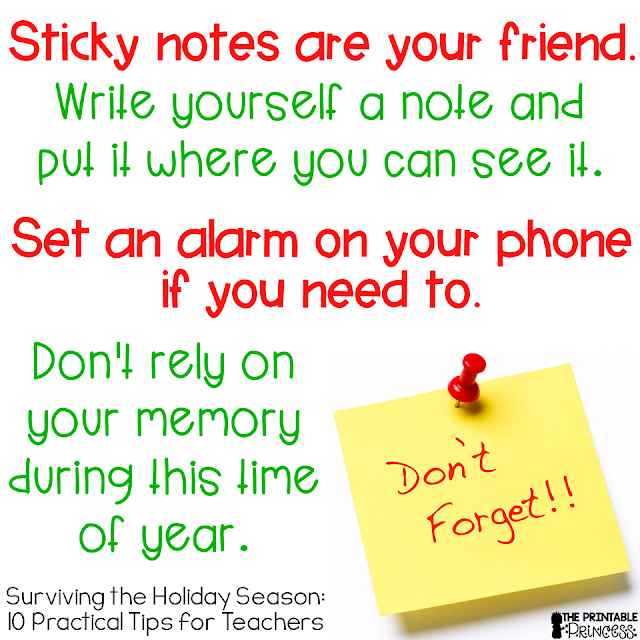 3. Take Care of Yourself
So often we get busy with class projects, prepping materials, or socializing that we forget (or don't take the time) to eat. Being hungry makes it harder to concentrate and work effectively. It can make us cranky…and nobody likes a cranky teacher! Drink plenty of water and keep healthy snacks on hand that you can munch on when you feel hunger setting in. (This goes for all year long too!)
4. Be Firm
Be firm in your behavior expectations. Even though this is an exciting time of year, don't lower your expectations or change the way your classroom is run.
Review classroom procedures.
Practice following procedures the correct way and continue this throughout the season.
Be prepared to do this again when students return from winter break.
Look for students making positive choices and compliment them for their correct choices, thus setting an example for others.
5. Be Over Prepared
This time of year can make for unpredictable schedules. Some projects will take less time than anticipated or scheduled events may be cancelled or cut short. Make sure you are over prepared so your kiddos are always on task and have something to do.
It's a good idea to have some fun and engaging
no prep activities
that you can pull out at a moment's notice. You can always use what you didn't get to another day!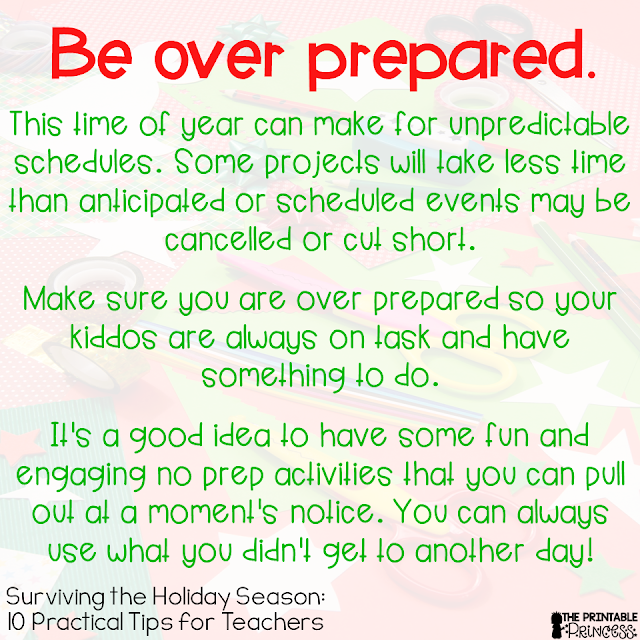 6. Schedule High-Interest Projects and Activities
The last week before Christmas break have students work on activities or projects that are fun and will encourage them to stay on task. This is a great week to incorporate extra
fun activities or partner games
in your center rotations, create writing craftivities, have book talks, or do seasonal science experiments.
You can even throw in a cookie decorating time or make Christmas trees out of ice cream cones.
7. Be You
Don't compare yourself to the over decorated classroom across the hallway. Don't wear yourself out stressing about what decorations you did or didn't get put up this year. It's ok, I promise!
Your students will not remember the decorated classroom. They will remember the fun activities and the time spent with you! Your students love you for the awesome person you are, lights or no lights!
8. Get Parents Involved
You don't have to do everything yourself. If your school allows, ask parents to help with small projects. They can help with prepping materials or adding an extra set of hands during the project or activity. You can also invite them to come in and read a story to your class.
Don't just think about what parents can do in your classroom. Some parents are more than willing to help out, but they can't get to school during the hours you need. You can ask these parents to prep materials at home or to buy supplies for some of the classroom activities you'll be doing. Many parents realize teachers spend quite a bit of money out of their own pocket, and they're often happy to help you out!
9. Keep the Last Day Low Key
There's no need to have huge projects planned for the last day before break. Read a book, play a game, or do other activities that are low key and low stress. Kids LOVE when you get involved! Instead of watching movie after movie on the last day, get down and play board games, find easy Minute to Win It games on Pinterest, put puzzles together, color together, or simply let them choose! GoNoodle.com is a great resource for FUN, education related games!
10. Clean Up and Prepare
Before you leave for winter break, take down all of the holiday decorations in your room. Get your calendar ready for January. Plan out your first week back, prep any materials, and make copies. Nothing is worse (or more stressful!) than standing in the copy machine line on your first day back from break. I guarantee you will enjoy your break much more if you know your classroom is ready to go in January!
The holiday season is NOT meant to be stressful! It's a time to give thanks, relax, and enjoy family and friends (your school family included!!).
Follow your procedures, stay focused, be yourself, keep it low key, and enjoy this magical time of year!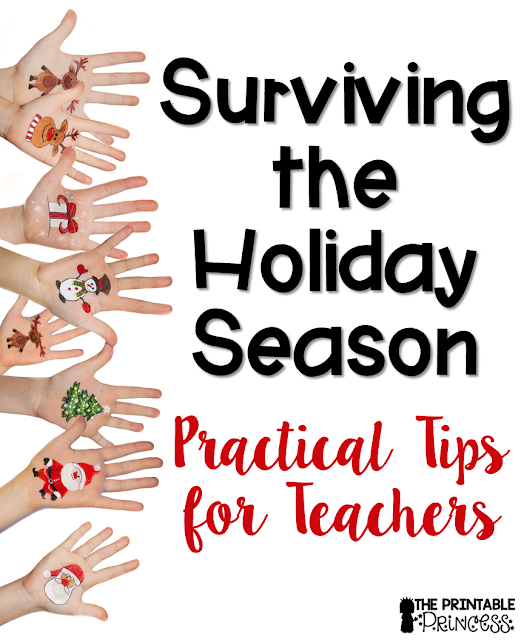 They say the older you get, the fast time flies. I am now old enough to know just how true this statement is! I remember being young and thinking Halloween, Thanksgiving, and Christmas would never come. There was at least a year in between each holiday. Now that I'm older…I feel like they are just a day or two apart! That's why I hope these 10 practical tips for surviving the holiday season are helpful to you as time continues to go faster and faster.
Until next time,