Valentine's Day Read Alouds for Kindergarten
There's lots to celebrate during the month of February. Between Groundhog Day, the 100th Day of School, Valentine's Day, and then President's Day you're calendar is pretty packed. Thankfully that also means that there's plenty of ways to incorporate the holidays into your read alouds.
I've put together a list of some of my favorite Valentine's Day read alouds for Kindergarten. These books will surely have you feeling love in the air! In addition to sweet stories, several of them are a great way to discuss and encourage kindness, appreciation, and friendship.
Valentine's Day Read Alouds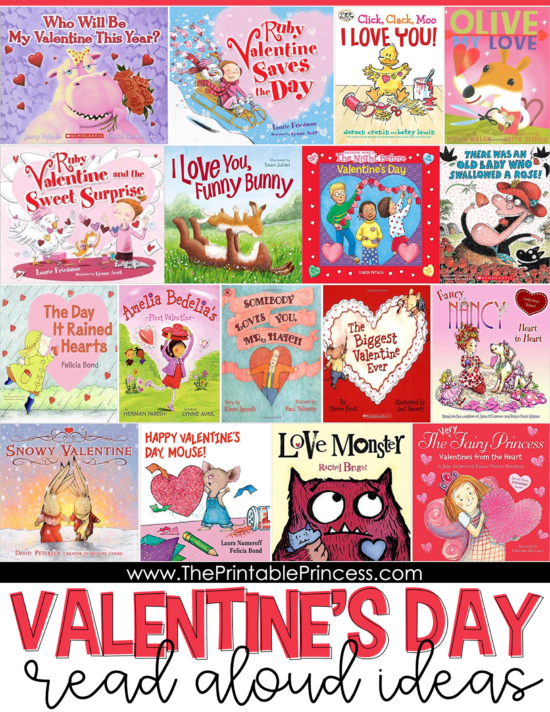 This article, along with many other articles on The Printable Princess, contains Amazon affiliate links. If you purchase through the links I earn a small commission. Clicking these links does not cost you any extra but helps this website to keep great articles and freebies coming your way.
You can click on the links below to check out these books on Amazon as well as read the descriptions.
Valentine's Day Emergent Readers
I love how children get excited about the holidays. So why not use that excitement to practice reading? What better way than a book that is on their level and made just for them. It is important that we make reading fun for students. As a result, it is our hope as teacher, that they will develop a love of reading and books.
This freebie includes 3 mini books with a fun Valentine's Day theme. The mini books feature a predictable text which will help developing readers feel successful. They are perfect to have students take home and share with their families.
There's no prep work required, which is great for a busy teacher! Students fold the books in half, long ways (I call this a hotdog fold because the paper is long, like a hotdog). Next they fold the paper in half again (I call this the hamburger fold). There are lines on the books to help students with folding.
Students write their name on the front cover. On the inside pages, students can color the pictures and read the text in their books. You can also have students use a yellow crayon or highlighter to focus on a particular sight word.
On the front cover you'll see three stars. Students color a star each time they read their book. It is so sweet to see the joy budding readers feel as they color each star. You can tell they really feel a sense of accomplishment.
You can click here to download your copy of the mini readers.
What are your favorite Valentine's Day Read Alouds for Kindergarten? I'd love to find some new ones to add to my list!
Until next time,