Hands-On Summer Activities for Kindergarten
Once May rolls around the summer countdown is ON. As hard as you might try, it can be a real struggle to keep kids on task and engaged with only a few weeks left of school. Add in end of the year and summer activities for Kindergarten like an End of the Year ABC Countdown and the odds are stacked against you!
As teachers we know how important it is to plan fun activities for our students year-round, but I think it's even more crucial at the end of the year! I wanted to share the new Summer Literacy and Math Tubs that were made just for the end of the year in Kindergarten!
Plus these summer activities for kindergarten do not include recording sheets – which means you won't have a ton of papers to check in the last few weeks of school. Instead, these are easy to prep, highly engaging, hands-on activities that will help your students review and solidly the skills you've worked hard on all year long!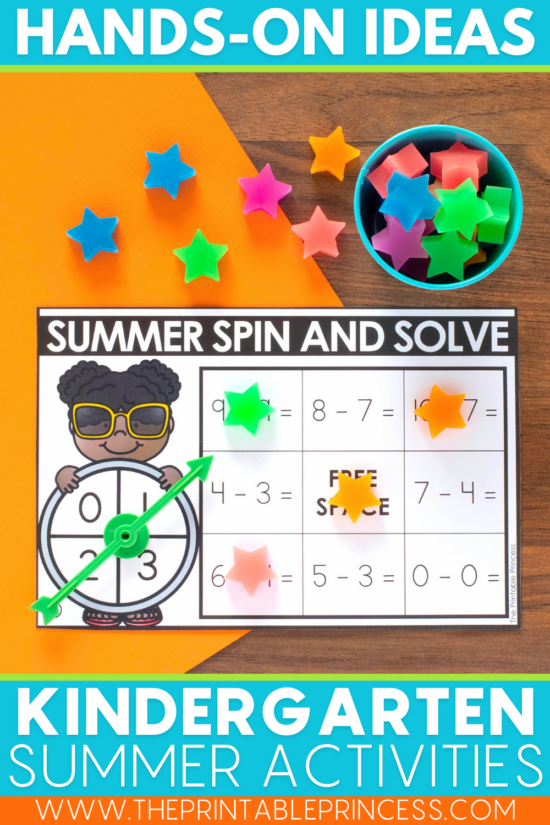 This article, along with many other articles on The Printable Princess, contains Amazon affiliate links. If you purchase through the links I earn a small commission.  Clicking these links does not cost you any extra but helps this website to keep great articles and freebies coming your way.  
---
Summer Activities: Spin and Solve
This is a fun little freebie will help strengthen addition and subtraction skills. And the kids and sunglasses and flip flops make this perfect for summer. Plus it's hands-on and engaging, just like the activities in the Summer Literacy and Math Tubs.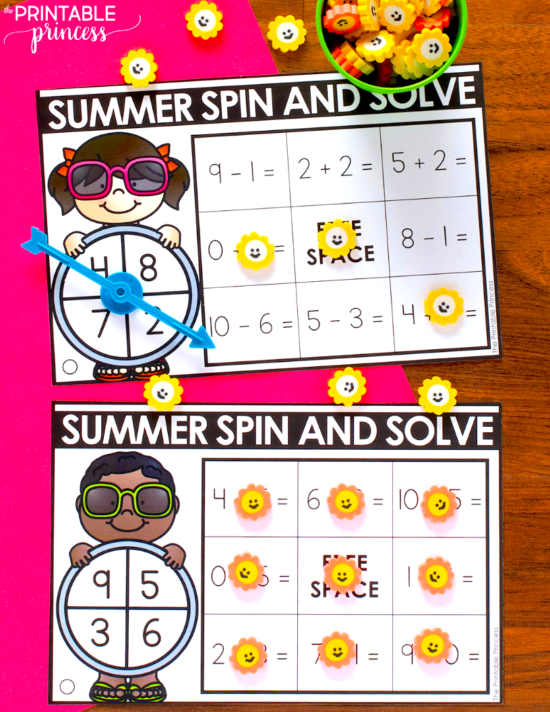 To prepare this activity simply print and laminate the activity mats. There are two addition mats, two subtraction mats, and four mixed addition and subtraction mats included.
There is a small hole in the lower left corner of each activity mat, if you'd like to punch a hole and put them on a metal ring for organizational purposes.
Students will need mini erasers or plastic cubes for this activity. They will also need a plastic spinner or a paperclip and pencil to make a spinner.
Students will spin the spinner and identify the number. They will use mini erasers or cubes to cover an addition or subtraction sentence that equals the number they spun. They will continue to play until all of the spaces on the mat have been covered.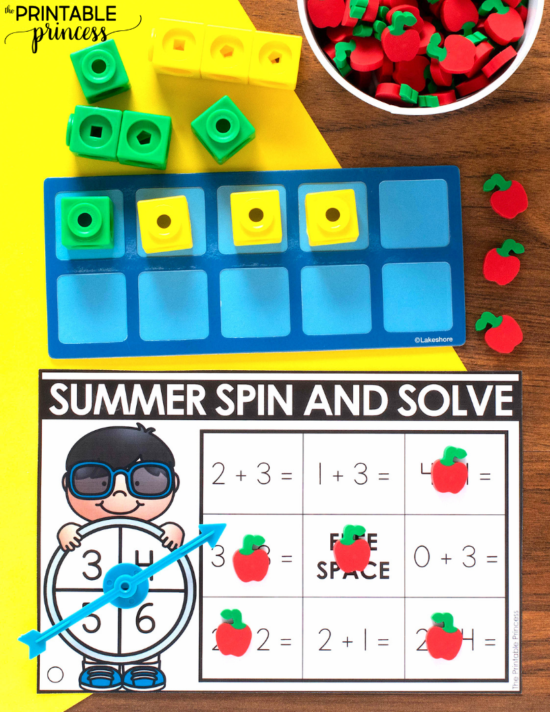 You can download your copy of the Summer Spin and Solve by clicking here. In addition, if you're looking for more summer activities for Kindergarten and freebies click here.